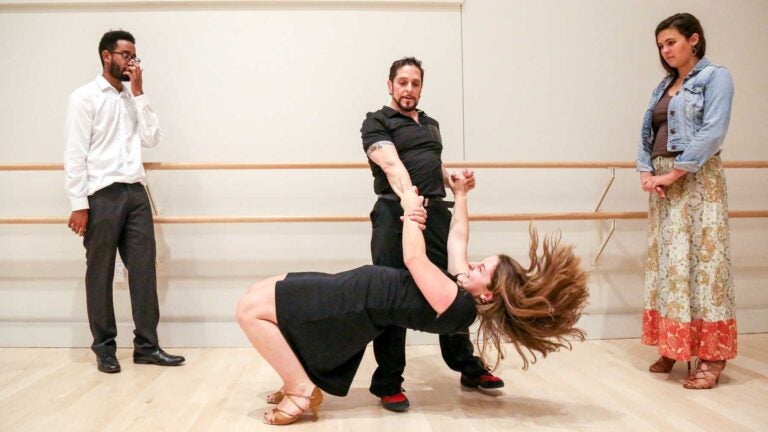 From engineers to historians, USC Kaufman dance minors come from all over the university
The school's curriculum includes courses in history, technique, choreography and performance for students with and without dance experience
The USC Glorya Kaufman School of Dance reached a milestone this semester: More than 100 USC students (105, to be precise) have declared minors in dance. The number has increased significantly since last year, and even more since the school's founding in 2012, when only eight students were enrolled as minors.
The dance minor used to be part of the USC School of Dramatic Arts. USC Kaufman, with dance as its primary focus, has reinterpreted the minor curriculum to include courses in dance science, history, technique, choreography and performance for students with and without dance experience. In addition, the school offers courses that range in style from ballet to Bollywood, taught by a faculty pulled from various paths of esteemed dance careers.
"My professors have completely inspired me with their passion, mastery of the craft, breadth of influence and appreciation for the cultural roots of each dance genre," said Jordan Felix, an undergraduate theater major. "Every class and every professor has helped my growth as an artist and as a technician, not to mention my stamina." Felix holds minors in dance and communications, and she performs as a USC Song Girl.
A new perspective
USC Kaufman currently offers two minors: dance, which builds a foundation in dance history and culture along with choreography, performance and technique, and dance in popular culture: hip-hop, street and social dance forms, centered on the historic, social and aesthetic issues of dance with a foundation in these types of dance. Beginning in the fall, the school will offer a third minor: dance in entertainment. Students will explore commercial forms of dance — from Hollywood to Broadway — along with dance performance, choreography and entrepreneurship.
USC Kaufman minor students currently come from 49 major programs in the university, from business to biomedical engineering. This year, 11 percent of minors are human biology majors.
Cameo Beard, primary adviser for dance minor programs, finds that working with dance minors "is a wonderful opportunity to connect with students from various fields of study and hear about how their mechanical engineering or architecture courses intersect with dance. They don't just want to learn dance," she said, "but also how they can use it to bring a different perspective to their studies."
On the spot
Students who declare minors at USC Kaufman join the university's growing dance community, which has strong ties to dance in Los Angeles, inside information on USC Kaufman happenings and, of course, the talented faculty.
"The facilitation of my dance experience at USC, from receiving a kiss on the cheek from Bill T. Jones, spending office hours talking about hip-hop with Professor [Moncell] Durden, to the countless performances on campus has shown me dance must be an element in my daily life," said Katrina Miller, who is majoring in comparative studies.
Minors are integrated into daily life at the Glorya Kaufman International Dance Center, interacting with faculty, staff and accompanists in both technique and lecture classes. Those classes give them a solid foundation in dance education as they obtain their degree elsewhere at the university.
"My absolute favorite part of this job is admitting students on the spot and seeing the look on the faces of those who will be taking dance classes for the first time and those who are really grateful to continue their years of training," Beard said.
USC Kaufman dance minors and other non-dance majors will showcase their skills in the USC Kaufman Elective Experience show April 21 as part of Dance On! Week, held April 21-28.