The Popoviches: Six Decades as a Trojan Family
Six decades, three buildings, three generations and one strong USC tradition come together for the Popovich family.
Ask USC Trustee Jane Hoffman Popovich '65 for her earliest memory of USC, and she smiles. It has to be the USC-UCLA men's basketball game that kicked off the 1959-60 season and cemented her allegiance to the Trojan side of LA's crosstown rivalry.
"My father took me to that first USC-UCLA game at the Sports Arena, which had just opened," she says. "The game was very close all the way to the end." USC guard Jerry Pimm almost brought the game against Coach John Wooden's Bruins to a big finish, sinking a 20-foot jump shot, but it wasn't to be. The final score: UCLA 47, USC 45.
Despite the heartbreaking loss, the Trojans made an indelible impression on the teen. A native Angeleno, Popovich saw USC grow along with Los Angeles during the region's boom in the 1960s. Her parents, H. Leslie and Elaine Stevely Hoffman, were avid supporters of higher education in LA, which was a driving force for their decades-long support of USC—even though they did not attend the university.
The Hoffmans invested heavily in USC, helping to create many of the classrooms, research spaces and medical programs so important to the university today. That tradition continues through their daughter, Jane; her husband, J. Kristoffer Popovich '65 MBA '70; and their granddaughters, Kimberly Shepherd, Tricia Fink and Jennifer Allen '96. The Hoffman Foundation, steered by the Popoviches and their daughters, most recently donated $4 million in June to endow the Jane and Kris Popovich Chair in Cancer Research at the USC Norris Comprehensive Cancer Center.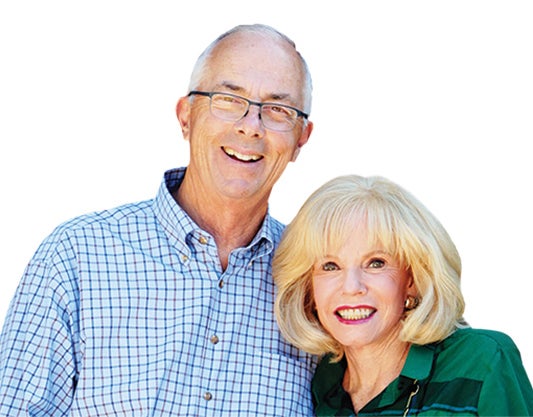 "Jane and Kris Popovich stand among USC's most dedicated and exceptional supporters and have earned such a special place in the hearts of so many of us at USC," President C. L. Max Nikias says. "As a couple, they continue to build on the stellar groundwork laid by Jane's parents nearly 60 years ago. Over the decades, this singular family has combined their extraordinary philanthropy and foresight regarding higher education with a heartfelt dedication to our community. The university's current lofty standing can be traced back—in no small measure—to their outstanding support."
Pillars of the City
The family legacy began in Los Angeles during World War II, when H. Leslie Hoffman—Les for short—started making and selling tabletop radios. He diversified into televisions, along the way forming Hoffman Electronics Corp. The company would go on to pioneer solar cell technology. But he was more than a business and technology leader. He became a USC trustee and national chair of USC's 1961 Master Plan Committee. The campaign raised $126 million for USC in the 1960s.
"My father was committed to building the city into a thriving community," Jane Popovich says. And for USC to grow along with LA, "he knew that personal giving would be key."
Kimberly Shepherd remembers that her grandparents and parents loved to bring new people to a cause. "Before giving, they'd always ask themselves, 'does this need our leadership?'" she says. She's now a board member at Children's Hospital Los Angeles, like her father before her.
A walk through USC's campuses underscores their leadership. Gifts from their foundation in the 1960s funded the H. Leslie Hoffman Hall of Business Administration at the USC Marshall School of Business and the Elaine Stevely Hoffman Medical Research Center at the Keck School of Medicine of USC. A donation in 1995 funded the H. Leslie Hoffman and Elaine S. Hoffman Chair in Cancer Research at the Keck School of Medicine.
"Jane and Kris understand the relationship between a strong USC and a strong Los Angeles," says James G. Ellis, USC Marshall dean. "They are tireless stewards of the Hoffman family philanthropic tradition, a legacy they have made their own and carry forward to future generations. They are hands-on leaders within the USC and Marshall communities, earning an indelible place in the hearts of the entire USC and Marshall family."
Nearly 30 years after the dedication of Hoffman Hall, construction began on Jane Hoffman and J. Kristoffer Popovich Hall—dubbed JKP—a technologically advanced building that would become home to the USC Marshall School's MBA programs.
Daughter Jennifer Allen, who had been a USC senior at the groundbreaking, remembers walking through Popovich Hall shortly after it had opened. "I felt like I stepped into the next generation of business education," she says. "I was so proud and happy for my parents, and to be part of a USC legacy that runs very deep."
The new Popovich Hall, opened in 1999, would continue the work the Hoffmans started: boosting higher education and advancing USC Marshall's standing as a top business school.
Growing Up Trojan
An only child, Jane Popovich was told by her mother and father that she could go to any university she wanted. "Well, anywhere except for UCLA," she says with a smile. She was accepted at USC, Stanford and Northwestern, but chose USC.
Kris Popovich, whom she met in high school, earned business degrees at USC Marshall. The couple married shortly after graduation, pursuing their interests in business as well as family. Hoffman Electronics was sold in 1971, but Kris Popovich continued as CEO of its spin-off Hoffman Video Systems, a leading integrator of audio and video components. Jane Popovich followed her passion to the fashion industry, where she owned and operated several clothing stores and a retail catalog for more than 20 years, many of those years in partnership with her three daughters.
Despite a packed schedule, the couple still finds time for their alma mater. Jane Popovich has been a member of the USC Board of Trustees since 1983. She also just finished a term as president of the USC Associates Board of Directors, a group that Kris Popovich was instrumental in forming, and of which he has also served as president. Both serve on the USC Marshall Board of Leaders, and Kris Popovich has served as USC Marshall's development chair. Jane Popovich is also an active member of Town & Gown of USC and Women of Troy.
When asked what they do for fun, the retired couple has a simple answer: "Spend time with our grandchildren." They have eight, ranging in ages from 2 to 17. The Popoviches' hobbies include family outings of hiking, golf, skiing and—harkening back to Jane Popovich's earliest memory of USC—Trojan basketball and football.
Next Generations
Their most recent gift to Norris cancer center will create an endowed faculty chair to advance critical cancer studies. "After 60 years of research, we're still looking for cures to all cancers," Kris Popovich says. "We hope this gift will spur progress toward a much-needed breakthrough."
"Jane and Kris Popovich understand the importance of investing in translational research, which is key to bringing the knowledge generated through basic science to the patient's bedside," says Stephen Gruber, holder of the Hoffman Chair in Cancer Research and director of USC Norris Comprehensive Cancer Center. "Thanks to their generosity, Norris cancer center can support outstanding faculty who will be able to develop innovative care that will benefit cancer patients."
The gift brought the Hoffman Foundation's lifetime USC giving to $20 million, which includes significant contributions to establish student scholarships.
"There is a strong sense of tradition within our family's support of USC," Tricia Fink says. "I talk to my sons about how we support USC because we want to help build this community and, through that, to help others."
When the Popoviches return to the University Park Campus, they're always thrilled to see Popovich Hall—not because their names are on it, but because students and faculty love the learning environment. Seeing a new generation of leaders thriving is a reminder that the legacy their family started is alive and well and has taken USC further than they could have ever imagined.
"Today, USC has become an academic powerhouse, and its accomplishments attract people from around the world," Jane Popovich says. "I'm proud that my father was among those who helped get the ball rolling."
Editor's note: The entire USC community mourns Jane Hoffman Popovich '65, who died of cancer shortly before this article went to press. A tribute to her appears here.