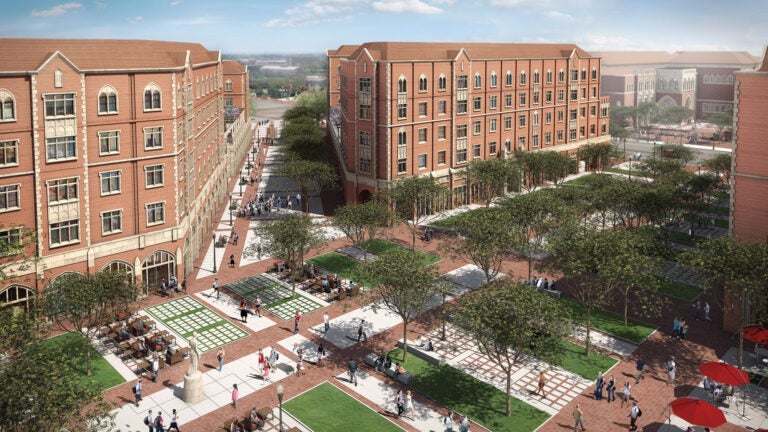 A Strong Foundation for USC Village
A new residential complex will reshape how generations of Trojans live and learn on campus.
Imagine a bustling, welcoming residential community where Trojans can eat, sleep, study, play, dream, mingle and, above all, discover themselves. Picture inviting residence halls with private courtyards opening onto an inviting town square. A scholarly enclave churning with possibilities—outdoor concerts, poetry readings, street theater. A place where undergraduates can hang out with distinguished faculty outside the classroom.
Where students can stargaze or sip a latte, strum a guitar or cram for finals, take a cardio class or doze under a shady tree.
USC Village will bring this vision to life—and revolutionize the landscape of the university.
This 1.25-million-square-foot, residential-retail center on the north side of the University Park Campus will feature a cluster of five-story residence halls encircling a grand plaza that will form the pinnacle of student life at USC. For up to 2,700 students each year, USC Village will be home away from home.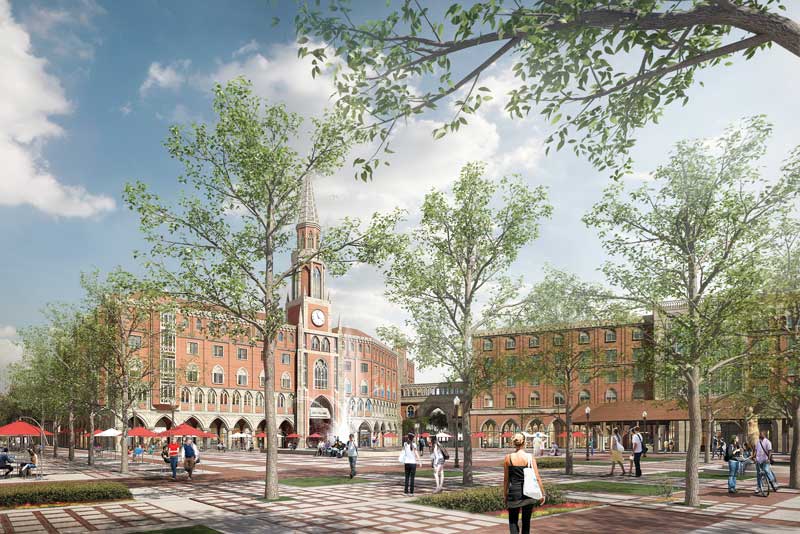 "This is by far the biggest thing USC has ever done, and probably ever will do," says USC President C. L. Max Nikias, who spearheaded the USC Village planning effort. "We are growing to the north in a big way. USC Village will no longer be adjacent to the campus. It will be the campus."
It's not only USC's largest building project; it's the most expansive development project in the history of South Los Angeles. In their initial reviews, city planners projected it would pump $5.2 billion into the local economy.
"USC Village will provide the rich, academically focused, living-learning environment our outstanding undergraduates deserve," Nikias says.
Construction has already started. Occupying a 15-acre site bordered by Jefferson Boulevard, McClintock Avenue, and Hoover and 30th streets, the $650 million development project replaces the outdated University Village mall. Built in the 1960s and owned by USC since 1999, University Village's restaurants, cinema, market and shops were demolished earlier this year.
While it expands USC's usable building space at University Park by about 20 percent, USC Village also will change Trojan academics and the student experience, becoming central to university life. "The USC Village," says Ainsley Carry, vice provost for student affairs, "is going to be a game-changer for our campus. We are creating a residential community that all students, faculty, staff and friends of USC can enjoy."
USC and the neighborhood, transformed
"USC Village will be transformative not only for USC but also for our neighborhood," says Thomas Sayles, senior vice president for university relations. What used to be an offsite shopping center will become an integral part of campus. But it goes beyond academics. USC Village will mean growth and retail amenities for neighborhood residents. At street level, restaurants, a grocery store and dozens of shops and businesses will cater to USC students, faculty and staff as well as neighborhood residents, with plenty of parking.
Entirely funded by USC, the USC Village project will stimulate LA's economy. It will create thousands of jobs, many of them permanent, and boost tax revenues by millions of dollars. USC aims to fill at least 30 percent of the jobs with local residents.
USC Village will bring "real, tangible benefits to our community and the entire city," says Los Angeles City Councilmember Curren Price, whose district includes USC. "It's also going to act as a catalyst, I think, to encourage additional businesses to invest in the area."
In connection with the project, USC will provide more than $40 million in community benefits. The university will spend nearly $20 million to upgrade roads around USC Village, especially Jefferson Boulevard—eliminating parking lanes, widening sidewalks, planting trees and creating bike- and pedestrian-friendly crosswalks. USC also will contribute as much as $20 million to a housing fund managed by the city to support affordable housing in the surrounding area. USC will fund a law clinic, a small business adviser and ombudsmen. Businesses that left the area received relocation assistance from USC as well.
The neighborhood also will likely see more rentals open to residents in 2017, when about 900 private rental units that are currently occupied by USC students become available as USC Village opens.
"We want to thank the city leaders who diligently reviewed this project over the last 10 years. Ultimately, virtually all the stakeholders came together and enthusiastically supported this project," Sayles says. "I am enormously proud to be part of a university that has the commitment and fortitude to work through a very difficult process and bring thousands of good jobs, badly needed shops and restaurants, and a new center of community life here."
A place to live and learn
Welcoming entrances will funnel pedestrians and cyclists to crosswalks connecting USC Village to the rest of the campus across Jefferson Boulevard. Some areas of USC Village, though, are meant only for students.
Among them: a new fitness center, basketball courts and playing fields, study halls, lounges and green spaces.
After 9 p.m., the paseo gates will close and USC's campus-wide security measures come into play. Between 9 p.m. and 6 a.m. daily, only students, staff, faculty and registered guests will be able to enter the area.
Thousands of undergraduates will make their home on the secured upper levels of the USC Village residence halls. Each residence hall will have a single entryway, card-key lobby access, 24-hour security guards and fingerprint-scanning elevators. Even bikes will be secure, with 1,500 covered spaces near building entrances. "During the day USC Village will be a vibrant hub of activity," Sayles says. "However, it is important to remember that at night it will also be home for up to 2,700 students."
USC Village is about more than creating housing. It also reflects a desire to foster tight-knit Trojan communities.
"The USC Village project is a win-win opportunity for undergraduates and graduate students at USC," Carry says.
The project will expand availability to more than 10,000 beds owned and controlled by USC, bringing on-campus housing to more students during the formative years of their lives. It will create greater flexibility to allow some students to live on campus all four years. In addition, as undergraduates move into USC Village, the project creates spaces for graduate students to move into apartment-style housing that was previously designated for undergraduate students, Carry says.
After successful experiences with its first two residential colleges on the University Park Campus, USC designated all freshman housing as residential colleges in 2012. Best known as the Oxford model, this centuries-old system assigns students housing in a "college" where day-to-day contact with other students and faculty mentors forges intellectual and communal bonds to last a lifetime. American Ivy League institutions have used this approach since the 18th century.
Today, 22 senior faculty masters and junior faculty fellows live alongside freshmen in USC's eight on-campus residential colleges. Supported by USC housing staff and resident assistants, these faculty-in-residence organize lectures, group outings and dinners.
Some, like Parkside International faculty master Oliver Mayer, have been involved for almost a decade. In a residential college, "there's a sense of belonging, a sense of security, and a sense of bravery and excitement about what we can do together," says the dramatic writing associate professor, who experienced the traditional model as a graduate student at Oxford in the 1980s.
"We are taking some of the best elements of that really old model, but it's California, and it's also the 21st century. We have to make it fit this metropolis," Mayer says. For example, because Parkside is the international residential college, it celebrates most cultural holidays, including Chinese New Year and Diwali. There's also a weekly dinner series featuring local leaders from academia, business and professional sports. In this way, the residential college becomes a gateway between scholarly life and the vibrant, diverse city of Los Angeles.
An evolving identity
USC Village's planned 600-bed Kathleen L. McCarthy Honors College, part of the Thomas and Dorothy Leavey Foundation Honors Hall, has a classic clock tower and dining hall reminiscent of Harry Potter's Hogwarts.
It's designed for freshmen who want a rigorous academic experience combined with a commitment to community service and a rich cultural life. A home for academically exceptional students, it will offer dedicated space for seminars, studying and faculty advising.
An ornate bridge between the Leavey Honors Hall and the largest neighboring upperclass residence hall will provide student lounges and study areas.
The rest of USC Village's housing—about 2,100 beds—will accommodate upperclassmen. Regardless of their class, all students will live in suites, with bedrooms attached to a common area.
"Some aspects of the housing, like each of the halls' unique identities, remain purposely vague. That identity can't be imposed—it must evolve from the students themselves," says Romando Nash, executive director for residential education. Many students in USC's current South Residential Colleges, for example, have been gravitating toward a social justice theme. Since 2012, they've organized their elaborate College Access Day event to introduce neighborhood middle and high school students to USC. If enough upperclassmen from these colleges wanted to stay involved in that social justice community, says Nash, "USC Village creates an opportunity for us to continue the experience with, say, 100 students moving as a collective."
What's certain, according to Provost Elizabeth Garrett, is that USC Village will be a signature element of the campus, galvanizing opportunities for learning and engaging as an academic community.
"Our ambition is bold—to become the leading global research university of the 21st century with a unique residential experience," she says. "We are committed to creating the distinctive environment that sets us above the rest."