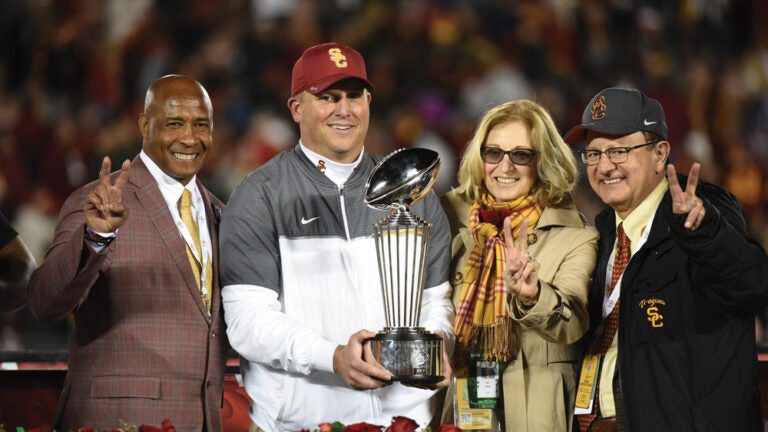 The Trojan Spirit
The Rose Bowl symbolizes renewed determination and commitment to excellence.
At USC, we're still smelling roses!
The Rose Bowl game in January was a wonderful, thrilling start to our year. Our last-second win against Penn State will no doubt go into the history books as one of college football's greatest comebacks, capping the Trojans' triumphant return to one of our nation's most beloved bowl traditions. What a sweet victory!
And while we take tremendous pride in the win, it wasn't just the result that mattered, but the manner in which we won. Our Trojans fought hard and never gave up. After a dogged third-quarter rally that gave Penn State a 15-point lead, many had written us off. But the atmosphere among the Trojans was very different.
Niki and I could sense their determination. Head Coach Clay Helton kept his calm, and quarterback Sam Darnold showed his mettle, never once losing that steely focus that would carry us to victory. Two Trojan greats—Marcus Allen and Ronnie Lott '81— remained confident: "We've got this," they said to me, even when USC was down by two touchdowns in the fourth quarter. "We've got time."
Our unsurpassed athletic tradition is the glue that binds our Trojan Family across generations and continents.
It was a special moment: watching the determination of the past generations root for the determination of the present generation. It's this resolve that defines a Trojan, and this same resolve that makes us all so proud to be a part of the Trojan Family.
Our unsurpassed athletic tradition is the glue that binds our Trojan Family across generations and continents. When we see our team showing such resolve in the toughest of circumstances, we feel doubly proud.
Our pride extends to all our sports, and Lynn Swann '74, who was appointed athletic director last year, is further strengthening our commitment to our student-athletes—to their academic success, to their dedication to sportsmanship and to their championship goals. Our football team's spirit this past season has been mirrored by our men's basketball team, which energized crowds at the Galen Center, and stands poised to build on this momentum. And our women student-athletes had an exceptionally strong year.
USC proudly earned the Women's Capital One Cup, which recognizes the finest women's athletics program in the country. This honor was backed up by a string of national titles among our women's teams in beach volleyball, water polo and soccer.
And of course, we all still recall the remarkable performances last summer by Trojans at the Olympics in Rio de Janeiro. What a joy to watch Allyson Felix '08 float over the track and Katinka Hosszú '12 cut through the water! We also saw Andre De Grasse assert his place among the world's elite sprinters, and Murphy Troy dig deep for his teammates on the volleyball court. They showed that Trojans—more than anyone else—embody the Olympic ideal: excellence in body, mind and spirit.
Whenever our Trojans succeed as the nation and even the world watches, we do more than celebrate a victory—we celebrate the indomitable optimism, determination and commitment to excellence that continue to inspire us in all our work. Fight On!