The Trojan Who Became a Brigadier General
Viet Luong '87 makes history as the first Vietnamese-born U.S. military general.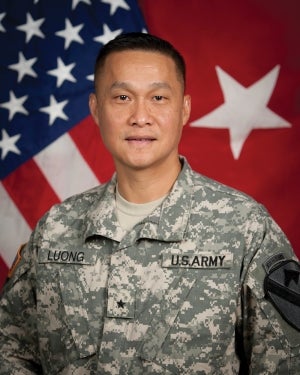 Viet Luong '87 was only 9 years old when his family barely escaped war-torn Vietnam.
Along with hundreds of other Vietnamese fleeing Communist reprisal, Luong, his parents and seven sisters found refuge aboard an American aircraft carrier. "My sisters and I were scared to death," Luong recalls. "When we landed on the USS Hancock, it was so big… We asked our father, 'Dad, where are we?' He said, 'We're on a U.S. carrier.' We said, 'What does that mean?' And he replied, 'It means nothing in the world can harm you now.'"
The following day, Saigon fell.
Life in America
Luong still gets choked up thinking about his family's harrowing experience, but he has come a long way from that fateful day: In 2014, Luong became the first Vietnamese-born officer in the U.S. military to achieve the rank of brigadier general.
Today, Luong is the 1st Cavalry Division's deputy commanding general for maneuver and most recently was in Afghanistan. The infantry officer commanded a battalion of 82nd Airborne Division paratroopers in Iraq in 2007–08, and led the 101st Airborne Division's 3rd Brigade Combat Team, the storied Rakkasans, into combat in Afghanistan in 2010–11. He has also served in Haiti, Bosnia and Kosovo.
I just try to do the best I can in every job given.

Viet Luong
He credits his fellow Army officers for helping him get his first brigadier general's star. "I just try to do the best I can in every job given," Luong says. "I would not be where I am today without all the help I have received from my subordinates and superiors."
College Dreams
His hardscrabble upbringing also played a role. After their escape, the Luongs relocated to Los Angeles and started from nothing to build a life. His father, who had majored in English literature and served as a senior officer in the South Vietnamese infantry, found work as an armed security guard, while Luong's mother worked in a fast food restaurant. Luong's older sisters worked too, but when one was robbed at gunpoint during a shift at a Hollywood gas station, Luong's father decided all his children were going to college.
Luong applied to USC thinking he'd never be able to attend, and set his hopes on state universities. A chance encounter with a Reserve Officers' Training Corps (ROTC) instructor at USC opened his eyes to new possibilities.
The instructor had served in Vietnam and was a paratrooper—exactly what Luong hoped to one day become. In 1983, Luong was accepted at USC with a full ROTC scholarship. "It was a bold move to go to USC," Luong says. "I chose USC not only for its legacy of academic excellence, but also because of how its alumni have fared in Southern California."
Luong majored in biological sciences at the USC Dornsife College of Letters, Arts and Sciences. "Being a science major taught me to think critically," he says. "I can cut through a lot of fluff and get to the root of the problem, and that has been one of my greatest strengths in my career."
He feels tremendous patriotism for the country that not only saved his life but also gave his family a chance to fulfill their aspirations through education.
His career is a thank-you from that 9-year-old boy on the USS Hancock. "At the end of the day," Luong says, "you have to ask yourself: What are you doing to contribute to our nation?"