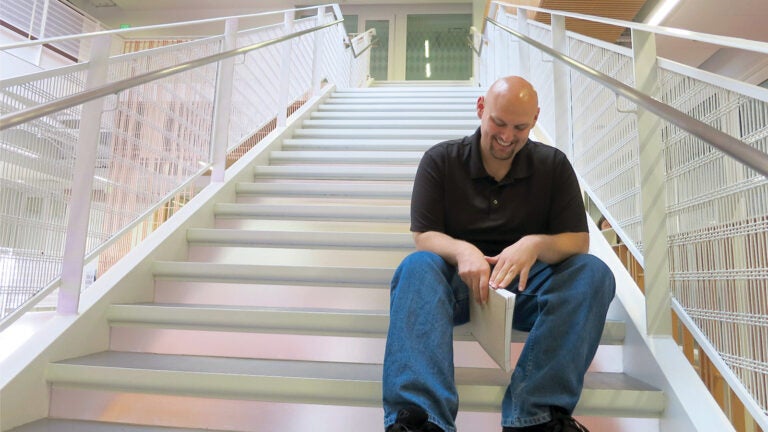 The Unexpected Journey of Stephen Guy
Without formal schooling as a child, a 28-year-old sophomore comes into his own at USC.
Stephen Guy sits in the back row in his USC classes. He doesn't say much to the other students. Sometimes he can't believe that he's there.
Sometimes it's hard to believe he made it to a university at all.
As a communication major, the 28-year-old sophomore knows that his enrollment in the USC Annenberg School for Communication and Journalism is a dream—and a lofty one at that, considering he had no formal schooling beyond the third grade.
Guy's mother pulled her son out of his Colorado elementary school and hit the road.

He was only 8 years old.
On the Move
Guy's childhood began to unravel in 1995 when his father died. Guy's mother, who feared the government was watching her and trying to kill her, pulled her son out of his Colorado elementary school and hit the road.
He was only 8 years old.
They trekked for half a decade through America's heartland in a silver Chevrolet Corsica. Later, when the car was no more, they traveled on Greyhound and slept in cheap motels. "I really missed the social part of school. I had no friends my age," he says. "I just wanted a normal life."
Instead, he read Stephen King and Harry Potter books and played video games. His aunt and uncle tried to help, but in the end, he and his mother picked up and moved again.
By 2005, Guy and his mother returned to Colorado Springs, where his older brother, John Martinez, was a single dad raising four kids. Guy got a job at the nearby Walmart and moved into his brother's place, helping take care of the bills and his nieces and nephews.
After a while, mom left and Guy stayed, happy to finally have a home. But he questioned his career options. "I wasn't making an impact on anyone," he says. "I didn't have a clear vision then of what I wanted to do, just a sense of 'not this.'"
Back to School
Buddies from work suggested studying at a community college, but one look at a friend's math textbook convinced him he wasn't ready. He enrolled in free GED test preparation at a school in a shopping mall. "The instructors were calm and kind," he says. "But for me it was nerve-racking. I remember not knowing where to go. I didn't have a book. I just came with paper and a pen."
He endured with help and encouragement from his friends, and four months later, he passed the GED exams with scores in the 92nd-to-98th percentile. The wife of his manager at Walmart took him to Pikes Peak Community College to talk to an adviser, and he signed up for courses.
After a shaky start, Guy fell into the groove of college life. He founded the school's anthropology club, took leadership positions within the honor society Phi Theta Kappa and helped organize events for CollegeFish, a national program to help community college students transfer to four-year schools. He enjoyed helping his fellow students meet their goals as he considered his own.
"The biggest thing about Stephen is that he'll always take time to help another person," says Jessica Johnson, a friend and fellow Pikes Peak alum.
He applied to transfer to USC, and still remembers the date—May 30, 2015—when he opened his mailbox and saw what he'd only dreamed about.
His acceptance package.
Doors Open
"I was super-excited," Guy says. Then reality set in."I also figured that I couldn't afford it."
But a few days later came his financial aid offer. In addition to a Pell Grant and other funding, Guy received a university grant worth $47,000.
"He blew my phone up with text messages," Johnson remembers. "It was a dream for him. USC was his number-one choice."
His only tinge of sadness is that his mother doesn't know he got into USC. She's been missing for three years. Because she has a history of long disappearances, it's hard to open a missing persons case, Guy says.
As for his other family and friends, they're sure he'll succeed at USC and beyond. While he's still nervous, he's gaining confidence in himself too.
"After all," he says, "USC is investing in me."