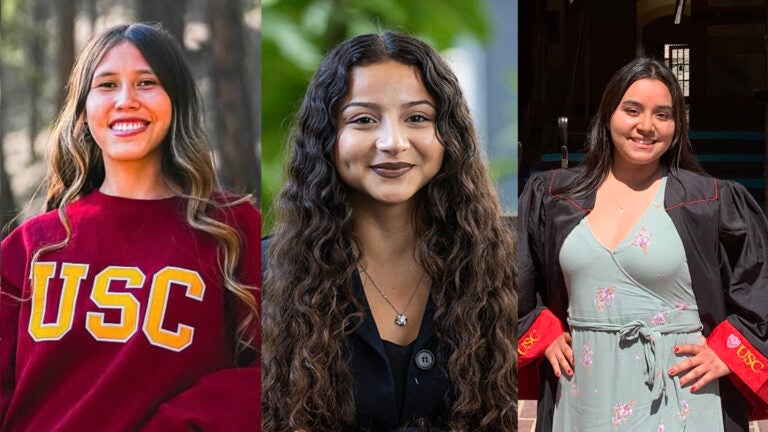 Three USC Dornsife undergraduates earn Jack Kent Cooke Foundation scholarships
The students join a growing community of more than 3,300 high-achieving young scholars helped by the foundation to attend top-tier, four-year institutions.
Three USC undergraduates have earned scholarships from the Jack Kent Cooke Foundation.
The students "have demonstrated outstanding academic performance. We expect them to continue along this path and to contribute greatly to your institution and society," wrote foundation Executive Director Giuseppe Basili in an email to USC President Carol L. Folt.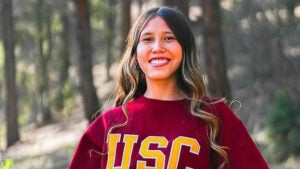 Rheannon Abeyta, a member of the Ohkay Owingeh and Kewa Pueblo tribes, hails from New Mexico. The first-year college student majoring in human biology at the USC Dornsife College of Letters, Arts and Sciences says she's aiming for a career in sports medicine at a college or professional sports program.
"The Cooke Scholarship helped me afford higher education and has also connected me with a long-lasting community," she said. "It has made it possible for me to gain an education, and I am able to represent Native Americans in hopes to inspire more to obtain a higher education."
She says she's found a supportive community with ample opportunity at USC. "Not only that, but the school spirit and athletic programs are amazing."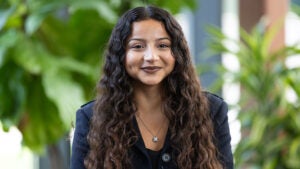 Emily Amador, a South Los Angeles native, is the daughter of immigrant parents from Mexico. Her mother is from Jalisco, and her father is from Michoacán.
Majoring in law, history and culture at USC Dornsife, she says she's interested in "pursuing public policy and law as a gateway into directly supporting my community through legislative action."
She says after graduation she will attend law school then run for Congress to advocate for civil rights and ultimately land in the White House.
Her relationship with the Cooke Foundation began when she was in eighth grade, as part of the foundation's Young Scholars Program, and she says it has been transformative for her. "The financial support of the foundation has allowed me to pursue academic curiosities and passions notwithstanding family financial constraints."
Amador says she's found happiness in the USC community. "USC is an environment that encourages interdisciplinary collaboration, and I am profoundly appreciative of that."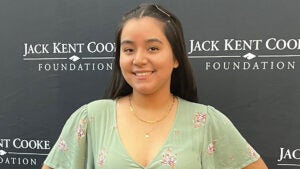 Junior Madeleine Cornejo transferred to USC Dornsife from a community college in Dallas.
Born in Lima, Peru, and raised in Irving, Texas, she says the scholarship's support is proving invaluable as she pursues a major in psychology at USC Dornsife.
"Figuring out a way to afford school while being a student can definitely take a mental toll on someone, so earning the Cooke Scholarship has allowed me to not experience this and take advantage of all opportunities," she said.
Cornejo hopes to pursue a doctorate in clinical psychology before embarking on a career at a clinic or hospital. She says she's been most impressed by USC's diverse community of students and the spectrum of academic and social opportunities the university offers.
"At USC, I have felt welcome since day one," she said, "so I am very happy to be able to call it my home."
The Cooke Foundation scholarship program includes opportunities for summer internship stipends, financial support to attend academic and professional conferences, and comprehensive educational and career advising. Since 2000, the foundation has awarded $282 million in scholarships to students from eighth grade through graduate school.