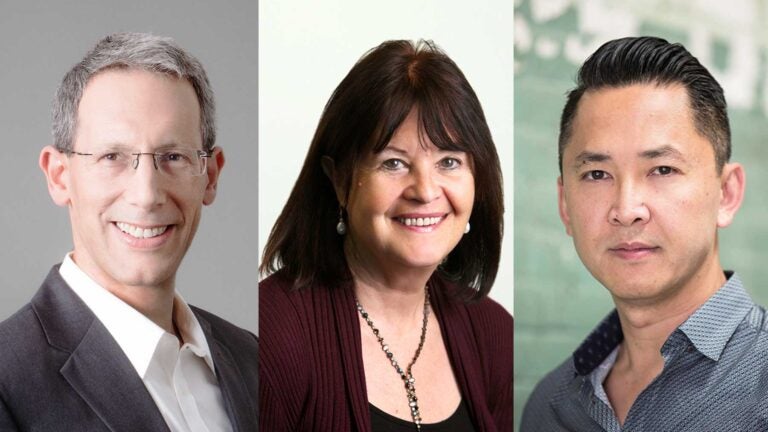 Three USC professors honored as 2017 Guggenheim Fellows
Daniel Lidar, Cheryl Mattingly and Viet Thanh Nguyen receive prestigious fellowships to pursue research and literary projects
Three USC faculty members have been honored with prestigious Guggenheim Fellowships for 2017.
Daniel Lidar, a professor of electrical engineering, chemistry and physics at the USC Viterbi School of Engineering; Cheryl Mattingly, professor of anthropology at the USC Dornsife College of Letters, Arts and Sciences; and Viet Thanh Nguyen, Aerol Arnold Chair of English and professor of English and American studies and ethnicity at USC Dornsife, were among a diverse group of 173 scholars, artists and scientists selected by the John Simon Guggenheim Memorial Foundation.
USC is one of just 11 universities to be home to at least three 2017 Guggenheim Fellows.
"These artists and writers, scholars and scientists represent the best of the best," Guggenheim Foundation President Edward Hirsch said of this year's fellows, selected from almost 3,000 applicants on the basis of prior achievement and exceptional promise. "It's an honor to be able to support these individuals to do the work they were meant to do."
Daniel Lidar
Lidar, who holds the Viterbi Professorship in Engineering, was the only candidate this year to be selected in the category of engineering. As scientific director of the USC-Lockheed Martin Center for Quantum Computing, home of the world's most powerful quantum computer, Lidar conducts state-of-the-art research using a D-Wave quantum annealing processor.
He is also the director of the USC Center for Quantum Information Science and Technology and founder of the Centre for Quantum Information and Quantum Control at the University of Toronto. For Lidar, the Guggenheim Foundation Fellowship affirms a lifetime of achievement and dedication to cutting-edge science — he is also a recipient of a Sloan Research Fellowship and a fellow of the American Association for the Advancement of Science, the American Physical Society and the Institute of Electrical and Electronic Engineers.
"I am humbled and deeply honored to be receiving a 2017 Guggenheim Fellowship," Lidar said. "I would like to acknowledge the contributions of the outstanding students and postdocs I've had the privilege of working with over the years, which were crucial in helping me earn this award.
"The fellowship will free me up to focus on my Guggenheim research project," exploring how operational changes might give a new generation of quantum computers speed or other advantages, Lidar said.
In addition to serving as a USC Viterbi professor in the Ming Hsieh Department of Electrical Engineering, Lidar holds joint appointments in the USC Dornsife physics and chemistry departments.
Cheryl Mattingly
Mattingly, who holds a joint appointment at the USC Mrs. T.H. Chan Division of Occupational Science and Occupational Therapy, is a medical and psychological anthropologist who is inspired by phenomenology, the philosophy of ethics and narrative theory.
Her research has focused on disability, family care and health disparities for minority populations, in particular African-Americans. Throughout her work, she has tried to document more than large-scale forces of social injustice.
Her Guggenheim Fellowship will enable her to concentrate on her new book, Category Trouble: Stigma as Moral Experience. The book will explore recent attention to "moral striving" in anthropology that has highlighted how people struggle to transform or exceed the lives they inhabit — aspirations that sometimes increase suffering.
The book will be more experimental in its writing than her previous works, she said.
"Can I write compelling nonfiction short stories that also have a certain theoretical, even existential, resonance? Can my stories help us rethink stigma as a painful and personal lived experience, as a social marker of marginalized groups and also as a feature of the human condition?"
Mattingly said she was stunned at the news she had won a Guggenheim, but added that she felt a special connection to the honor.
"There is deep significance for me in receiving a Guggenheim because of the program's long history as a supporter of innovation and creativity, especially in the arts and humanities," she said.
"Although anthropology is generally classified as a social science, I have always been a humanities-oriented type. One reason I gravitated toward anthropology as a discipline was because its research approach and methods encouraged us to listen carefully to the stories people told us and to record those stories 'in their own words.'"
Viet Nguyen
Nguyen has racked up a raft of honors since the publication of his debut novel The Sympathizer (Grove Press, 2015), a New York Times best-seller. The book, which presents the Vietnam War from multiple perspectives, won the 2016 Pulitzer Prize for Fiction.
"The Guggenheim has long been recognized as one of the nation's premier fellowships, and it's a tremendous honor to be included in this group of writers and scholars," he said. "The most important thing about receiving the award is that it means I will be able to dedicate myself to writing full-time in the next academic year."
Nguyen is currently working on a second novel, The Committed, which he says will be the sequel to The Sympathizer.
"While The Sympathizer explored how war tied Vietnam and the United States together, " he said, "The Committed examines Vietnam and France's relationship through the opium empire that France built in Indochina, and its ramifications for France."
Nguyen's nonfiction book, Nothing Ever Dies: Vietnam and the Memory of War (Harvard University Press, 2016), was a finalist for the 2016 National Book Awards in nonfiction and the National Book Critics Circle Award in nonfiction.
Earlier this year he published a collection of short stories, The Refugees (Grove Press).
As well as writing The Committed, Nguyen is now editing a collection of essays by refugee writers, to be published by Abrams Press in 2018.
"Given the renewed urgency of the refugee situation, with the United Nations finding that there are about 65 million stateless people in the world, [Abrams Press] editor Jamison Stoltz and I felt that it was timely to bring together writers who are refugees and who talk about refugees," Nguyen said.
---
About the Guggenheims: Simon Guggenheim, a U.S. senator, and his wife established the Guggenheim Fellowship award in 1925 as a memorial to their son, John. The foundation awards a little fewer than 200 fellowships each year to "men and women who have already demonstrated exceptional capacity for productive scholarship or exceptional ability in the arts."