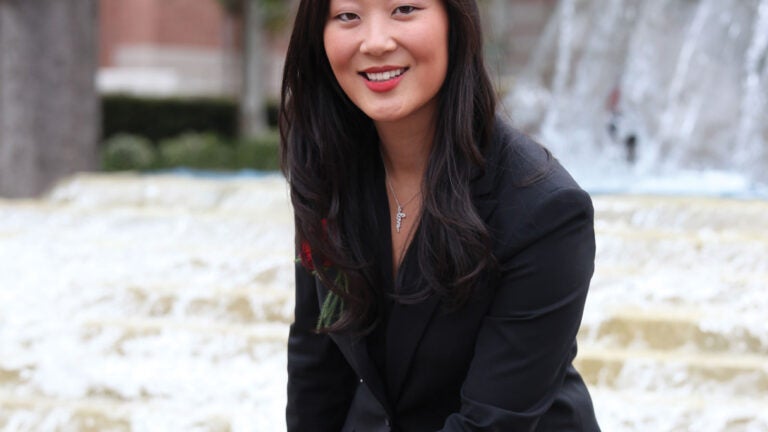 Jaime Lee: The Trojan Who Makes Time Management an Art
Here's a hint to the USC alumna's success: It's about making choices.
At last count, Jaime Lee '06,? JD '09, serves on the governing boards of three USC alumni organizations; a city agency that issues industrial-development bonds; a state agency that regulates speech, language and hearing-related licensees; the Hollywood-Wilshire YMCA; the Korean American Coalition; and a nonprofit that backs improvements in downtown Los Angeles' Fashion District.
How does she find time for all this volunteer work while holding two executive positions in her family's extensive real estate development and management business?
"When you prioritize the things that are important to you, it's easy to find a way to do it all," says Lee, executive vice president of Jamison Services, a property management company, and chief executive officer of Jamison Realty, a leasing and brokerage firm (both part of the Jamison group of companies based in Los Angeles). "I usually make a list of everything I want to accomplish, how much time each item will take, and then find away to fit them in."
That's been her approach to life since she was an undergraduate English major at USC Dornsife and taught herself time-management techniques. Back then, on any given day she might fit in classes, honor-society meetings, lacrosse practice, magazine editing, homework and part-time work, both on campus for the Office of Protocol as well as in the family business.
Lee considers passion to be as important as planning for success. "If you don't enjoy what you do, you won't be effective in your role, and you won't properly manage your time commitments," she says. "You can't 'create' time for something you're not interested in."
She attributes her job satisfaction to striving to better the lives of everyone in her family, and meeting and working with new people in a field that never bores her. How about her work for the USC Alumni Association? It all comes from her love for USC, explains Lee, who initially got involved through the USC Asian Pacific Alumni Association's (APAA) board of directors in 2010.
"At first it was just fun to spend time with fellow Trojans," she says, "but as I got more involved with the APAA's scholarship program, it became incredibly rewarding to interact with current students and develop strong relationships with people I've mentored."
She went on to join the USC Alumni Association Board of Governors and the USC Gould School of Law Alumni Association's board. For the past four years, she's served on the host committee for the USC Women's Conference.
Her family members have strong Trojan connections too. Alumni include her mother, Miki Nam '79, and her grandfather, Andrew Chung Woo Nam DDS '72. Lee's three younger brothers have double USC degrees as well: Phillip '08, JD '12; Brian '09, MBA '14; and Garrett '11, JD '14.
Lee's parents instilled the value of community service in her, she says, stressing that "it's important to help those who've helped you."
She's both idealistic and pragmatic about the end results of her community work.
"I'm hoping for a better world," Lee says. "For me, philanthropy is not just about writing a check. It's about getting to know an organization's programs and the work it does, and contributing as much as you can with the skills that you have to help as much as possible."