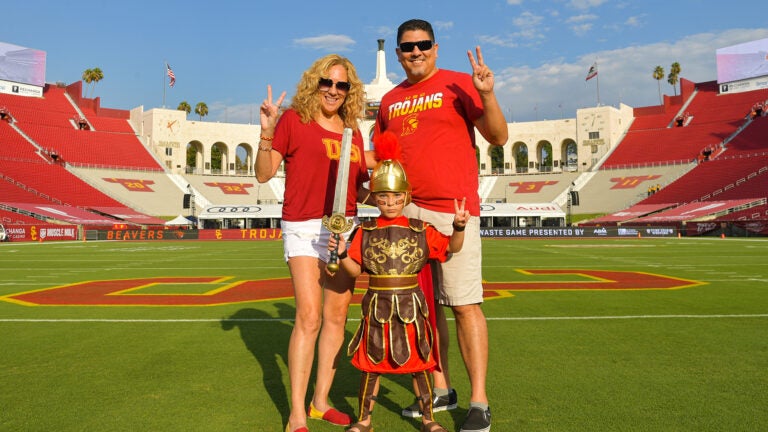 Tiny Trojan — already a USC football fan — embodies the close ties between the university and the community
Julian Segura — now 6 years old — has been going to USC games since he was 1. He and his parents are a part of the extended USC family that spans the Los Angeles region — the Trojan Family that makes a big difference here, too.
The lights flood United Airlines Field as the USC football team enters from the players' tunnel.
Cheers erupt from the Los Angeles Memorial Coliseum crowd, including one small voice coming from Section 319, Row 10, Seat 35: "Go Trojans, Fight On!"
This enthusiastic fan is not a USC student or an alum. He's 6-year-old Julian Segura, and he rarely misses a USC football game.
"It feels good to go to the games and see and meet people," Julian said. "I like to dress up and take pictures with the fans. I always tell them, 'Fight On!'"
Michael and Sylvia Segura began taking their son to USC football games when Julian was just beginning to walk and talk.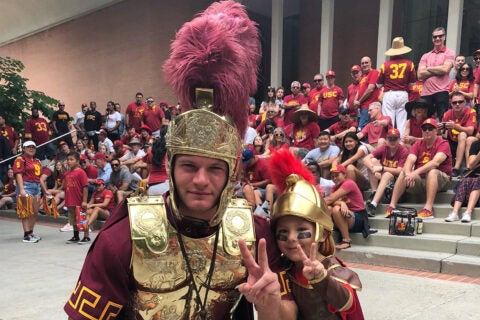 "Julian was a year old when we took him to his first USC game," Sylvia Segura said. "We would dress him up in Tommy Trojan attire."
Now a kindergartner and seasoned USC football fan, the young Trojan shares what he likes most about the games — seeing the drum major, dressed as a Trojan warrior, lead the marching band — "and when USC makes a touchdown and Traveler comes out."
USC football fans: Part of the university's extended family
The Seguras live in the San Fernando Valley and, like many people in the Los Angeles area, are part of USC's extended community. This mutual and longstanding relationship between the school and Los Angeles residents began as soon as the university opened its doors in 1880.
USC affirms that its success depends on its ability to be a good neighbor. The university offers impactful research and life-changing programs to Angelenos through the Good Neighbors Campaign, the Leslie and William McMorrow Neighborhood Academic Initiative, the Keck School of Medicine of USC's Street Medicine team, the Herman Ostrow School of Dentistry of USC's mobile dental clinic, Keck Medicine of USC's COVID testing and vaccination programs, and more.
USC students, staff, faculty and its extended community also come together in countless activities from this weekend's Los Angeles Times Festival of Books on the University Park Campus to academic programs, business development, civic involvement, art exhibits, theatrical and musical productions — and, of course, sporting events.
However, with the Coliseum's seating capacity of 77,500, USC football brings together one of the largest number of university members and local community residents.
A handful of those seats are faithfully filled by the Segura family.
"I have always been an 'SC football fan since I can remember," Sylvia said. "My dad loves the Trojans, so he brought us up, taking us to games and watching them on TV."
Sylvia's husband became a Trojan football fan by default.
"My husband, Michael, is from Texas, and although we do not share the same teams in professional football or basketball, when I asked him who he liked in college football, he told me he didn't really follow college," she said. "So, I told him, 'You do now' and he has been a Trojan fan ever since."
However, the Seguras are not solely football fans. They live by the motto, "Come for the football, stay for the band."
"Seeing the USC marching band play after the games is probably our favorite part," Sylvia said. "We listen to the band play after the game, regardless of whether we win or lose."
Last year, the Seguras traveled to South Bend, Indiana, to watch the Trojans take on Notre Dame. It was there that Julian got the surprise of his little life when he was invited to lead the band. (Story continues after video)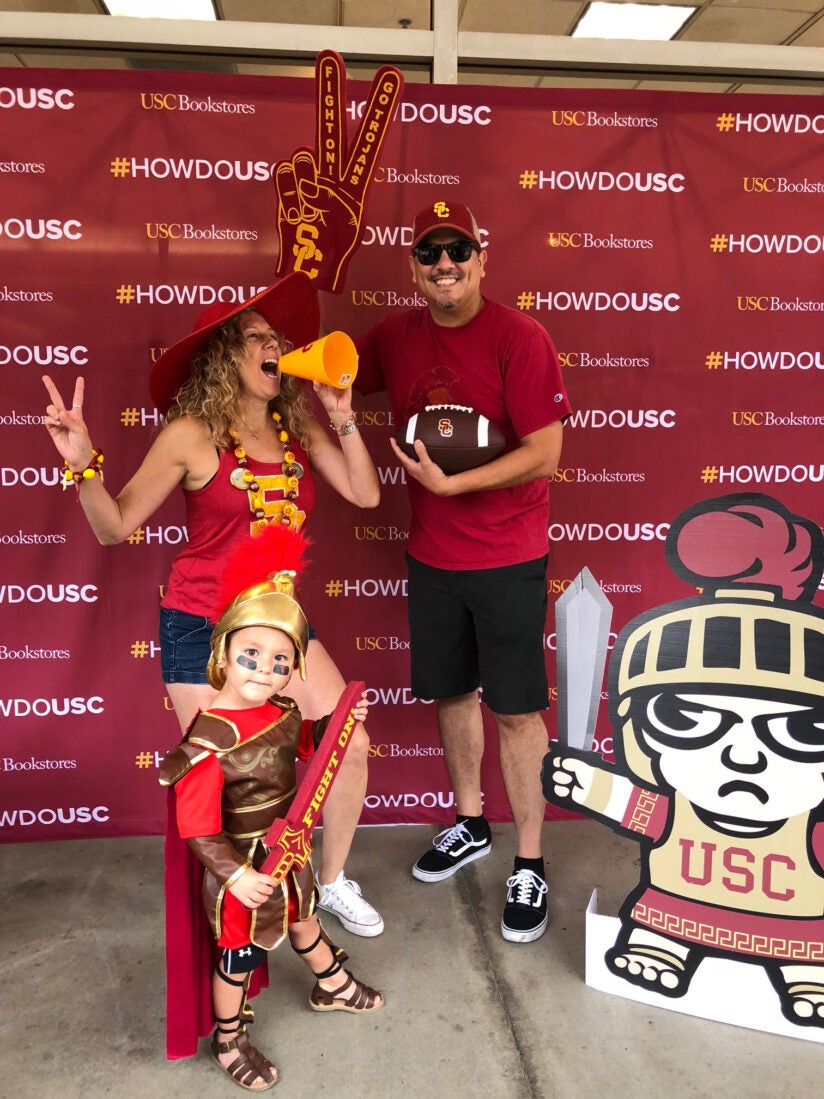 "I cried, it was something so special to me," Sylvia Segura said. "Never in a million years did I think my son would lead them in song.
"I will forever treasure that memory. I truly hope Julian does too," she said.
In the upcoming football season, the Seguras are looking forward to new memories and a new coach.
"Lincoln Riley, three words: I can't wait," Sylvia Segura said. "It's been tough being a USC fan these past few years, but I truly believe we are going to turn this football program around and it's going to be an exciting time to be a Trojan fan again. Coach Riley is going to bring excitement to USC."
Julian is excited for the new coach too — as excited as a child can be about the finer points of collegiate football.
"My mommy told me about us having a new coach," Julian said. "I don't know much about it, but mommy says it's a good thing" — a good thing that begins Saturday at the traditional spring football game.
To date, there are 450,000 USC alumni and countless unofficial alums like the Segura family.
"Mommy says we will be going to more games this year and I can't wait," said the tiny Trojan. "I can't wait to see my friends in the band, and I can't wait to cheer on the Trojans to victory. Fight On!"