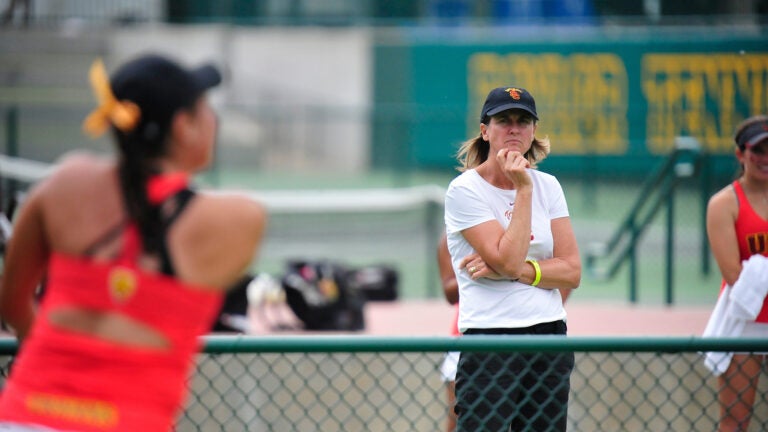 Trojan trailblazer cherishes being 1st woman to receive USC athletic scholarship
TITLE IX: Tennis standout Barbara Hallquist DeGroot quickly made a name for herself, winning back-to-back national collegiate singles titles in the 1970s. She later returned to USC as a volunteer coach.

Editor's note: Title IX — the landmark legislation that prohibits sex discrimination in educational institutions that receive federal funding — was signed into law on June 23, 1972. In recognition of this anniversary, we'll be profiling Trojan Title IX trailblazers throughout the year.

Barbara Hallquist DeGroot had no idea she would be serving and volleying her way into history when she agreed in 1975 to attend USC on a full scholarship and play for the Trojan women's tennis team.
"I knew sometime after getting the scholarship that I was the beneficiary of Title IX legislation," DeGroot said. "But I didn't realize that I was the first scholarship female athlete — even after I started classes."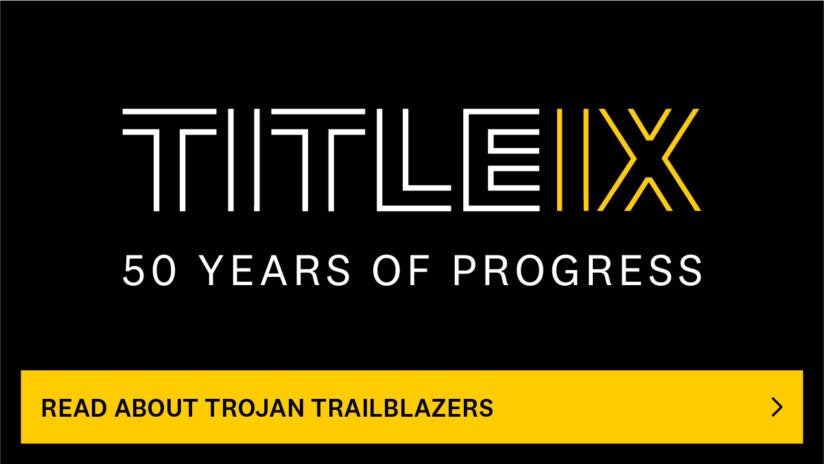 Title IX, the landmark legislation prohibiting sex-based discrimination in any school or other educational program receiving funding from the federal government, was signed into law 50 years ago last month.
DeGroot was the top-ranked junior tennis player in Southern California and in the top 10 nationally while attending Arcadia High School. Since she wanted to remain local after graduation, she had narrowed her college choices to USC and UCLA. She met with USC athletics administrator Barbara Hedges first and quickly made up her mind.
Maximizing the opportunities of Title IX
"She sold me on the Trojan Family," she said of Hedges, who had joined USC in 1973 and quickly made it her mission to maximize opportunities made possible by Title IX.
DeGroot may have arrived at USC with very little fanfare, but she quickly established herself as a star by winning the national collegiate singles title during both her freshman and sophomore years. She also led the Trojans to two national team titles.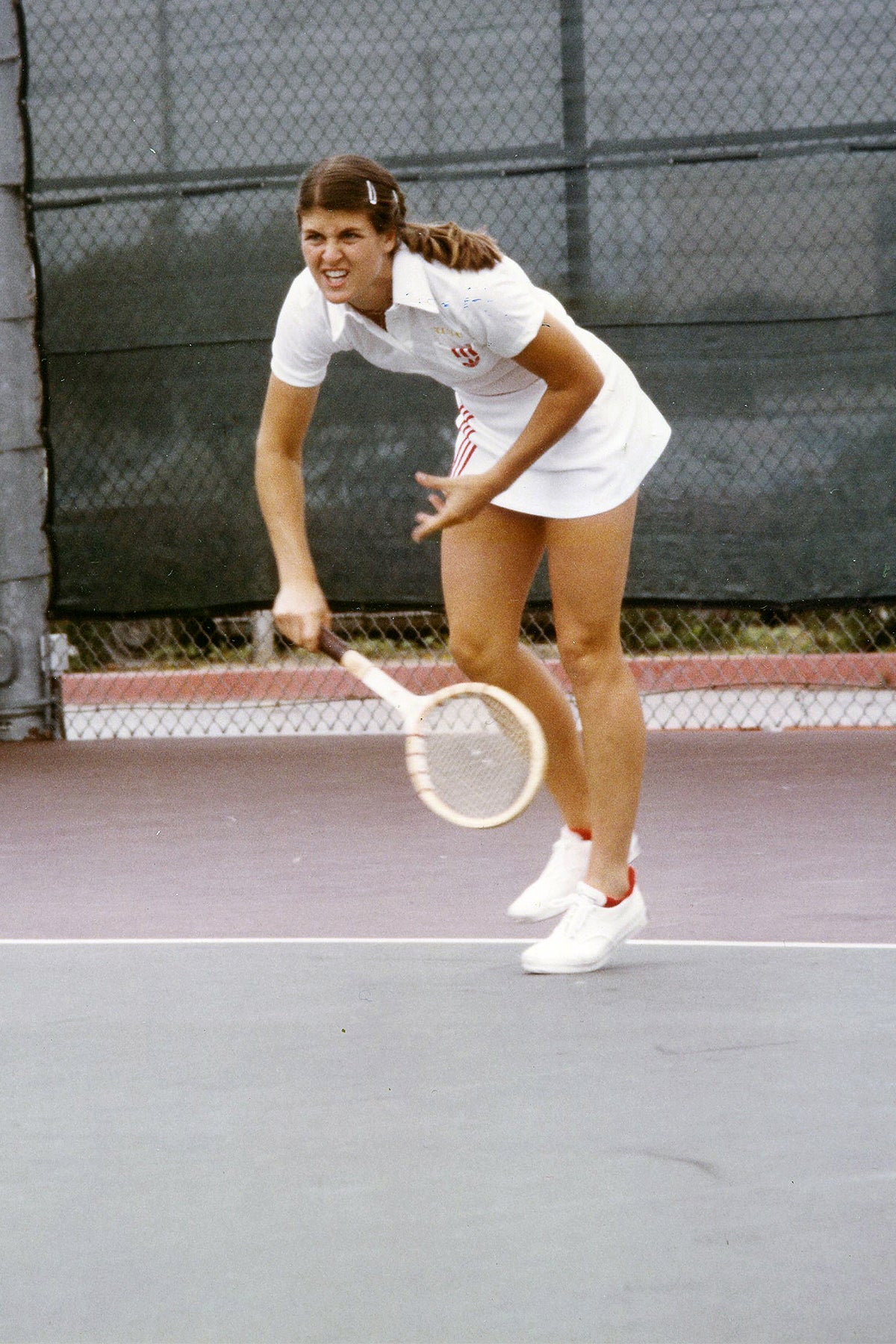 It was a no-frills experience at first. The courts the team practiced on no longer exist, there wasn't a locker room, and if players wanted something to drink, they'd have to cross the street to get to a small neighborhood convenience store.
"My freshman year, we had no uniforms to speak of and wore our own tennis clothes," she said. "It was really fun. I loved every minute of it."
The women's tennis team quickly became a national force. DeGroot said this and other successes would not have been possible had it not been for those early scholarships.
"I think Title IX really moved the university into the upper echelon of women's athletics in the country," she said. "The school became so respected and renowned in college athletics in a relatively short period of time. USC was not only showcasing stellar men's programs, it had a whole new successful woman's program that it could showcase."
Looking back at that historic time, DeGroot knows that her life was forever changed by getting that full ride at USC.
"My life would not have been nearly as rewarding or fulfilling both on and off the tennis court," she said. "Going to USC and being able to get an education just meant the world to me. Being able to be successful, compete with my teammates, and being able to travel was really the time of my life."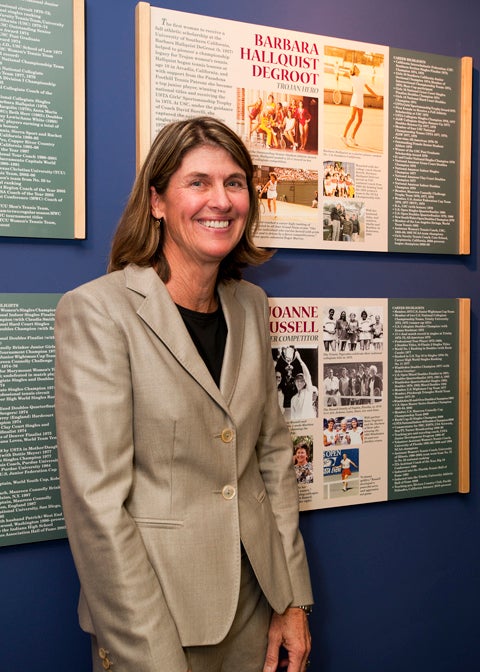 After graduation in 1979, DeGroot went on to play on the women's professional tennis tour for four years and was ranked as high as 30th in the world. She made it to the quarterfinals of the 1980 U.S. Open before losing to eventual finalist Hana Mandlikova. DeGroot recalled one span of several weeks when she lost to tennis icons Chris Evert, Martina Navratilova, and Tracy Austin on European clay courts.
DeGroot quit pro tennis after she married John DeGroot in 1983; they have two children, now in their 30s. But she wasn't through with tennis or with USC.
Barbara Hallquist DeGroot returns to USC tennis
She returned to campus as women's tennis assistant coach for three years shortly after leaving the pro tour and helped lead the Trojans to the NCAA team championship in 1985. In 2013, DeGroot returned to USC once again, this time as a volunteer assistant coach for three years. She had also spent six years coaching tennis at Cate School in Carpinteria, Calif., where her children were students.
DeGroot was inducted into the Intercollegiate Tennis Association Women's Collegiate Hall of Fame in 2010 and a year later was enshrined in the USC Athletics Hall of Fame.
She was among the nearly 200 current and former athletes, coaches and staff who gathered on campus on June 23 to kick off the university's yearlong "Title IX: 50 Years of Progress" celebration.
"I can't believe it's been 50 years," she said. "I think it's great that we're celebrating it because it really was groundbreaking legislation. It laid the groundwork, and we need to continue to be diligent in our efforts to build on that foundation. We're all stronger when everybody has equal opportunity no matter what arena you're in."