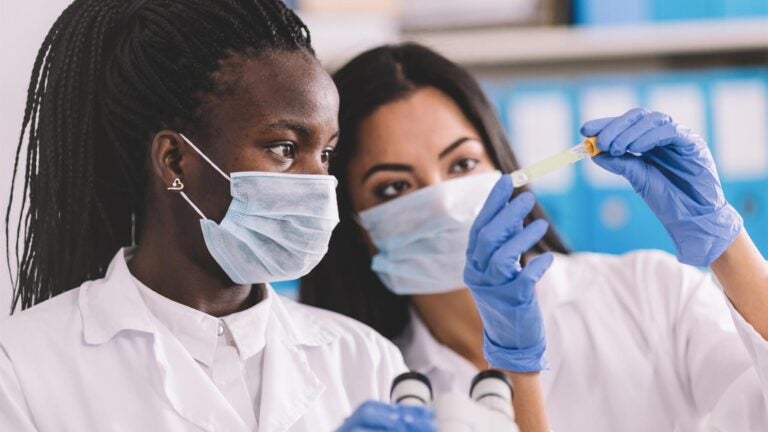 In USC labs, another year of groundbreaking discoveries
Year in review: Whether they're working with patients, test tubes or massive databases, USC scientists continue to push the envelope with discoveries that are literally changing people's lives.
Pandemic or not, USC researchers continue to make discoveries that are changing people's lives. From studies on why we're so polarized to work on treating and someday curing Alzheimer's, Trojans remain at the forefront of science — whether that's in a lab, in a big-data repository or in their own living room. There's a reason USC is considered one of the nation's top research universities. Take a look at some of this year's most memorable research stories.
---
? A promising drug
"The results suggest the drug's potential for treating white matter strokes in humans, possibly including multiple white matter strokes that result in vascular dementia."
— Berislav Zlokovic, director of the Zilkha Neurogenetic Institute and professor and chair of the Department of Physiology and Neuroscience at the Keck School of Medicine of USC
Stroke drug shows promise in treating Alzheimer's and dementia
---
? Behind the divide
"We believe that polarization is a communications problem."
— Fred Cook, director of the USC Center for Public Relations at the USC Annenberg School for Communication and Journalism
Why is America so divided? Researchers find fake news about controversial topics contributes to political polarization
---
? How not to address vaccine hesitancy
"Too much of what we do—both in terms of public policy and in our own lives—involves arguing over anecdotes without relying on evidence or sometimes even facts. And as we show in this case, some of these gut-based policies are not just ineffective, but can even backfire."
— Tom Chang, associate professor, USC Marshall School of Business
https://news.usc.edu/194758/vaccine-incentives-dont-work-and-may-actually-backfire-usc-marshall-research-finds/
---
? When tech hits home
"Imagine someone in a care facility across the country. Instead of a phone call where you're trying to figure out what to say when somebody isn't engaging, it's 'Do you want to go to Rome?' 'Do you want to go to London today?'"
— Skip Rizzo, director for medical virtual reality at the USC Institute for Creative Technologies
USC researcher envisions Siri-like assistants and VR travel for older people and their caregivers
---
? Of mice — and men?
"The study indicates that it's possible for mice to eat a relatively bad diet that is counterbalanced by five days of a fasting-mimicking diet."
— Valter?Longo, the director of the Longevity Institute at the USC Leonard Davis School of Gerontology and professor of biological sciences at the USC Dornsife College of Letters, Arts and Sciences
Dropping fat and calories to simulate fasting helps mice live a longer life
---
? One of the nation's leading Alzheimer's research centers
"More than one-third of our 2020 NIH Alzheimer's funding supports USC's work as a global research hub. USC maintains and interrogates data gathered from patients throughout the world."
— Ishwar Puri, USC vice president of research
---
? Discovering a deadly trend
"These findings indicate that many people are at risk of an opioid overdose and underscore the importance of strengthening the implementation of overdose prevention — particularly naloxone access laws — and harm reduction strategies "
— Dima M. Qato, USC School of Pharmacy
Risk of opioid overdose appears higher in older Americans, USC study indicates
---
? An ancient fight over water spills into modern times
"Averaging losses from all of the announced filling scenarios, these water shortages could nearly double Egypt's present water supply deficit and will have dire consequences for Egypt's economy, employment, migration and food supply."
— Essam Heggy, USC Viterbi School of Engineering research scientist
Water dispute on the Nile River could destabilize the region
---
? When your local pharmacy closes
"We observed stark disparities in Los Angeles, where one-third of all Black and Latino neighborhoods were pharmacy deserts, particularly neighborhoods in South Central L.A., including Florence, Broadway-Manchester and Watts."
— Jenny S. Guadamuz, postdoctoral fellow at the USC Schaeffer Center and the Program on Medicines and Public Health at the USC School of Pharmacy
One-third of all neighborhoods in the largest U.S. cities have been 'pharmacy deserts'
---
? Another cost of COVID-19
"It's a social crisis that merits far greater attention, as well as a collective response to slow the tide of loss that's washing over children."
— Emily Smith-Greenaway, associate professor of sociology and spatial sciences at the USC Dornsife College of Letters, Arts and Sciences
As many as 43,000 U.S. children have lost a parent to COVID-19
---
? The natural gas field next door
"We found that a significant number of Black, Indigenous and Latinx people live near flaring. High rates of poverty and other barriers to health in rural areas — such as a lack of access to health care — could worsen the health effects of flaring-related exposures."
— Jill Johnston, an environmental health scientist and assistant professor of preventive medicine at the Keck School of Medicine of USC
Health risk? More than 500,000 Americans live within 3 miles of natural gas flares
---
? Commuting at a crossroads
"We wanted to examine the question of how the sudden transition to work from home will affect the city overall," said Parkhomenko. "So we looked at Los Angeles specifically. And what we found was that the changes will positively impact the city on several levels if work from home remains common after the pandemic."
— Andrii Parkhomenk, USC Marshall assistant professor of finance and business economics
https://news.usc.edu/183230/telecommuting-los-angeles-work-from-home-usc-research/
---
USC 2021 | A LOOK BACK — See more of our year-end package: