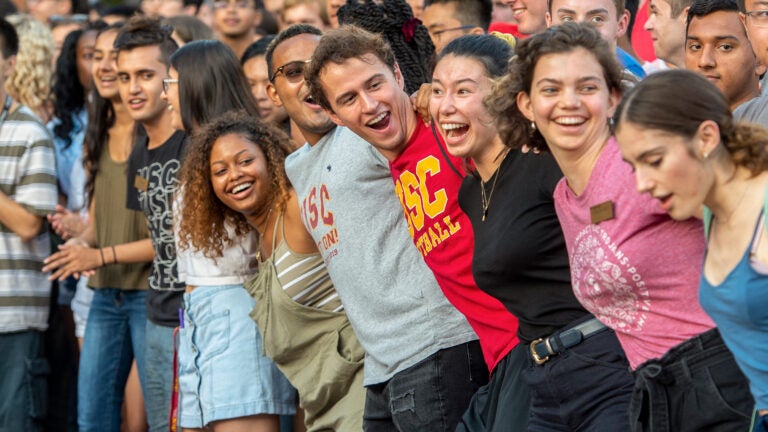 USC 2019 | The USC News headlines you had to share
? Year in review: Your favorite stories of the year run the gamut, from a profile of the Class of 2023 to a clue as to why women and men disagree on how warm the office should be.
There were plenty of USC News headlines in 2019 that reflected a time of profound change for the university. But many of our favorite stories — and yours — were about surprising research, fascinating faculty and stellar students doing what they do best.
Take a look at these, some of the year's most-read and most-shared USC News stories.
---
? The battle for the thermostat: Gender, temperature and performance
Tom Chang, associate professor of finance and business economics at the USC Marshall School of Business, published research that found women performed better on math and verbal tasks at higher temperatures, while the opposite was true for men: When temperatures were lowered, they performed better. The study suggests that gender is an important factor not only in determining the impact of temperature on comfort but also on productivity and cognitive performance. The findings also suggest that, in mixed gender workplaces, temperatures should be set significantly higher than current standards to increase productivity.
Battle for the thermostat: USC study finds women are more productive at warmer temperatures
? Recognition for the university's student focus
The latest Wall Street Journal/Times Higher Education survey of 801 U.S. colleges and universities again ranked USC among its top 20. The annual ranking uses a set of comprehensive metrics to determine whether a college offers students sufficient resources to succeed, whether students feel challenged and engaged, whether the student body is diverse and international, and whether graduates succeed by paying off their loans and are able to find satisfying, high-paying jobs.
USC ranks No. 18 nationally in Wall Street Journal/Times Higher Education survey
? A novel way to teach the classics
Brandon Bourgeois does more than just teach The Iliad: His hip-hop adaptation of the classic poem — one of the foundational texts of Western civilization — makes it relevant to modern audiences, including his students.
By rapping The Iliad, classics professor makes ancient literature relevant again
? A reason to rethink that keto diet
If you're trying to lose a few pounds — especially after all of the holiday feasting — you might be tempted to try popular approaches like the keto diet or fasting. But you might be unwittingly worsening a problem you don't even know you have: a fatty liver. Doctors like USC's Hugo Rosen are worried about an increasingly common condition called nonalcoholic fatty liver disease. It may lead to serious consequences like cirrhosis and liver cancer — just like liver problems caused by drinking too much alcohol.
Fad diets could contribute to liver disease known as a 'silent killer'
? A new Coliseum
In one of her first public events as USC president, Carol L. Folt welcomed community leaders to reintroduce the renovated Los Angeles Memorial Coliseum. The historic, 96-year-old stadium has never looked better after a $315 million renovation project funded entirely by private donations, including United Airlines' naming gift. The stadium — jointly owned by the city, county and state and managed by USC under a long-term lease — has been home to USC football since it opened in 1923.
? From lava springs life
Geochemists from the USC Dornsife College of Letters, Arts and Sciences rushed to take samples of water around K?lauea as it erupted in 2018. Researchers Seth John and Nicolas Hawco, as well as a team from the University of Hawai?i at M?noa, were called as part of a rapid response team to test the waters around the eruption. NASA scientists noticed that satellite pictures were revealing an unusually large bloom of algae across miles in the waters near the volcano. The findings indicated that the lava stirs a rich mixture of sediments and nutrients from the deep ocean to the surface, fostering an explosive growth of algae.
https://news.usc.edu/160393/kilauea-eruption-algae-bloom-north-pacific-ocean/
? USC debuts its newest academic building, Iovine and Young Hall
USC's newest academic building has a secret: Inside its red brick exterior, it doesn't look much like an academic building. In addition to classrooms, the new home of the USC Jimmy Iovine and Andre Young Academy, also houses a 3D print shop and a multimedia imaging lab. A podcast studio is almost finished. An incubator space is dedicated for alumni. "We look a lot more like a business than a school," said the school's dean, Erica Muhl, as benefactors Iovine and "Dr. Dre" looked on.
---
? Meet the newest members of the Trojan Family
Demand for a USC education appears to be stronger than ever: Over 66,000 applied, among the highest of any private university. And those offered admission accepted at a higher rate than any previous cohort.
First look at USC's Class of 2023: diverse, hard-working and high-achieving
---
USC 2019 | A LOOK BACK — See more of our year-end package: