Trailblazing pilot and flight instructor M'lis Ward is grateful for women who fought for Title IX
TITLE IX: The former USC basketball player says of the landmark legislation, "It really did make such a huge difference."

Editor's note: Title IX — the landmark legislation that prohibits sex discrimination in educational institutions that receive federal funding — was signed into law on June 23, 1972. In recognition of this anniversary, we'll be profiling Trojan Title IX trailblazers throughout the year.

M'lis Ward didn't realize the impact of Title IX while she was earning her degree from the USC Marshall School of Business. The woman who would go on to make history as a U.S. Air Force flight instructor and United Airlines pilot was focused on her studies and busy as a reserve forward for the Trojans' legendary women's basketball teams that won back-to-back national championships in 1983 and 1984.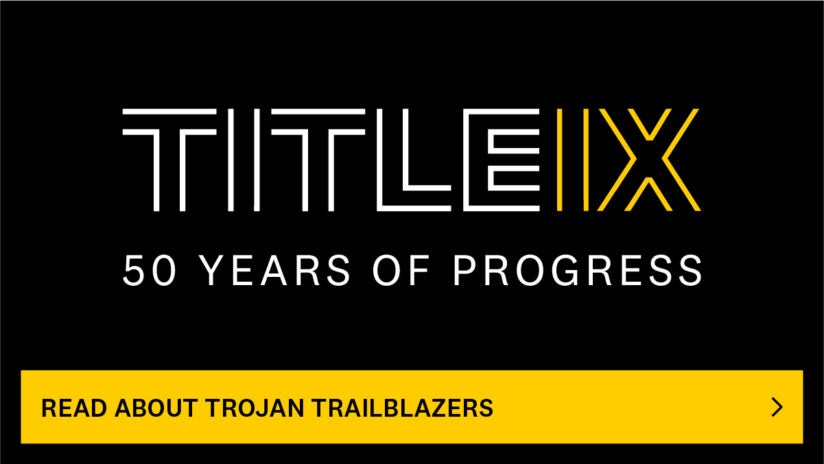 "Title IX was just never mentioned, and I think being on a championship team at USC partly contributed to that," Ward said. "Our games were sold out, and it felt like everyone wanted this team."
But just a decade earlier, there were only five women's sports teams at USC and very little funding. Groundbreaking USC athletics administrator Barbara Hedges was successful in more than doubling the number of women's sports and providing scholarships due to the opportunities made possible by Title IX. The landmark law prohibits sex-based discrimination in any school or other educational program receiving federal funding.
Since her days as a student, Ward has learned her Title IX history well, and she recognizes the law's impact on her college experience and beyond. She described the legislation that was signed into law 50 years ago last June as "one of the most important milestones in the history of women's athletics."
"I'm so grateful to all the women who really fought for Title IX because my life would have been so different," she said. "I hope it's something that we always celebrate because it really did make such a huge difference for the women of my generation."
Ward was a standout player during her years at Whitney Young High School in Chicago. After she enrolled at USC with an Air Force ROTC scholarship, she made the Trojan basketball team as a walk-on.
"This was truly the luckiest thing that could have ever happened to a person," Ward said. "Not just the winning of the national championships, which was great, but also the camaraderie and the entire experience of interacting with such amazing basketball players and even more amazing women."
She described the team as "all driven and A-type personalities" and believes their success on the court set high expectations for their entire careers.
"I've always kind of just strove for that perfection, and I know a lot of that comes from being on the basketball team," Ward said. "We went to that third national championship and lost to Texas and if you ask every single person on the team, we're still mad. We didn't win a third one. It's no fun being second."
College was only the beginning for this Title IX trailblazer
After graduating from USC, Ward went on to achieve two historic firsts: She is the first Black woman to serve as both a flight instructor for the U.S. Air Force and as a captain flying for a commercial airline.
Ward trained to become a pilot at Reese Air Force Base in Lubbock, Texas. In addition to being the only female graduate in her class, she became the first Black woman to receive a fighter pilot rating. However, because women were banned at the time from flying fighter jets and bombers, Ward instead trained male students to operate the two-seater, 5,000-pound T-37 jets.
"I was rated to fly fighters, but at the time women weren't allowed to," she said. "That came along six years after I graduated from pilot training."
In 1992, Ward moved from active to reserve duty and joined United Airlines, where she continues to fly several times a month in addition to teaching pilots in a flight simulator that artificially simulates aircraft flight in various environments and conditions. In 2010, she received the USC Alumni Association's Alumni Merit Award in recognition of her groundbreaking achievements.
Title IX trailblazer had a role model at home
Ward credits her mother, Anne B. Ward, with teaching her self-confidence by example. The elder Ward was one of the first two Black women to graduate from the University of Chicago's Pritzker School of Medicine and practiced as an obstetrician-gynecologist in the city for many years.
"She started medical school when I was 6, and she was also washing the clothes and making dinner," Ward said. "It's one thing to be a woman doctor in those times; it's another thing to do it after you've already been married with three kids. It's inspirational."
Ward's mother instilled in her the belief that "you should always want to be the smartest person in the room." This meant not focusing on the limitations society placed on being female and being Black.
I like to think that I tried to be the best at whatever it was. You can check all the boxes you like for your diversity column. I'm still the best candidate.

M'lis Ward
"I like to think that I tried to be the best at whatever it was," Ward said. "You can check all the boxes you like for your diversity column. I'm still the best candidate. I've always kind of just strove for that perfection."
She notes that 7% of all commercial pilots at United Airlines are women and fewer than 1% of the airline's pilots are Black women. Ward is also gay.
"I have always been 'the only fill-in-the-blank' in the work — always," she said.
Despite her unwavering belief in herself, Ward said there have been times she has been blatantly discriminated against because she is a woman.
She once tried out for a flying team that performed complicated formations similar to those you would see in the movie Top Gun. Although Ward felt confident in her chances of making second pilot after flying "an amazing ride," she wasn't selected. Her frustration grew when the officer who chose the team shared his reasoning for her rejection.
"He said he just didn't think I'd be happy in that role," Ward said. "I said, 'I knew I was trying out for that role. And if I didn't think I'd be happy, I wouldn't have tried out.' They didn't want to put a woman on the team."
Fears for future of Title IX
While Ward celebrates the 50th anniversary of Title IX, she does not take for granted that it will remain unscathed for the next 50 years.
The U.S. Supreme Court's decision in June to overturn Roe v. Wade, which guaranteed a constitutional right to abortion, has Ward concerned for Title IX and other legal precedents that address equality, such as same-sex marriage. Ward and her wife, Denise Garcia, were married six years ago but have been a couple for 26 years and have 21-year-old twin daughters.
"The Supreme Court has now set a precedent that says precedents don't matter," Ward said. "I just feel that rights are in jeopardy for all. We really are on the edge of a cliff and just waiting to see if we stay there or if we fall over."