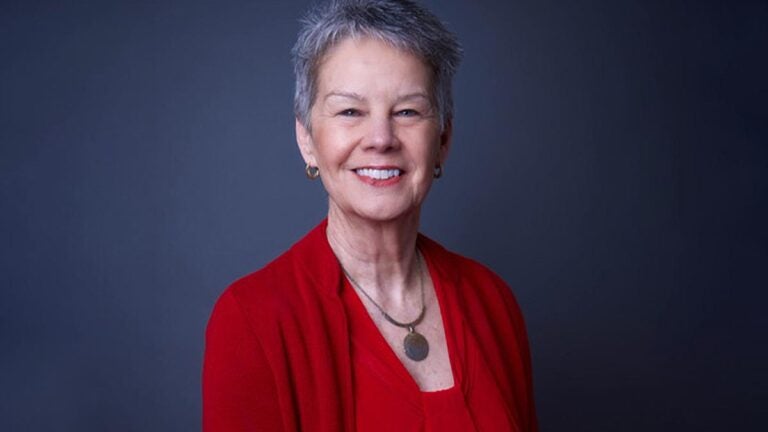 Trailblazing USC trustee finds hope in Title IX
TITLE IX: Former cancer researcher Amy Ross works to foster an environment where women are empowered to speak out.

Editor's note: Title IX — the landmark legislation that prohibits sex discrimination in educational institutions that receive federal funding — was signed into law on June 23, 1972. In recognition of this anniversary, we'll be profiling Trojan Title IX trailblazers throughout the academic year.
It all started with a girl's playhouse.
When Amy Ross was a young girl, her father built her a playhouse in their Tujunga backyard where she was supposed to practice what it would be like to be a wife and mother later in her life.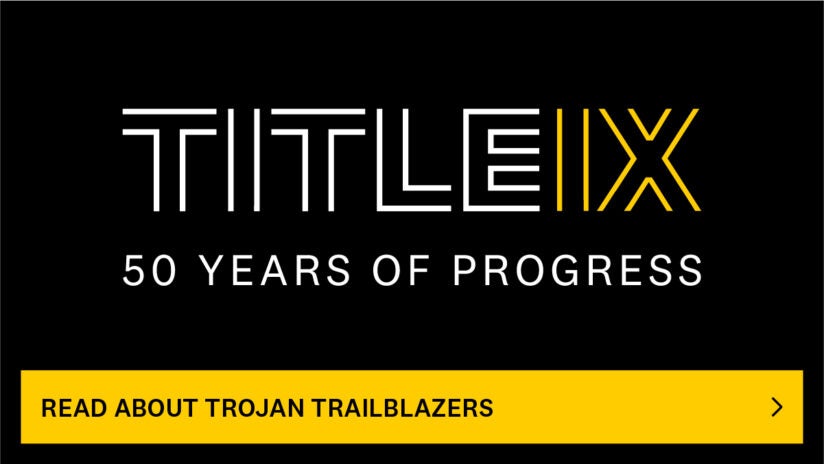 "I turned it into a laboratory," said Ross, now a USC trustee and renowned former cancer researcher who has authored more than 75 scientific publications and holds three U.S. patents for her work.
Her dad was surprised by the makeshift laboratory and asked Ross what she wanted to be when she grew up. "And I said, 'I want to be a doctor.' And he said, 'Well honey, you can't. You're a girl. You can be a nurse.' And that always stuck with me."
Ross proved him wrong and forged a path for herself as a trailblazer in almost everything she did, starting with being the only girl playing sports with the boys in her neighborhood. She watched with admiration as her high school physical education teacher, Jan McCreery, took on the Glendale Unified School District to fight for girls'sports programs before Title IX. Ross was a student at the University of California, Irvine, in 1972, the year Title IX was enacted.
Title IX trailblazer: 'It meant a lot to me'
"I remember when [Title IX] passed," said Ross. "There were certain factions of the society that said, 'This is going to ruin femininity. This is going to just be absolutely horrible.' But then we started to see women's sports programs coming in. You started to see girls gaining access. So, it meant a lot to me."

I remember when [Title IX] passed. … We started to see women's sports programs coming in. You started to see girls gaining access. So, it meant a lot to me.

Amy Ross, USC trustee
Ross, who came out as a lesbian in 1976, continued to pursue her academic goals, completing her bachelor's degree in psychobiology at California State University, Northridge. She then received her doctorate in experimental pathology from the Keck School of Medicine at USC in 1986, starting her on a lifelong commitment to the university that later saw her join several of her peers to serve as founding board members of the USC Lambda LGBT Alumni Association in 1992. She went on to serve as co-president twice and later endowed the Amy Ross Scholarship in Health Studies in 2012.
That same year, she co-chaired USC Lambda's 20th Anniversary Campaign, which exceeded its $250,000 goal and raised over $400,000. And in 2014, Ross made USC history when she became the first openly gay president of the USC Alumni Association Board of Governors.
Ross said she has had to overcome a variety of challenges she encountered as a young woman coming up in a field dominated by men since her college years, including in the early 1970s, when she served as a lab technician at what is now the Keck School of Medicine.
Helping to navigate a difficult situation
Ross credits Nancy Warner, who chaired the pathology department at the time, for helping her navigate her career — and for helping to change the culture at the school by recruiting more female students and staff. She said she feels fortunate that she did not encounter many incidents of harassment during a nearly three-decade-long career that saw her serve as senior vice president of scientific affairs at Nexell Therapeutics and as an associate biologist at Caltech.
"In the mid- to late-'90s, there were more women working in my field, so I always felt that we had each other's backs on stuff," Ross said. "Would we have comments when we'd go to meetings? Oh yes, of course. About the way we dressed? Of course. But women of my age, we just kind of rolled our eyes and went along with it.
"Although I was the subject of a sexual harassment incident early in my career, I am happy that I can say I was able to have productive and fruitful experiences as a woman and as an out member of the LGBTQ+ community."
Her experiences also propelled her activism, including her service as a founding member of the National Organization of Gay and Lesbian Scientists and Technical Professionals. She also currently serves as a director on the USC Arcadia Hospital Board and as a member of the USC Verdugo Hills Hospital Foundation Board.
I like that Title IX is ongoing and evolving, which is the way I think it should be.

Amy Ross, USC trustee
As a USC trustee, she plays an important role by helping to ensure that the university is governed in a way that protects employees, students and visitors to the campus.
"I like that Title IX is ongoing and evolving, which is the way I think it should be," she said. "And I think it raises people up to where we should be. But the thing that I appreciated so much, and it comes from a very difficult way of looking at things too, is that it shines the light on where women are vulnerable. Where women have harassment, sexual assault, and the role that a university can play in making sure that women are not put in that position.
"Can we do better? Must we do better? Yes. I do hope that between strengthening Title IX from an institutional point of view with universities across the board, women feeling empowered to speak out, that gives me hope."