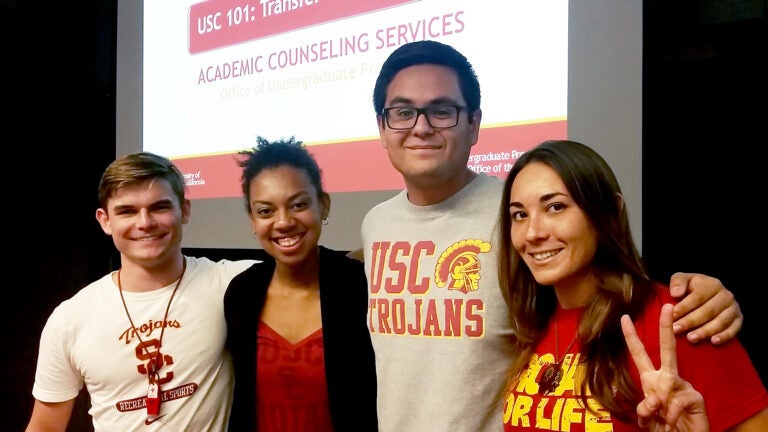 Transfer students transform into Trojans
New initiatives launched by Academic Counseling Services and Undergraduate Student Government help the transfers find their niche
Year after year, USC enrolls more transfer students, particularly those from community colleges, than any other private research university. Now the effort to support transfers' success has gotten a boost, thanks to new initiatives launched by Academic Counseling Services staff and Undergraduate Student Government.
Some 200 incoming USC transfer students gathered last week at special sessions designed just for them, such as a panel where former transfers offered advice.
Welcoming and supporting transfer students reflect USC's effort to expand access to higher education to academically qualified students from a variety of backgrounds.
Nearly 60 percent of USC transfers come from California's community colleges, and another 10 percent come from the University of California or California State University systems. Among the remainder, about 15 to 25 military veterans enroll each year.
Outreach and mentorship are vital to integrating these transfers into USC life.
Once transfers are on campus, they have to hit the ground running.

David Glasgow
"Once transfers are on campus, they have to hit the ground running," said David Glasgow '86, MPA '90, EdD '04, USC's assistant vice provost of undergraduate programs. "We know that transfers are more successful when they meet a key individual they can trust and confide in, like a mentor. We are here to add that extra layer of support to help them identify and remove obstacles to success."
Meeting obligations
Transfer students — whose average age at USC is 21 — often have obligations outside the classroom that typical freshmen don't share. For example, transfer students frequently work full time. Some have children or family members they support. Others have long commutes. Having an adviser who understands these challenges can make all the difference.
Glasgow oversees the new Academic Counseling Services unit, formed last year by the Office of the Provost to help transfers and other at-risk student populations adjust to USC's academic programs. This year's new Welcome Week programs for transfers were part of its outreach efforts. Aside from the panel of former transfer students, events included lunch for transfers organized by Undergraduate Student Government and a session on academic success strategies.
"We know transfers have difficulty feeling connected," said Kairos Llobrera, Academic Counseling Services' lead academic adviser, who spoke at the academic success strategy session. "We're trying to help with that by holding events like this."
The Academic Counseling Services unit also partners with Undergraduate Student Government to put on "TransferMation Tuesdays," a series of one-hour workshops that highlight opportunities for transfer students to maximize their Trojan experience.
Selectivity rises
Just as with freshmen applicants, USC has become more much more selective with transfers. USC Dean of Admission Tim Brunold '92 noted that in recent years, USC has received about 8,000 transfer applications annually. It accepts about 25 percent of them, a significant increase in selectivity from just 10 years ago, when the transfer admission rate was approximately 45 percent.
In fall 2015, USC enrolled about 1,500 new transfers. Campus-wide, transfers comprise between 20 to 25 percent of USC's undergraduate population.
Some transfers have excelled academically despite difficult circumstances before they enter USC, such as losing a parent or seeing their family struggle financially.
"Transfer students have a lot riding on getting this degree," Glasgow said. "I've spoken to many during my 21 years at USC, and every student has an interesting story of how he or she got here."
New challenges
Sometimes incoming transfer students face challenges at USC itself. Adjusting to upper-division classes at USC can be tough for students whose prior lower-division classes weren't as academically rigorous. Others find it hard to make friends and tap into campus resources, particularly if they are living off-campus or have full-time jobs that pull them away, Glasgow said.
Hussam Syed, a mechanical engineering student transferring from Mission College in Santa Clara as a junior, recognized that starting fresh at a school where he knows no one may be tough.
"I know that this transition is going to be an uphill climb, but I don't mind," Syed said. "I always wanted to go to USC since high school."
Completing his first two years at community college allowed him to save money. He plans to get involved in student groups as well as network with professors and other students at the USC Viterbi School of Engineering.
Krystal Ene transferred to USC as a sophomore from American University in Washington, D.C. For her, transferring to USC was a matter of finding a better fit for her personality and academic goals within the study of public relations.
While a student at Cerritos High School, she had only applied to universities outside California. Even though she excelled academically during her freshman year at American, she decided she wanted to return home — and apply to USC.
"I missed the big city," Ene said. "And I think USC will be better for me, and provide more networking and career opportunities."
One transfer helps another
Other transfer students are trying to smooth the way for those who are coming after them. Nicole Daviau, now a senior at the USC Marshall School of Business, transferred two years ago from Los Angeles Harbor College.
Working two jobs while taking a full load of classes, she felt disconnected from campus life. Only after a year did she finally feel more in the groove of things. Her experience spurred her to create a Facebook page for transfers. The page's popularity surprised her at first, but now she is working with student government to create a transfer community group on campus.
Daviau also participated in the transfer panel during Welcome Week so that she and other seasoned transfers could share their experiences, and help them feel part of the Trojan Family faster.
Among the tips she and others dispensed: Take advantage of the resources available at USC by sticking around after class. Go to office hours and get to know your professors. Join clubs or take classes like swimming or surfing to relax and get to know others socially. But always remember that class is your number one priority.
For Daviau, transferring to USC meant a lot of hard work and sacrifice, and she advised the new transfers that when things get tough to remember how hard they worked to be here.
USC has taken me out of my comfort zone and challenged me in ways I would have never thought possible.

Nicole Daviau
"USC has taken me out of my comfort zone and challenged me in ways I would have never thought possible," she said. "Although challenging, it has been one of the most rewarding things I have ever done in my life."
Despite the difficulties, transfer students perform quite well at USC, tending to perform, persist and graduate at rates similar to students who enrolled at USC from high school, according to Brunold.
They also bring new and diverse perspectives. "Faculty love transfer students in their classes," Glasgow said. "They bring real-life experience to their learning that first-time freshmen don't have. They add to the classroom discussions."