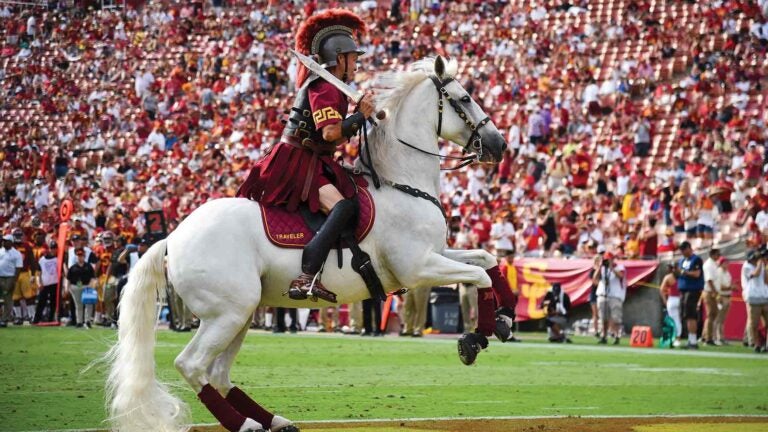 Traveler IX Gallops Into a Beloved Trojan Tradition
As Traveler VII retires, cheering fans welcome a new horse to the Trojan Family.
When the USC football team scores a touchdown, every Trojan knows what happens next. As "Conquest" fills the stadium, a Trojan warrior astride Traveler gallops down the field to the cheers of thousands of fans. The famous white horse is one of the country's most recognizable college mascots and has appeared at USC football games since 1961.
For the 2017 football season, USC welcomed the debut of Traveler IX, who kicked off the season at the opening game against Western Michigan. As with all Traveler horses, he was extensively trained for his unique job. Owner Joanne Asman spent more than a year preparing him for anything that might happen on game day, from the deafening roar of 90,000 cheering fans to the wandering mascots of opposing teams who might get too close.
Traveler IX succeeds Traveler VII, who retired after 14 years of loyal service. The 25-year-old pure Spanish Andalusian loved entertaining and even knew when it was show time: While waiting in the tunnel in between touchdowns, he could identify the difference between a goal and a first down by the sound of the crowd and the Trojan Marching Band.
The mascot tradition began when USC's director of special events spotted Richard Saukko riding his horse, Traveler I, in the 1961 Rose Parade. What was supposed to be a one-time appearance at a football game became history as crowds cheered upon seeing the noble white horse race out of the tunnel onto the field. Saukko's family would go on to raise, train and ride Traveler horses until 2003, when Asman took over.
With his successful debut season, Traveler IX continues a beloved Trojan Family tradition as a symbol of ancient Troy.