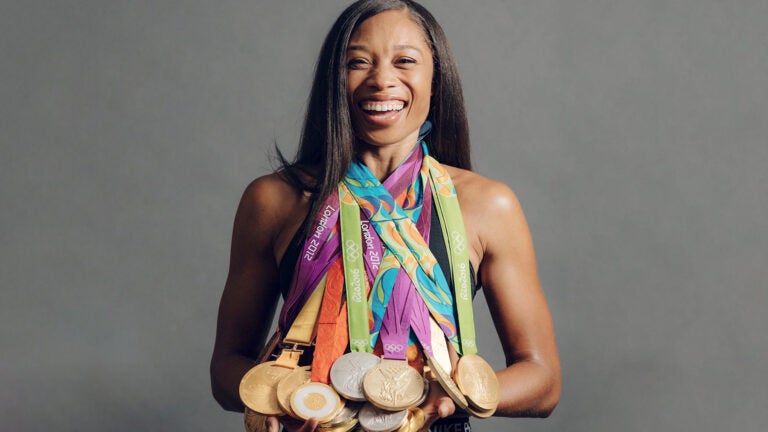 Trojan Allyson Felix is a trailblazer on and off the track
TITLE IX: USC will honor the USC alumna — the nation's most decorated track and field Olympian — at the formal dedication of Allyson Felix Field on Monday.
Allyson Felix, the namesake of a newly dedicated sports facility at USC, is the ultimate Title IX trailblazer. Felix, a USC alumna who has earned the most Olympic medals of any track athlete in U.S. history, is an advocate for women in and out of sports.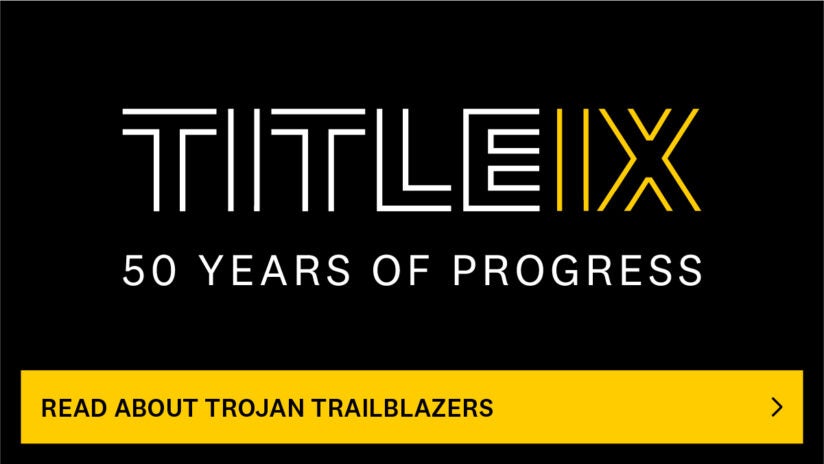 Felix has stood up against unequal conditions in athletes' contract negotiations after personal circumstances opened her eyes to major injustices. She became an advocate for maternity rights after experiencing pregnancy discrimination during the birth of her daughter. In 2021, she launched a childcare fund to support athletes who are mothers. Later, with her brother, Felix founded a community-centered lifestyle brand, Saysh, that creates sneakers for women by women. Last year, Saysh announced their maternity returns policy, which allows customers to exchange footwear should their size change while pregnant.
The inspirational Trojan is also the founding athlete of Voice in Sport, Iwhich aims to keep girls in sports through mentorship from professional and collegiate athletes.
Had the landmark Title IX law not passed in 1972, Felix may not have been able to play the sport she has gone on to dominate as the most decorated American track and field athlete in Olympic history.
Next week, the university will formally dedicate the university's field inside its track in honor of Felix. The celebration will coincide with the national Black Maternal Health Awareness Week April 11-17.
Part of USC history
USC President Carol L. Folt announced the university's naming of USC Allyson Felix Field in January in honor of Felix, who earned her Bachelor of Science degree from the USC Rossier School of Education in 2008.
"When Allyson and I spoke about naming the field after her, she responded with the grace and humility she has shown throughout her life," Folt said. "The Allyson Felix Field will recognize her immense achievements as a sports legend and Trojan — while also showing our admiration for her role as an entrepreneur, advocate and champion for women."
Felix — an Olympic sprinter, entrepreneur and proud mother — said the naming pays tribute to her ties to both the university and her hometown. As a little girl, she used to take walks on the campus with her grandmother and older brother. He went on to graduate from USC, and she followed in his footsteps.
"For me to be born and raised in Los Angeles and have such a history at USC, I am just completely humbled," she said. "It's such a huge honor to be a part of history in the campus, and it's such a special place for me."
The field is at the center of Katherine B. Loker Track Stadium, and serves as a hub for the men's and women's track teams and also groups such as ROTC, the USC Trojan Marching Band and recreational sports groups.
Allyson Felix Field honors an inspiring Trojan
"Allyson is the most decorated Track and Field Olympian in U.S. history and an inspiration to generations of Trojans," Folt said. "My hope is that students playing on the Allyson Felix Field — or just walking by — will see her name prominently displayed and be curious to learn more about her talent, grit and generosity."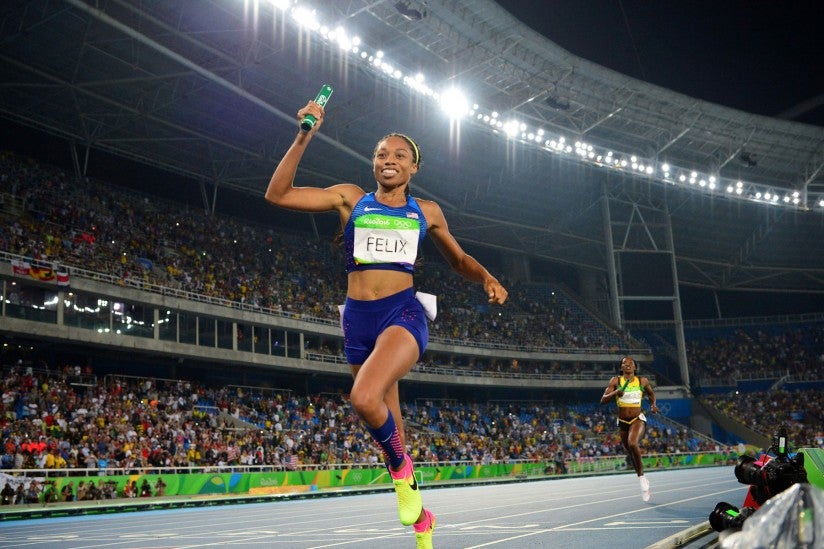 Felix was already a professional runner when she began attending USC. While working on her undergraduate degree in education, she began her successful tenure at the World Championships. Receiving her 11th Olympic medal — in a stunning 4×400 meter win at the 2020 Summer Olympics in Tokyo — Felix broke her tie with Carl Lewis as the most decorated American track and field athlete in Olympic history. She ended her athletic career at the 2022 World Championships in Eugene, Ore., with 31 total Championship medals.
In addition to that success, Felix has been an advocate for women and the issues facing athletes of color in and outside of sports — including unequal conditions in contract negotiations — after personal circumstances opened her eyes to major injustices. Becoming a mother would prove to be another powerful spark for Felix and the inspiration behind her advocacy for supporting maternal health.
Paula Cannon, a Distinguished Professor of microbiology at the Keck School of Medicine of USC who has led the naming committee for the university, said that Felix has proven herself as a valued member of the Trojan Family.
"Allyson is the ultimate Trojan," Cannon said. "She graduated with a degree from [the USC Rossier School of Education], crushed it at multiple Olympics and international competitions, and bravely stood up for what she knew was right when her employer did not. It will be so wonderful that the field she walked around as a little girl from the neighborhood will be named in her honor."
Felix said she encourages fellow Trojans to also speak up about the issues they believe in, even when it's difficult to do so.
"I'm by nature a more reserved, shy person; I don't usually want to rock the boat," Felix said. "But it was my brother who said, 'You know you can use your voice, even if it shakes,' and that really resonated with me."
Last year, speaker; this year, Allyson Felix Field
Last year, Felix received an honorary Doctor of Humane Letters degree from USC and delivered the commencement speech for the Class of 2022. In the speech, she echoed the advice she received from her brother, emphasizing that "there are times when you'll ask for change, and there are times when you'll have to create it."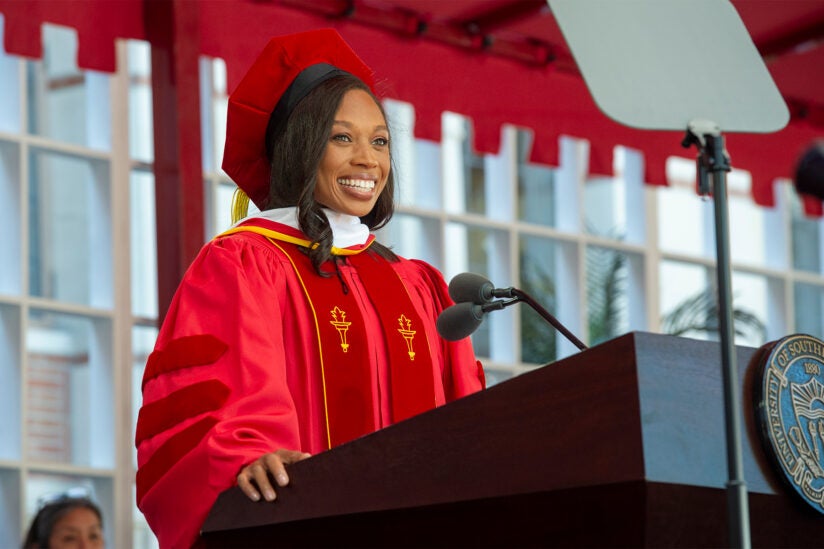 "We're incredibly honored and excited to recognize one of our greatest ambassadors and the most decorated U.S. track and field athlete of all time," USC athletic director Mike Bohn said.
Felix, now retired from track and field, believes the reasoning behind this renaming — an honor usually reserved for major donors — makes it even more special. "To have discussions about the renaming [of the track] because of my character, my integrity and for fighting for women is something that doesn't happen," Felix said. "It just really shows what USC values. I feel proud of the things that I've stood for, and it makes me proud to be an alumna because of the direction that the school is going."