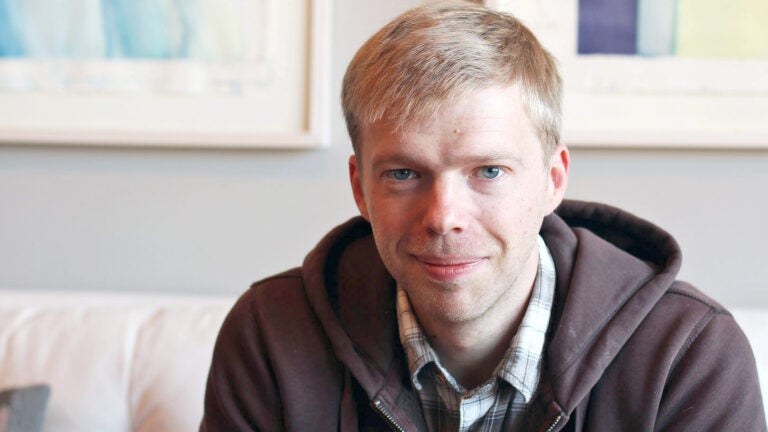 Andrew Norman wins prestigious composition award for video game-inspired 'Play'
The USC Thornton faculty member and alumnus earns the Grawemeyer Award for Music Composition for his acclaimed orchestral work inspired by the experience of playing video games
Composer Andrew Norman '02, MM '04 can add another successful note to his extraordinary year. The alumnus and USC Thornton School of Music faculty member has won the Grawemeyer Award for Music Composition. He received the honor for "Play," his celebrated orchestral work originally commissioned by the Boston Modern Orchestra Project.
"The Grawemeyer Award is reserved for special works that change the musical landscape," said Donald Crockett, chair of the school's Composition program. "Andrew's 'Play' is just such a piece and we are delighted at this very significant honor."
"Play," which Los Angeles Times critic Mark Swed called "a nerve-racking but fabulously exhilarating ride," is inspired by the frenetic experience of playing video games. Since its premiere in 2013, the work has been performed by numerous orchestras, including the Los Angeles Philharmonic; the Boston Modern Orchestra Project's recording of the piece received a 2016 Grammy Award nomination.
"'Play' combines brilliant orchestration, which is at once wildly inventive and idiomatic, with a terrific and convincing musical shape," said Marc Satterwhite, director of the award. "It ranges effortlessly from brash to intimate and holds the listener's interest for all of its 47 minutes — no small feat in these days of shortened attention spans."
A call for diversity
Norman joins an impressive list of composers who have received the Grawemeyer Award, including Esa-Pekka Salonen, John Adams, Unsuk Chin, Kaija Saariaho, Thomas Adès, Pierre Boulez, Tan Dun and György Ligeti. When the award was announced, Norman took the opportunity to advocate for greater diversity in the field of composition in an interview with National Public Radio.
"The canon is so overwhelmingly white and male, but we can use new music to fix that problem," he said. "There are so many voices who should be heard in the concert hall today, of people whose music reflects a wide variety of experiences. That, to me, is the most important issue right now for contemporary classical music and classical music generally — how to get what happens in the concert hall to reflect the diverse society that we are."
We are thrilled for Andrew for this well-deserved award.

Robert Cutietta
USC Thornton Dean Robert A. Cutietta said: "We are thrilled for Andrew for this well-deserved award and applaud him for calling for more diversity in the world of classical composition. It is wonderful to see Andrew use his growing stature as a composer to address social issues that are important. He will be an inspiration for us to examine what we do."
The Grawemeyer Award, which is presented annually by the University of Louisville and comes with a $100,000 prize, is the latest in a series of achievements for Norman. Earlier this year, he received a Guggenheim Fellowship and became director of the LA Phil's Composer Fellowship Program. And just last month, he was named Composer of the Year by the Musical America organization.
Norman accepts these accolades with characteristic humility.
"I've always had this strong feeling that I'm a work in progress," he said. "I've got a lot to try and a lot to explore."
He is currently working on his next project, a children's opera inspired by the 1902 Georges Méliès film A Trip to the Moon.