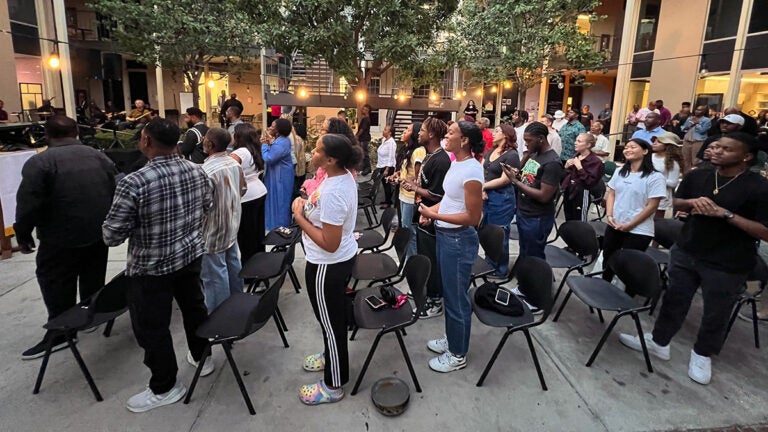 Inaugural Trojan Church service connects USC to L.A. religious community
Students, alumni and local residents gather for the first of weekly services geared toward building connections.
Strings of bright lights, loudspeakers and rows of chairs transformed the courtyard of the USC University Religious Center into an outdoor church Sunday evening, as a large crowd gathered to hear music, prayers and words of inspiration.
Trojan Church was in session; the first of the weekly services drew approximately 150 students, alumni and community members.
"No matter who you are, where you are from, no matter how many exams are on your mind, we've come to pause, to breathe, to remember that we belong together," the Rev. Brandon Harris, USC's associate dean for religious and spiritual life, said as he greeted churchgoers.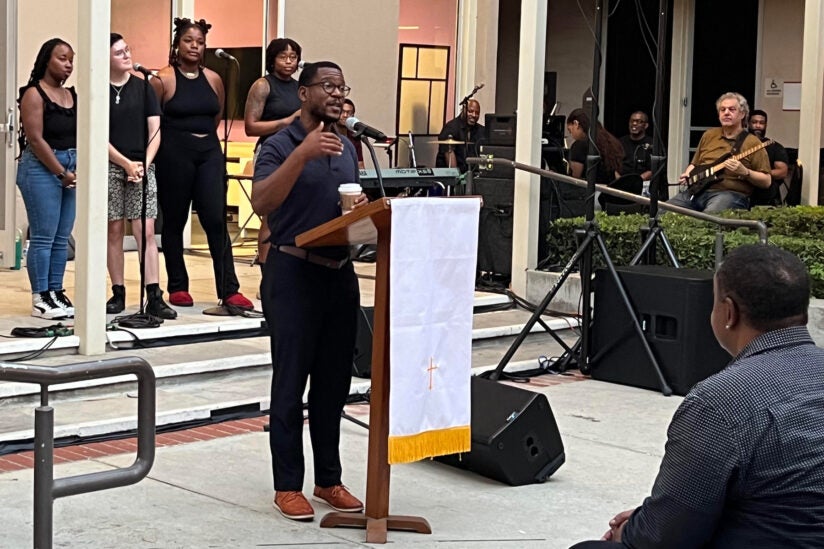 Harris is the driving force behind Trojan Church, and is excited to see his vision for building deeper relationships between the university and the surrounding community come to fruition during his first full fall semester at USC.
The pop-up church series was inspired by requests from students who pointed out that the 40 Christian groups on campus lacked a cohesive place to worship.
However, Harris arrived on the USC campus already harboring the goal of connecting the university with L.A. through inclusive, interdenominational fellowship.
Trojan Church is just the latest effort from the Office of Religious and Spiritual Life to stay on the cutting edge of religious life at U.S. universities.
Reminding students to 'Fight On' at Trojan Church
USC's seven-member Gospel Choir — recently relaunched and led by USC Thornton School of Music master's graduate Marcus Desir — kicked off the event after having its first rehearsal only an hour before. The choir, which Harris says is inspired by the Black church tradition and the gospel tradition, includes a mix of current and past Trojans.
(Story continues below video)
After an opening prayer from United University Church Pastor the Rev. Sunny Kang, a scripture reading and a rousing performance by the 30-member Faithful Central Fresh Gen choir, the Rev. John-Paul C. Foster — senior pastor of Faithful Central Bible Church in Inglewood — launched into his guest sermon titled, appropriately, "Fight On."
Foster shared a powerful message about staying focused on school and studies despite distractions that come at students every semester.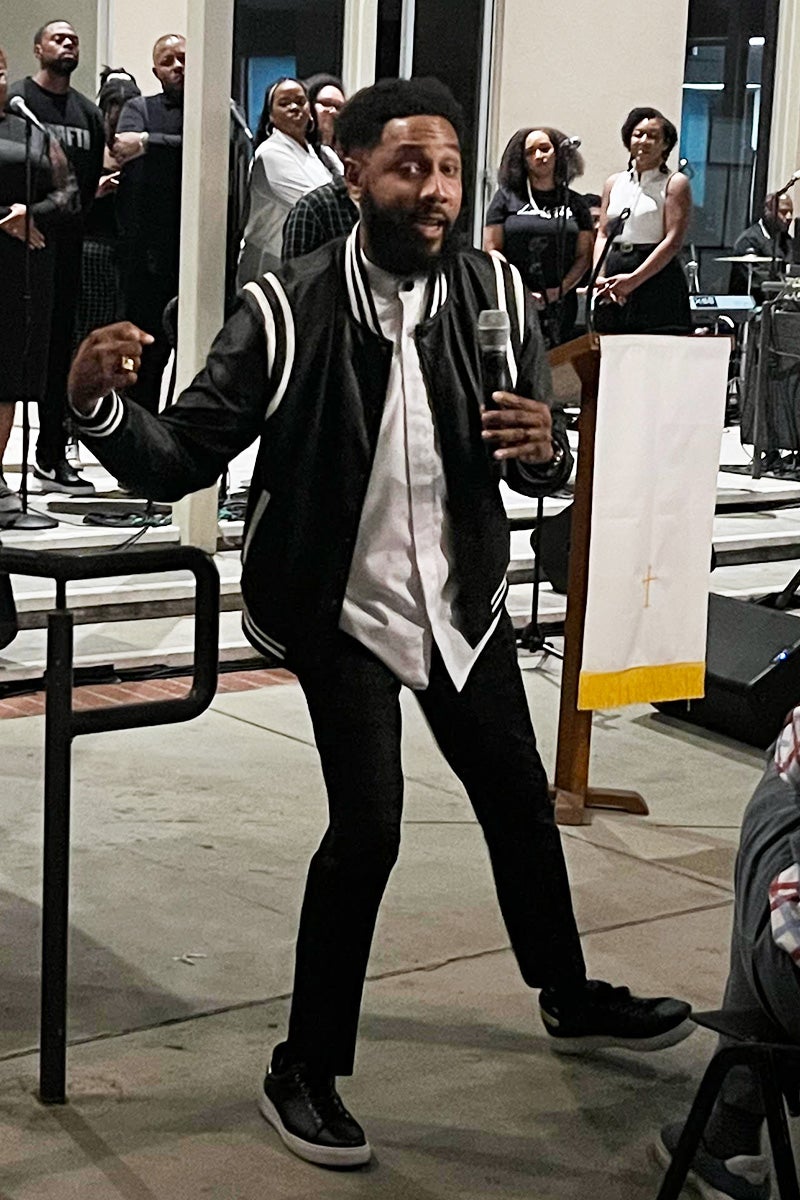 "Something's going to try to take your attention away from the actual reason why you're here," Foster said. "You're going to have to make adjustments and sacrifices because the rhythm of your life completely changed once you got here."
Foster gave students this advice: "If you want to be successful, I want you to trust the faithfulness of God. I want you to get rid of any hindrances. The last thing I want you to do is remember that we fight on when our eyes are fixed on Jesus."
After the service, sophomore Bryce Brock of the USC Gould School of Law said the message of the sermon was well-timed for him and others who want to lean into spirituality.
"We're coming into young adulthood and we're transitioning from different phases in our life," Brock said. "I think sometimes we forget that in the midst of struggle, in the midst of hardship and trial and tribulation, that naturally we are predestined to fight. Just being reminded of that is really important."
Sophomore Mya Beathley of the USC Viterbi School of Engineering is from Louisiana, where she was used to attending Southern Baptist churches. She had not been to a church service in more than a year — until Sunday.
"It's just great to get into church again because it's been such a long time," Beathley said. "I just wanted other friends to fellowship with me, and this did the trick."
Trojan Church: New avenues for inclusivity
Varun Soni, USC's dean of religious and spiritual life, said that the fact that the university has never actually owned its own church — the church that was previously on campus was not owned or operated by the university itself — has opened up new avenues for inclusivity.
"Not having a church has meant that we've been able to operate in a truly multireligious capacity, and that the leadership of the office doesn't necessarily have to reflect the Protestant history of our institution," Soni said, pointing out that USC's first dean of religious life — Rabbi Susan Laemmle — was Jewish and that he is Hindu. "It can be a person who has a vision for truly multireligious life."
"Not having a church has meant that we've been able to operate in a truly multireligious capacity."

— Varun Soni, USC dean of religious and spiritual life
As a result, Trojans from the university's more than 90 different religious organizations — from atheism to Zoroastrianism — have various opportunities for fellowship including Ramadan services, a pop-up barber shop series, free meals through Jubilee Co-op Café, and more. "It's the same aspiration to bring students into an intimate community where they can be seen and heard and feel like they really belong," Soni said.
For Harris, still at the beginning of his career at USC, the opportunities seem endless. "There's power in community, and I think what our office excels at is finding as many ways as possible to help students build relationships with each other," he said. "I feel like if one student walks away with someone else that they've met and built a relationship with, then Trojan Church has been successful. That to me is the heart of it: relationship and community building."
Trojan Church is sponsored by the USC Office of Religious and Spiritual Life, the United University Church and Holman United Methodist Church. Services will take place every Sunday at 7 p.m. in the University Religious Center courtyard on the University Park Campus with a different sermon every week from guest preachers from the USC faculty and local churches.