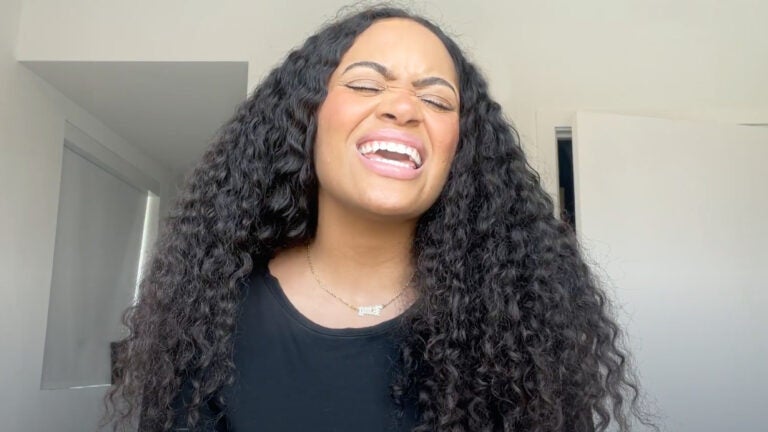 Trojans reflect on what Juneteenth means to them at USC holiday commemoration
Some pay moving tributes to enslaved ancestors; others see holiday as a modern-day call to action.
To Christopher Manning, USC's chief inclusion and diversity officer, the meaning of Juneteenth is that truth will always prevail, despite the odds, and that true freedom can only occur through knowing one's true history.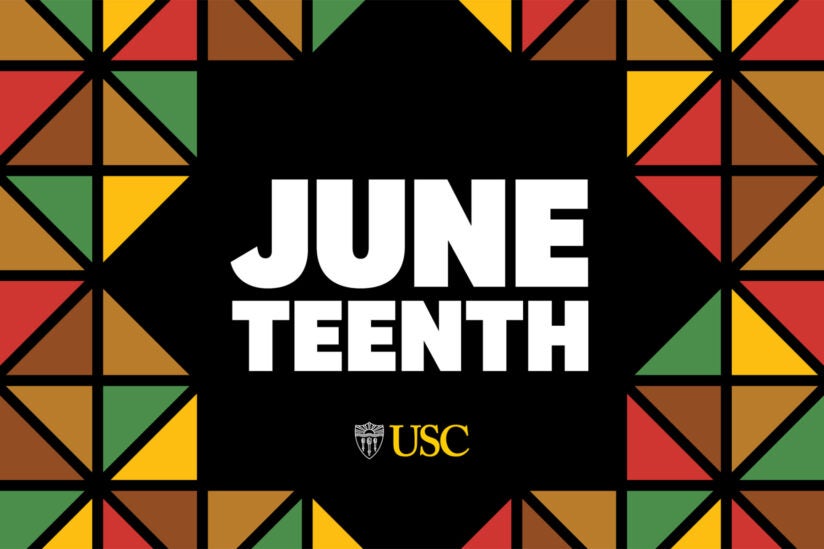 It was on June 19, 1865, that enslaved African Americans in Texas were finally free — 2½ years after President Abraham Lincoln issued the Emancipation Proclamation to end slavery.
"The story of African American people is the story of the American people," Manning said on Monday during USC's virtual event commemorating Juneteenth. "The teaching of American history is under attack. At USC, we remain committed to teaching the truth of American history. And on this Juneteenth, I urge you to stand up for truth as well."
Juneteenth, the 157-year tradition celebrating the emancipation of enslaved Americans, did not become a federal holiday until 2021 following the high-profile killings of Black Americans George Floyd, Breonna Taylor and others by police.
Celebrations have become more widespread and mainstream since then, but a backlash in a growing number of conservative-led states and school districts in the United States has emerged. The result: the introduction of measures or passed laws to limit how race and discrimination can be discussed in public schools.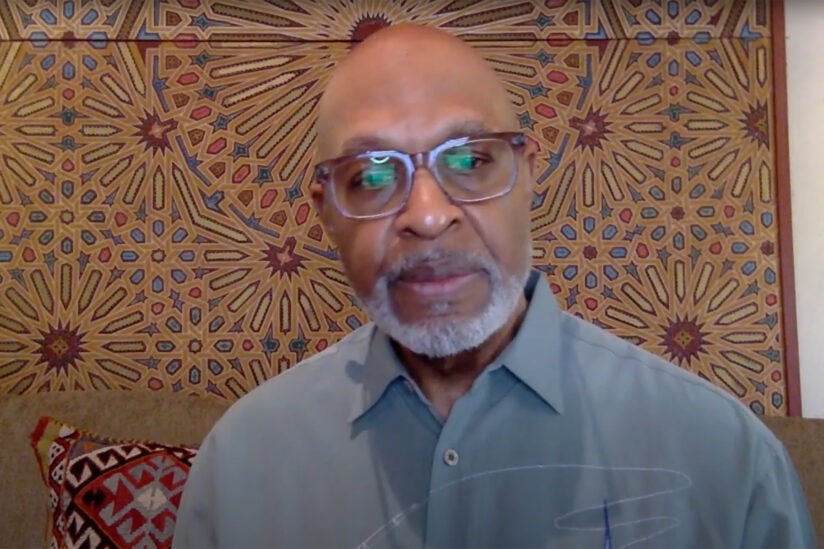 On Monday, USC President Carol L. Folt joined Manning and students, faculty, administrators, staff and alumni who shared personal remembrances, observations and feelings about Juneteenth following a performance of "Lift Every Voice and Sing" — often referred to as the Black national anthem — by USC alumna Courtnee King, a graduate of the USC Price School of Public Policy. Actor James Pickens Jr. of Grey's Anatomy also recited the poem "Signing Day," which was written by USC Dornsife College of Letters, Arts and Sciences alumna Sharon Blount.
USC Juneteenth celebration: History still being learned
Professor Emeritus John B. Slaughter of the USC Rossier School of Education shared that a few years ago, he asked students in a course on diversity, equity and inclusion if they understood the significance of June 19. Not a single hand went up among the diverse group of students.
"It is a sad commentary that it took the tragedies of George Floyd, Breonna Taylor, Daunte Wright and countless other Black Americans … to know the meaning and significance [of Juneteenth]," Slaughter said.
But Slaughter acknowledged that even though his paternal grandparents had been born into slavery and his family and friends would take part in picnics each June 19 while growing up in Kansas City, Mo., he doesn't remember ever hearing an explanation for why they were gathering. That's why he believes efforts to thwart the teaching of Black history must be fought for everyone to have a full, accurate picture of their country.
They are attempting to nullify the history of the more than 400 years of struggle that Black Americans have endured … But they will fail.

John B. Slaughter, professor emeritus
"They are attempting to nullify the history of the more than 400 years of struggle that Black Americans have endured to become acknowledged as full and constitutionally recognized citizens of the United States," Slaughter said. "But they will fail."
During her remarks, Keck Medicine of USC's Chief Diversity and Inclusion Officer Shannon Bradley shared that being from Texas meant that Juneteenth celebrations have always been a part of her life — a time for celebration, fellowship, good food and music.
She hopes that now that the holiday has become more well-known, younger generations will learn more about the history of Black Americans and that there will be even more celebrations nationwide.
"It's a testament to the gains that can be made when we all oblige freedom," said Bradley, whose grandparents were sharecroppers. "I'm so excited for what we will continue to accomplish."
Juneteenth: 'It's a day when I stand tall'
For USC women's soccer team forward Simone Jackson, Juneteenth is a powerful reminder of the strength of the human spirit and a tribute to her enslaved ancestors who endured unimaginable hardships.
It serves as a testament of the will of the African American people to rise above adversity and forge a path towards equity and justice.

Simone Jackson, USC Marshall student
"It serves as a testament of the will of the African American people to rise above adversity and forge a path towards equity and justice," said Jackson, a third-year student at the USC Marshall School of Business.
She sees Juneteenth not only as a historical event, but also as a celebration in an ongoing journey toward true liberation. It's also an opportunity to reflect on the work that still lies ahead and to educate and amplify marginalized voices.
"Juneteenth is a call to action, urging us to continue the fight against systematic racism, and to advocate for a society that values diversity, equity and inclusion for all," Jackson said. "It's a day when I stand tall, proud of my heritage and the rich tapestry of African American culture that continues to shape our nation."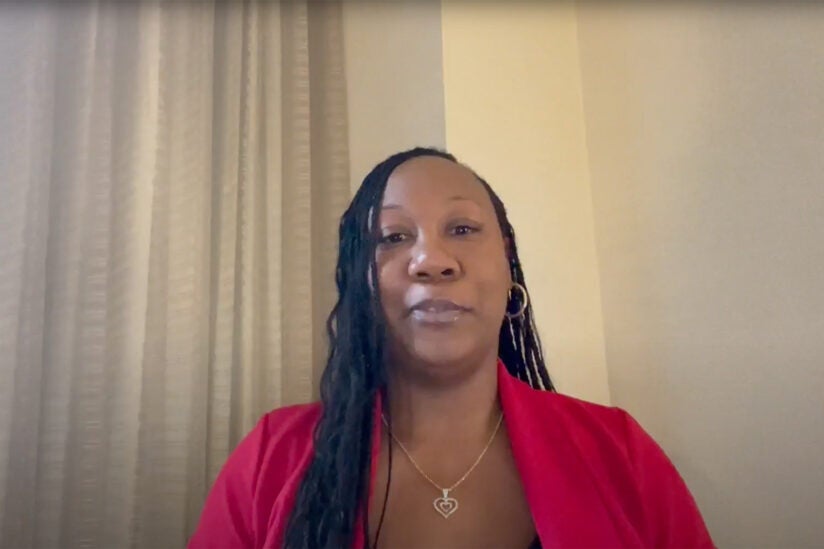 Tonisha Jester, senior associate director of the Office of Diversity, Equity and Inclusion at USC Marshall, believes it's impossible to separate the celebratory aspects of Juneteenth from reflecting on "continuing struggles and triumphs in the quest for equity, equality, accessibility and inclusion."
"It is my sincere hope that we bring awareness to these struggles by fostering a dialogue centered on history and the experiences of Black Americans," Jester said. "This dialogue will garner understanding about the descendants of previously enslaved Africans here in America."
USC Black Staff and Faculty Caucus President Cynthia Brass said Juneteenth "embodies the resilience of Black people" and makes her think of "hope, emancipation, freedom, history, justice, heritage and equality."
"Juneteenth now and forever will be a part of history," she said. "I say to each of you, keep our history alive. Keep the hope that one day we will truly have peace amongst all."