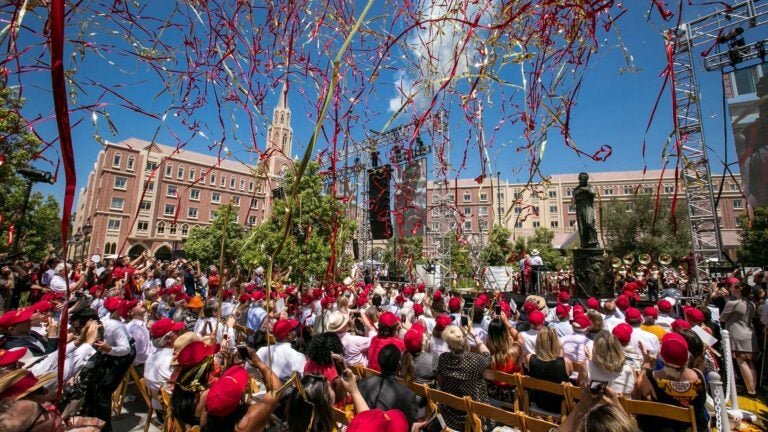 Trojan Family's Philanthropy Brings USC Village to Life
It takes a Trojan Family to build a village—USC Village, that is.
More than a million bricks went into the construction of USC Village, but it was the generosity of the Trojan Family that built it.
USC trustees, alumni, Trojan parents and friends from around the world stepped forward to make USC Village possible. Their words echo those of USC Trustee Kathleen Leavey McCarthy '57, who has given to USC for many years to support improvements across the university. "Seeing the university evolve over the years has been nothing but a joyful experience," says McCarthy, whose latest gift created a new residential honors college for exceptional freshmen at USC Village. McCarthy is one example of the many people who have celebrated the rise of USC and helped make it happen through their giving. Thanks to gifts of all sizes, USC now offers an unparalleled living-learning program—a key factor in recruiting the highest caliber students.
TAKING THE LEAD
Every student who has thrown a Frisbee across McCarthy Quad or had a late-night study session in Leavey Library has experienced firsthand the generosity of Kathleen Leavey McCarthy and her family. As chair of the Thomas and Dorothy Leavey Foundation, which was created by her parents, McCarthy helped fund these two hubs for students. In 2014, she took her commitment one step further: She gave USC's honors students a new homeA $30 million gift from her family's foundation established Kathleen L. McCarthy Honors College at USC Village. The residence hall houses first-year students who received Mork Family, Stamps Leadership, Trustee or Presidential scholarships. "This is going to be a very special place for these students who are so bright and accomplished," McCarthy said when the gift was announced.
Since 2012, almost all USC freshmen have lived in the residential college system. Often referred to as the Oxford model, this centuries-old academic tradition assigns students housing in a "college," where interacting with other students and faculty mentors outside the classroom forges intellectual and social bonds that can last a lifetime. USC Village's eight new residential colleges blend traditions from the Oxford model with elements unique to USC.
CIRCLE OF SUPPORT
Other USC trustees and alumni stepped in to help create USC Village, as well. So far, seven residential colleges have been endowed, including two by donors who chose to give anonymously.
Through his $20 million gift, USC Trustee Ray Irani PhD '57, former CEO of Occidental Petroleum, named the Ray Irani Residential College and established a scholarship fund that will help students attend USC. His gift also endowed two faculty chairs: the Ghada Irani Chair in the Keck School of Medicine of USC, named for his wife; and the Ray Irani Chair, established at the USC Viterbi School of Engineering.
A philanthropist and technology entrepreneur, USC Trustee David Bohnett '78 pledged $15 million to endow the David C. Bohnett Residential College, which focuses on social justice and community service. In addition, Bohnett established a leadership fund at the USC Price School of Public Policy supporting a fellowship in public policy with the Los Angeles County Board of Supervisors. He also endowed a chair in social entrepreneurship at the USC Marshall School of Business.
Charles Cale '66, a USC trustee and financial investor, and his wife, Jessie, are longtime supporters of academic and athletic programs across the university. Their latest gift of $15 million established the Jessie and Charles Cale Residential College at USC Village.
A $15 million gift from USC Trustee Shelly Nemirovsky '85 and her husband, Ofer, established the Shelly and Ofer Nemirovsky Residential College at USC Village. "Knowing that all USC students will now have the opportunity to continue conversations beyond the classroom, in the spirit of collaboration, is thrilling for me," says Nemirovsky, a graduate of the USC Dornsife College of Letters, Arts and Sciences.
The generous giving for USC Village is part of the Campaign for USC, an unprecedented fundraising effort to advance USC's academic priorities and expand its positive impact on the community and world. When launched in 2011, the campaign had the largest fundraising goal ever announced in higher education—$6 billion. After exceeding its goal nearly 18 months ahead of schedule, the campaign continues to draw unparalleled support for the university's mission and has been extended through 2021.