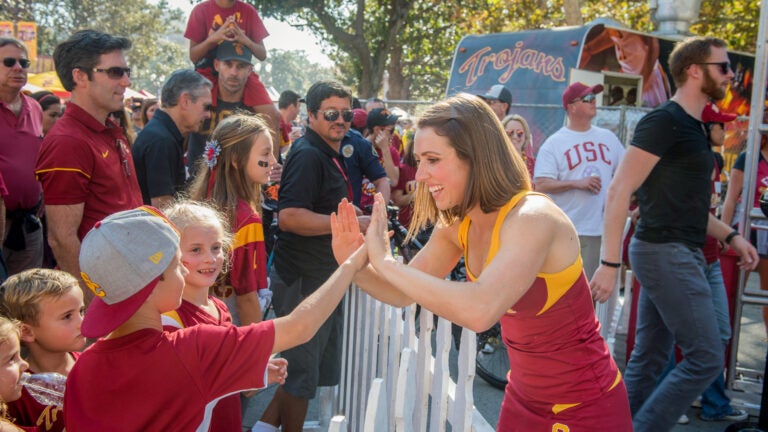 New to the family? Students and alumni offer a crash course in Trojan life
From the best food and hangout spots to game day traditions, this overview of campus life will help incoming freshmen become USC experts.
With incoming freshmen arriving this week, there are plenty of traditions, superstitions and nacho spots that new Trojans need to get the lowdown on. USC News talked to students and alumni for a crash course on USC.
Trojan life: Food and hangouts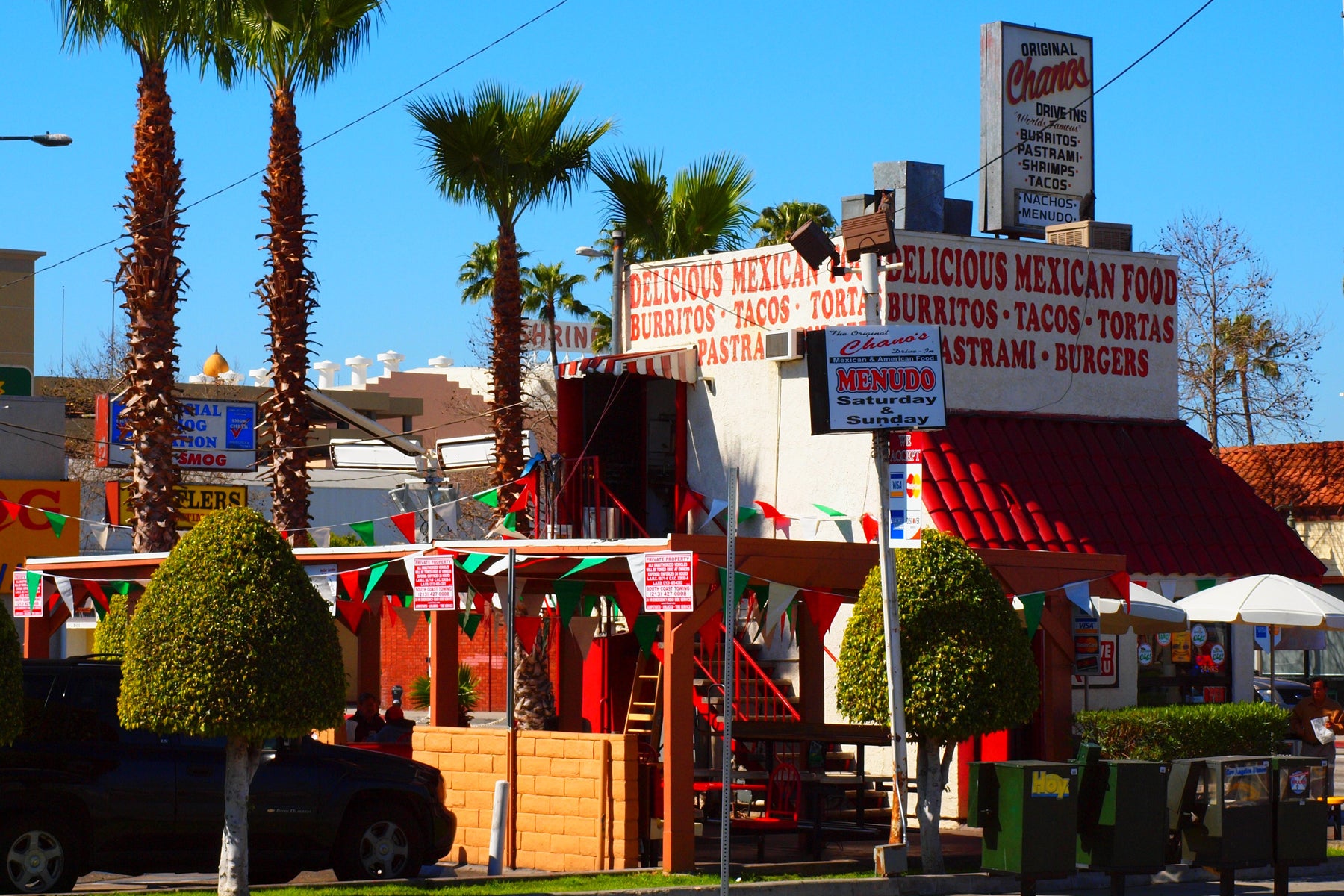 Manny's/Chanos/El Huero
Any Trojan knows the taco stand at Figueroa and 30th streets. But the name you call it immediately identifies your time on campus. Until the late 1980s, the stand was known as Manny's. The name changed to Chanos in the 1990s. Now it's known as El Huero, which some fans found so troubling they passed around a Change.org petition to change it back.
"That's where everyone goes after they've been out for a night," rising senior Megan Ritchie said of El Huero. "Most of the time when I go, my friends will order nachos."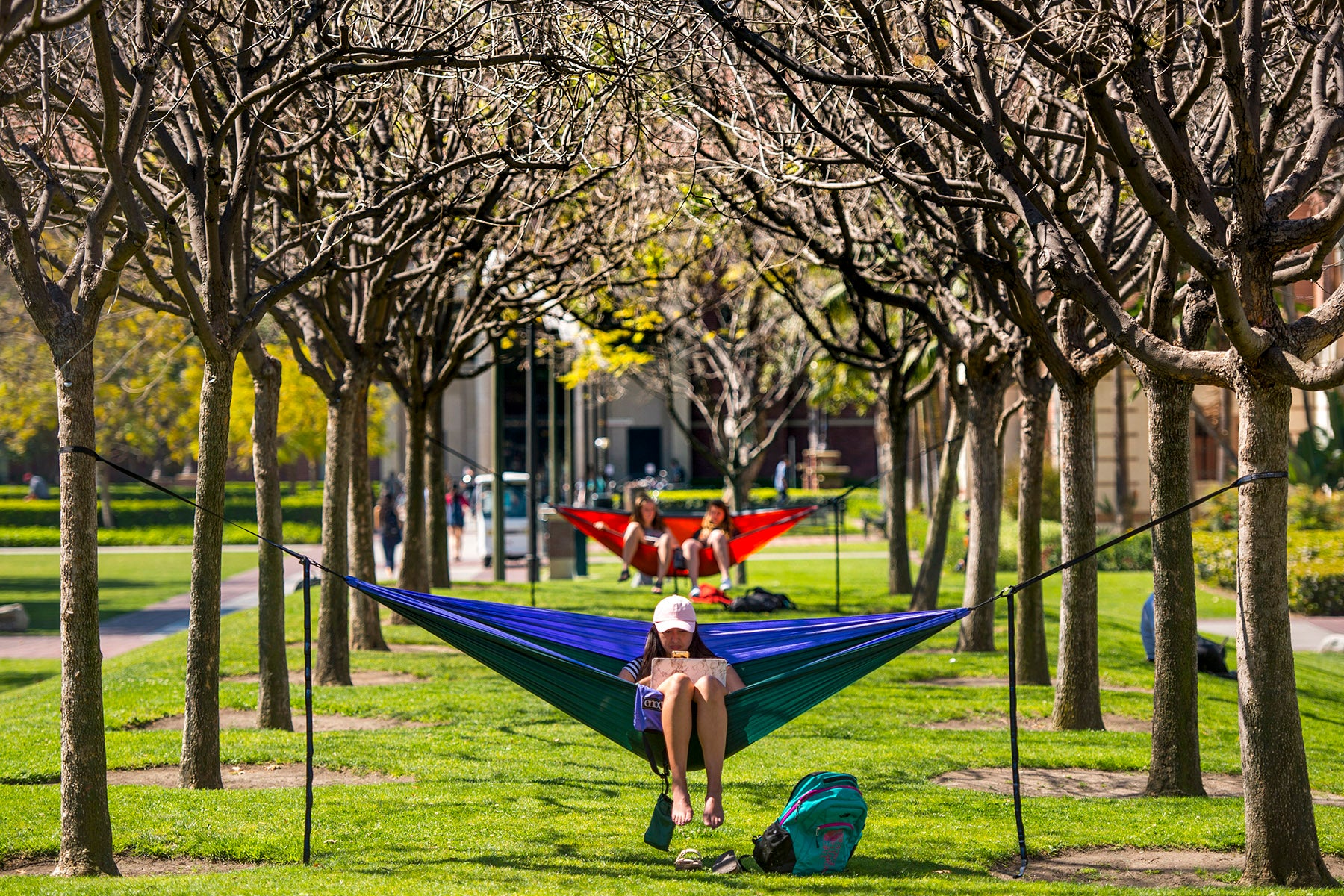 Hammocking McCarthy
For students who want to hang out literally, one way could be hammocking in McCarthy Quad. When the weather permits — which is most days in Los Angeles — students can be seen lying in hammocks strung up between the trees on the raised hill on the east side of the quad.
"It's just to hang out and be outside when it's nice out," Ritchie said.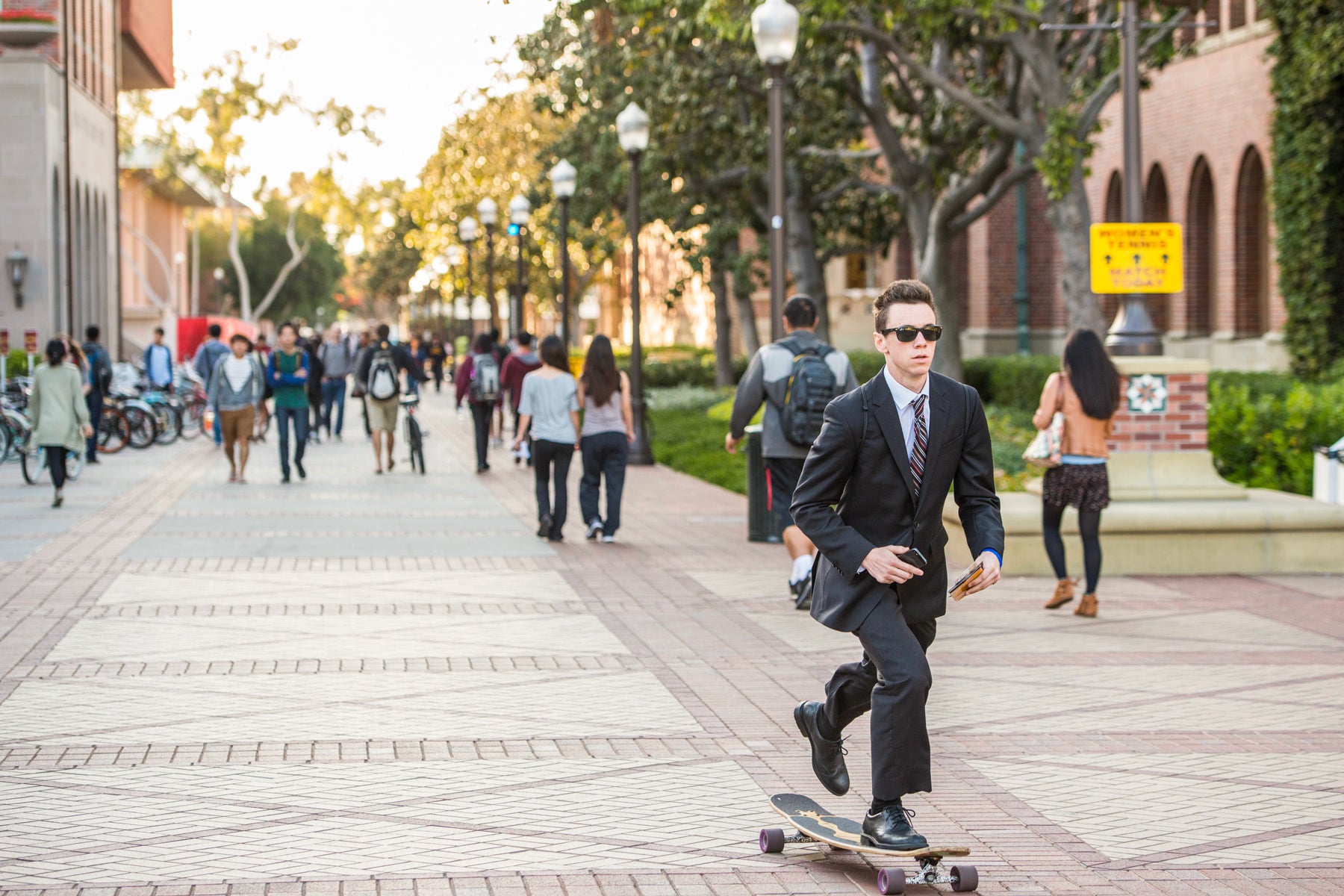 Skateboarding in suits
Newcomers might be thrown off when they see students skateboarding and biking across campus in formal wear. But even laid-back Californians don suits, especially USC Marshall School of Business students, fraternity members and jobseekers headed to presentations, meetings or interviews.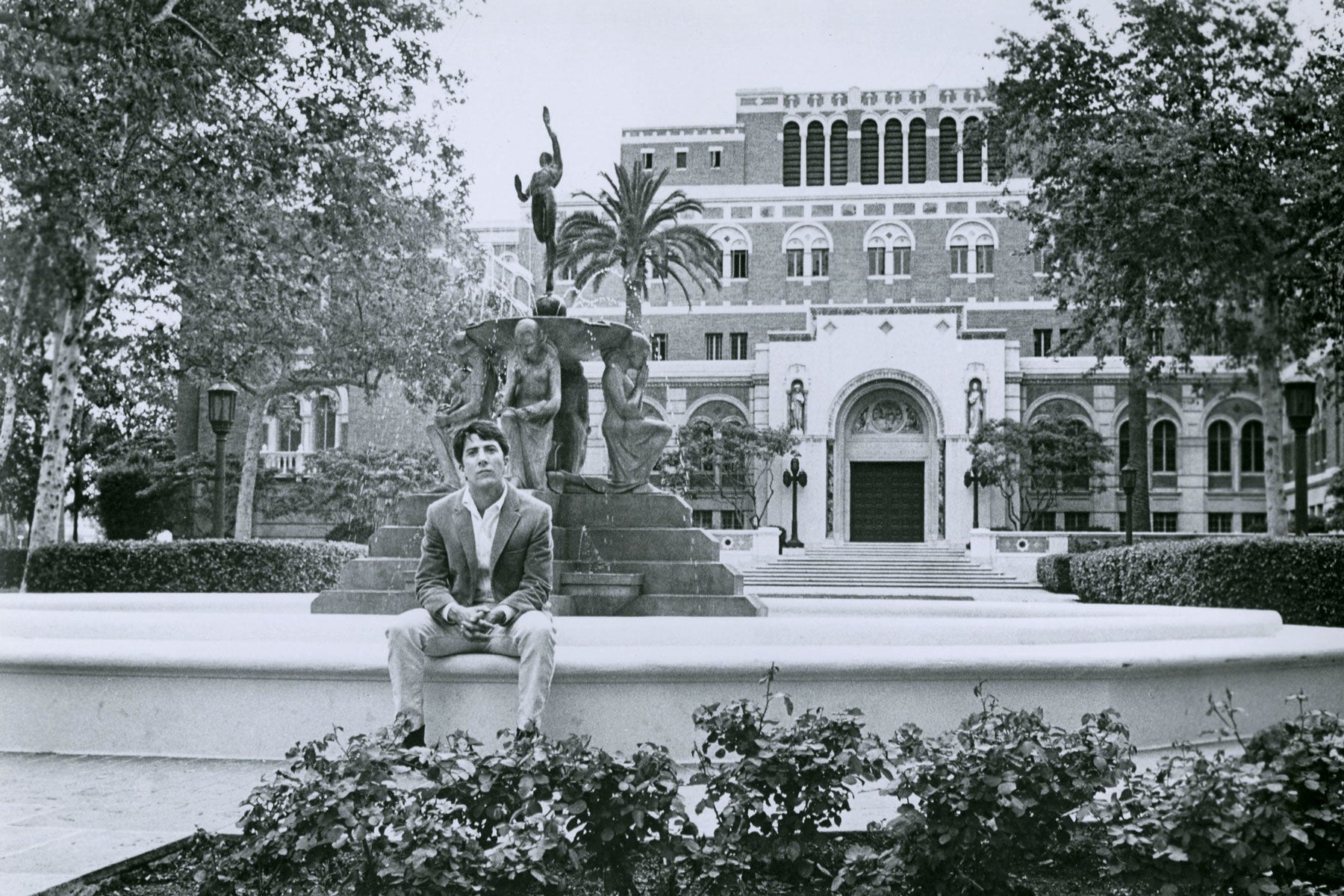 Best photo opp
When giving campus tours, Priya Kumar — a rising sophomore and campus tour guide — often points to the front of Doheny Memorial Library as a good photo opp. Not only is the Youth Triumphant fountain and library in the background (as seen in movies like The Graduate), but the nearby topiaries are clipped to spell out USC.
[new_royalslider id="143″]
Farmer's market
Every Wednesday during the academic year, McCarthy Quad turns into a farmer's market featuring restaurant vendors, fresh produce and fashion retailers.
"Two things I would recommend are the pad thai with chicken. It's my favorite. I used to get it every Wednesday," Kumar said. "There's a granola vendor and it's such good granola. It's not too expensive for what you get."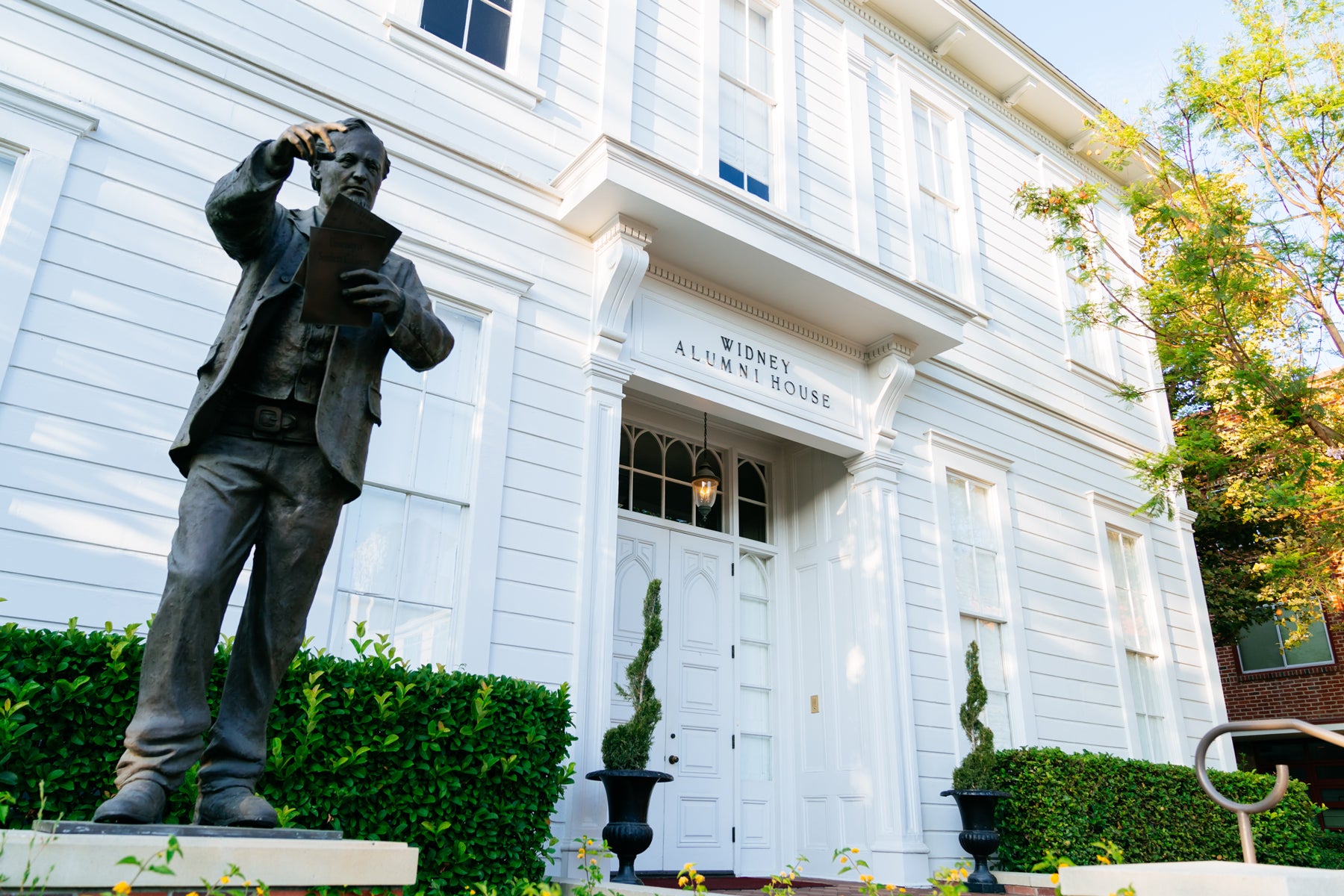 The original USC
Widney Alumni House, the two-story, white-sided building on Childs Way, may stick out from the rest of the buildings on campus. It looks more like a house compared to the brick buildings that surround it. That's because it's old: It was the first building at USC and was built in 1880. It originally was located near the current home of the USC Annenberg School for Communication and Journalism on Watt Way. At one point, it held all the university's functions, from the president's office to classrooms.
Another fun fact: USC started out as a Methodist university. In these early days — before Uber and Lyft — students took horse-drawn carriages and trolley cars to school. They attended church services, and strict rules regulated when they could leave campus. These rules were poorly enforced, though, so some students reportedly snuck out by trolley to gamble and drink in saloons in what's now downtown Los Angeles.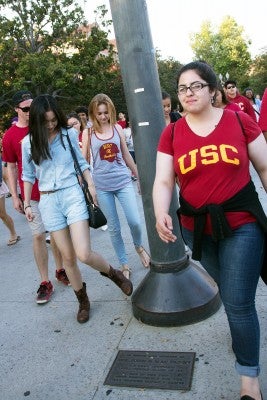 Game day traditions
Kicking the flagpole
Trojan spirit kicks into high gear the moment freshmen head off to their first football game. Game day is steeped in tradition, and the most consistent ritual is kicking the flagpole at the end of Trousdale Parkway near Exposition Boulevard — or any pole — on the walk to the Los Angeles Memorial Coliseum for good luck.
"It sounds like a lot of dull pans kind of hitting each other repeatedly," said Moriah Polk, a rising senior and former Spirit Leader. "It's just a line of people kicking every post available to be kicked. The whole band has to do it. The tubas. Everyone has to do it."
Kumar says there's a bit of mythology around the ritual.
"The story behind it, at least this is what someone told me, is that someone during one of the games — one of these fans — stormed out because we were losing and kicked the flagpole. And then after he kicked the flagpole, we did amazing," she said.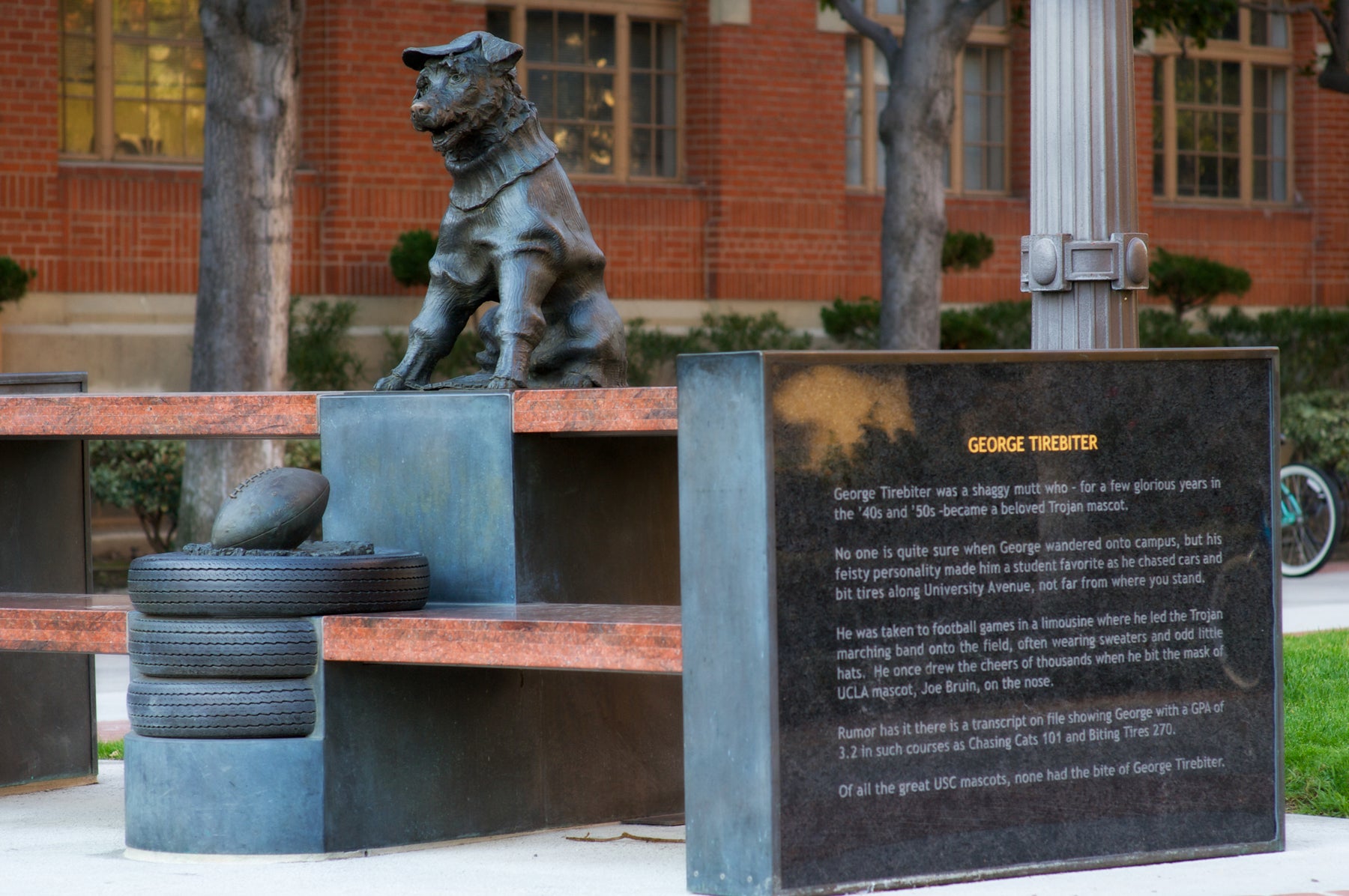 Rubbing Tirebiter's nose
Students and alumni have added another good luck charm to game day: They rub the statue of George Tirebiter, a dog that became an on-campus celebrity in the 1940s and at one point was kidnapped by crosstown rival UCLA. It's located at the end of Trousdale Parkway on the south side of campus, near the Exposition Boulevard entrance.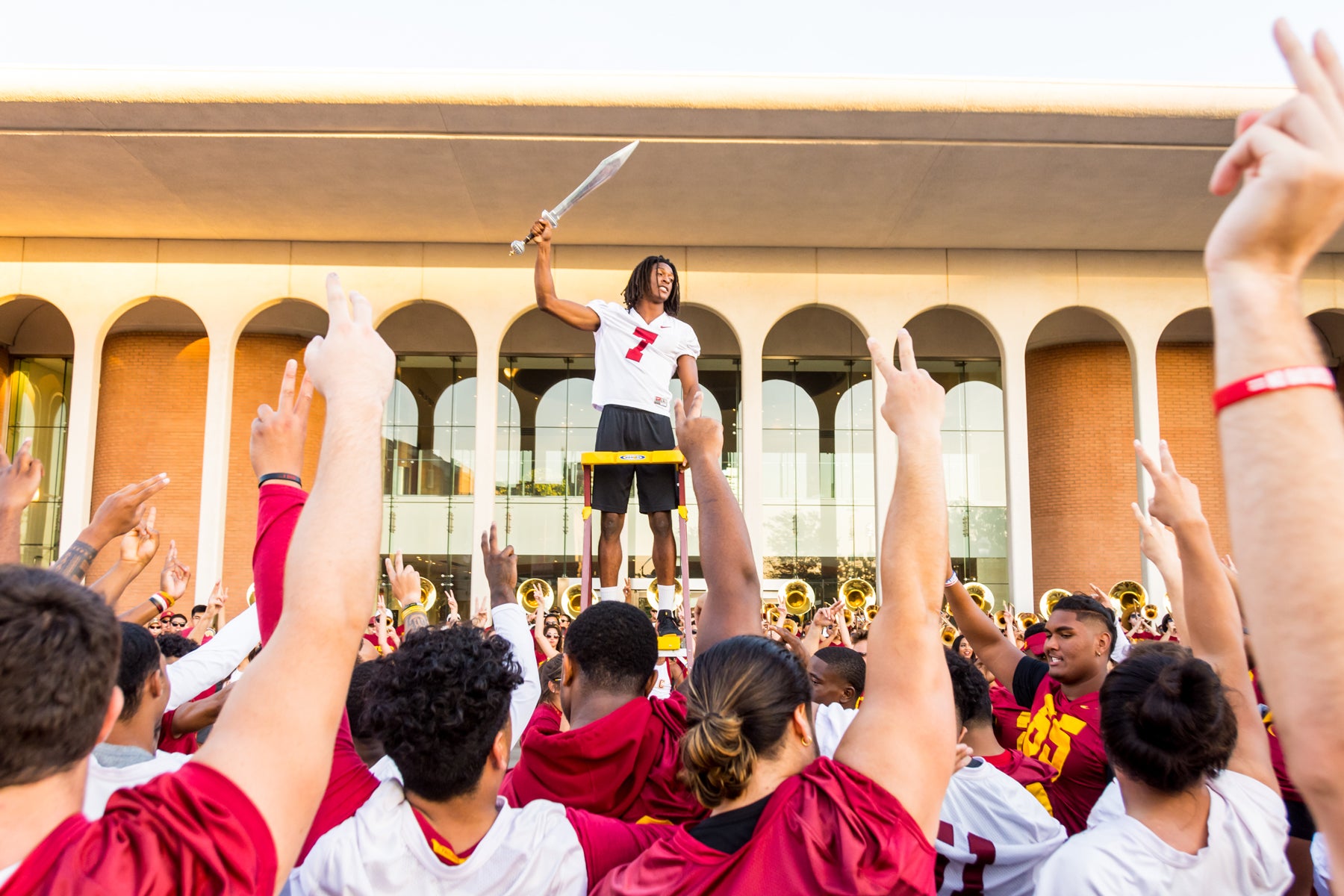 Jock rally
If you want to feel like a true Trojan insider on game day, Polk has a hot tip. Hang out at Wood Plaza behind Heritage Hall about 5 p.m. on Friday before game day. There, you'll get a sneak peak of the Trojan Marching Band doing a pep rally on the field, flanked by the football team, Song Girls, Spirit Leaders and Silks; this year, you'll also spot USC's first female drum major, India Anderson.
A tradition since the 1960s, it's a way for the spirit groups and the football team to get excited for the game, said Brett Padelford, the band's spokesman. Even though it has an intimate vibe, it is open to the public.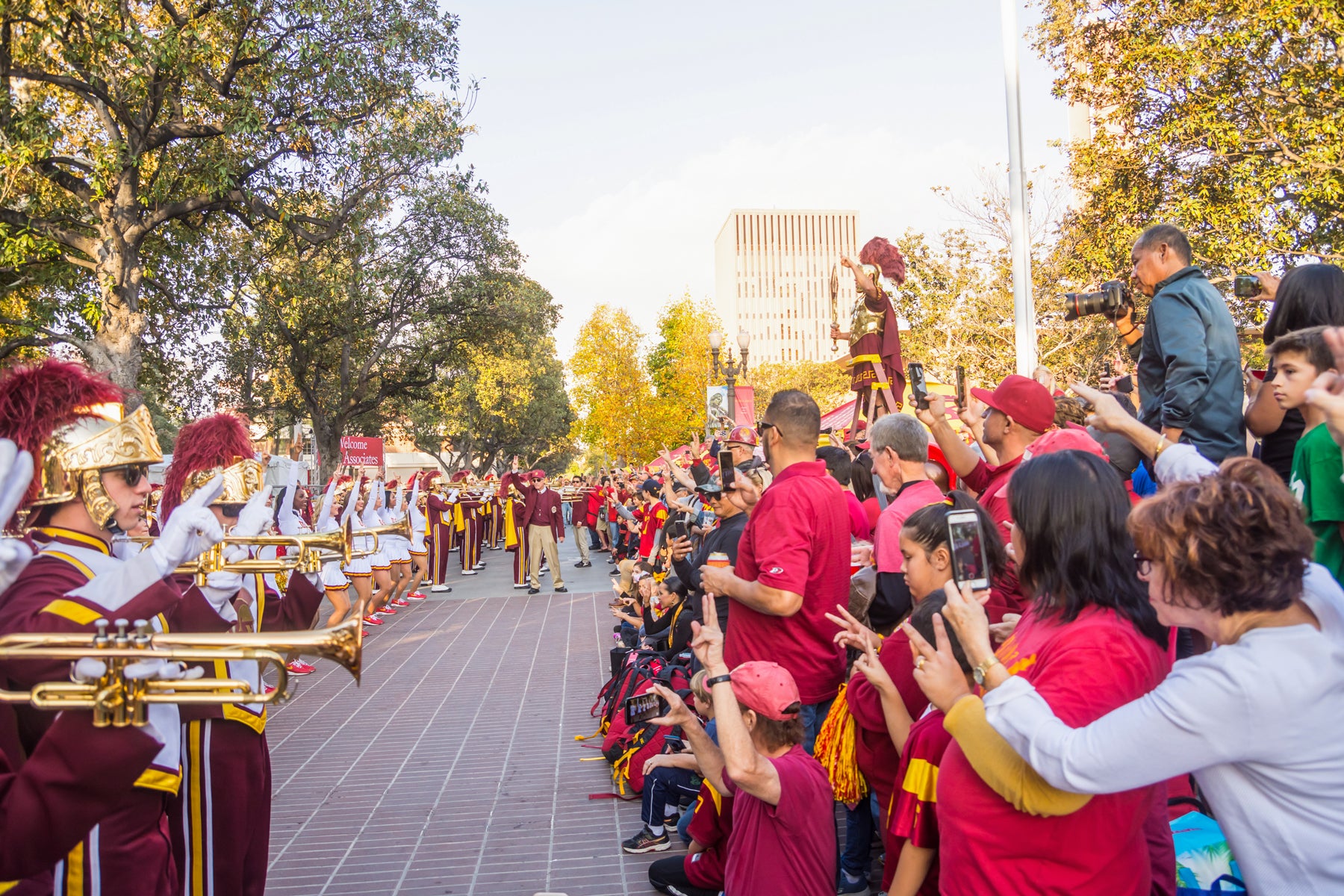 March to the Coliseum
On game days, the band does a short warmup on the steps of Heritage Hall before marching to a private concert in Founders Park and then heading to Tommy Trojan and the Coliseum. At this point, when the band reaches Hahn Plaza, many tailgating Trojans join the procession to the field.
"It's just really exciting," Kumar said. "It's not just the students. It's alumni, friends and family and we're all walking together. It gets you really hyped for the game."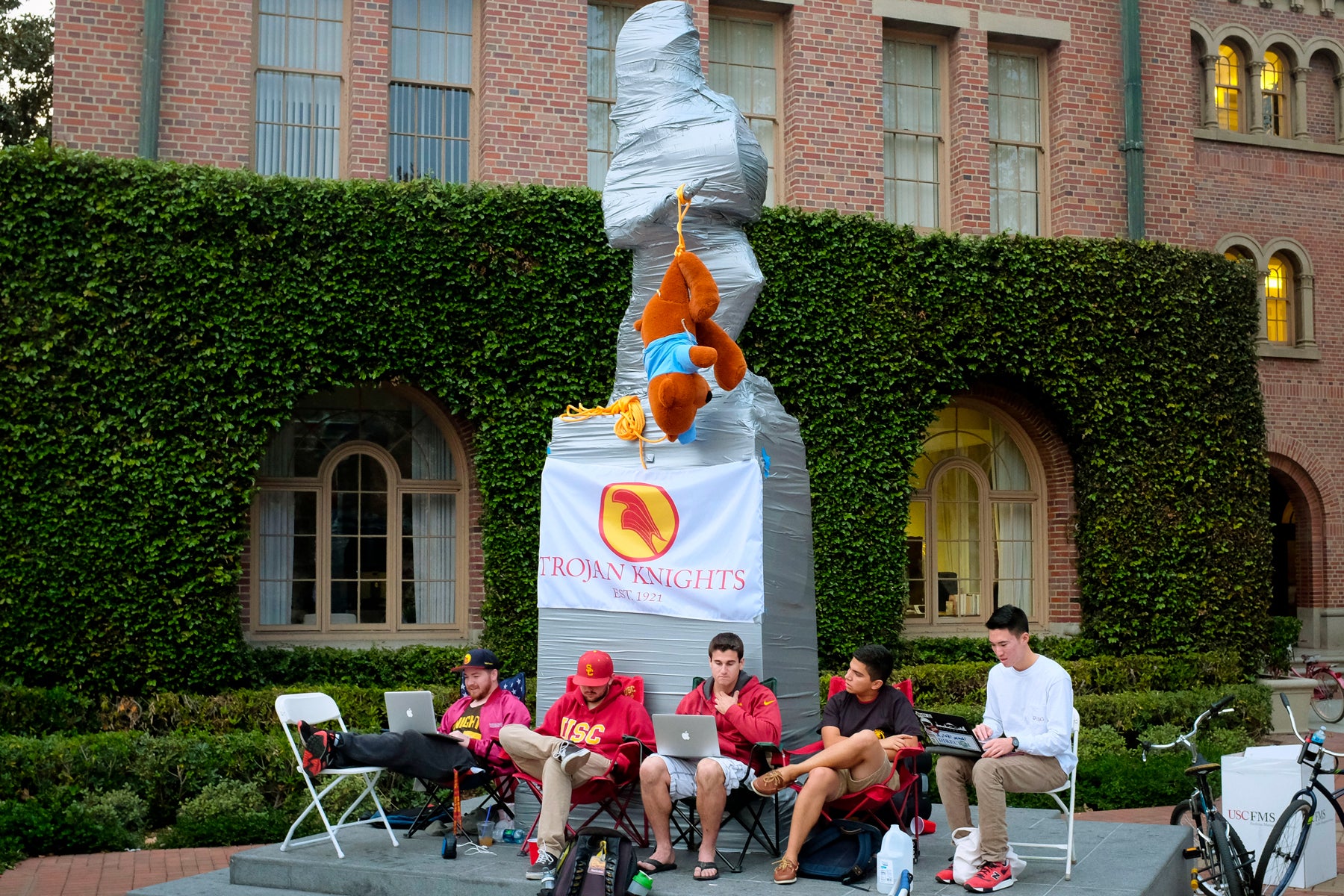 Protecting the Trojan Shrine and Hecuba
During the week of spirit events leading up to the game against UCLA, known as Conquest, student spirit groups the Trojan Knights and the Helenes traditionally protect Tommy, Traveler and Hecuba statues against Bruin hijinks. The statues are covered with plastic sheeting and duct tape, and on-guard Trojans camp out around the clock until the game.
"A-woo! A-woo!"
"Conquest" is also a song, known as "collegiate football's greatest battle cry," played by the Trojan Marching Band. When the mellophones play, Trojan students and alumni join in with the "A-woo! A-woo!," the sounds reverberating throughout the stadium.
It takes timing to get this one right. Starting too early or continuing too long is a rookie move. Insider tip: Listen to other Trojans before diving in with your own woos.
"Tusk"
The Trojan Marching Band often performs Fleetwood Mac's "Tusk" as an ode to being on the band's Tusk album in 1979. The marching band and musicians recorded the song and the music video at Dodger Stadium. Later, USC's marching band was recognized when the hit went double platinum.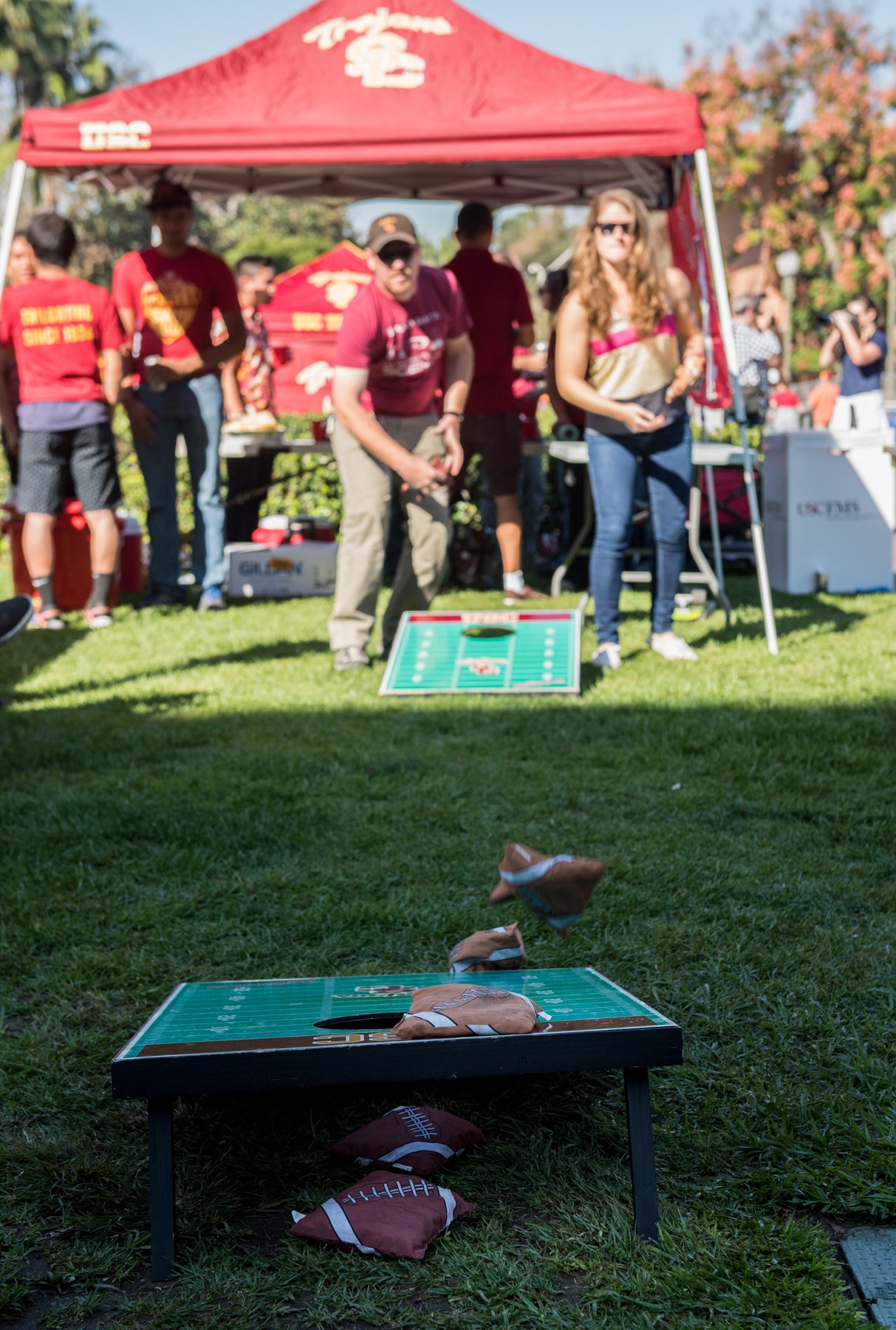 Tailgating
Prime tailgating territory is on Trousdale Parkway, between Tommy Trojan and the Tirebiter statue near the university's Exposition Boulevard entrance, Ritchie said.
Tailgating is a time for students to mingle with alumni, family and friends. Over the years, some groups have raised tailgating to a fine art. Tim Wilcox, Class of '88, and his friends have a tiki hut on the south lawn of Doheny Library. It runs on a solar-powered generator, is decked out with multiple TVs and hosts themed potlucks.
Weekender
Every student — and, eventually, alumnus — must make the pilgrimage to Northern California for the annual away football game against Cal or Stanford. Some do it every year. It's an excuse for the cardinal and gold to take over the Bay Area while snapping up some dim sum and Irish coffees.