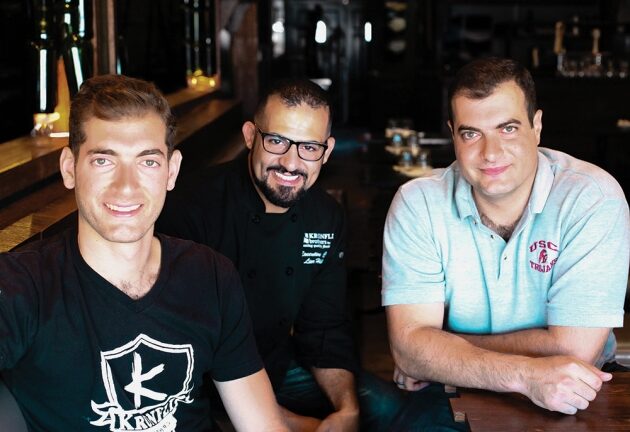 Trojan Restaurateur Serves up Success
An entrepreneur on the rise started with an underground supper club run out of a USC student apartment.
Buzz-worthy dining venues with waiting lists for reservations are no big thing in Los Angeles. But back in 2009, one that hit the scene wasn't located in a trendy foodie neighborhood. It was run out of the North University Park apartment of two USC sophomores, Robert Kronfli '11 and Alex Chang '11. Over the next two years, what started as a casual Thursday night dinner among friends became an underground phenomenon. It would spur a documentary film and forever change their lives.
The illicit supper club was called Paladar, the Cuban term referring to a restaurant run out of a private home. While Kronfli, a music major, took on the role of restaurateur, Chang, a kinestheology major, served up three-course prix fixe dinners that ranged from Spanish-inspired cuisine to New American.
By the end of Kronfli's and Chang's senior year, the Thursday night dinners had expanded to Tuesday through Saturday with up to 70 diners per night and a documentary in the works by USC film student Gil Freston '12 .
Kronfli, who was juggling schoolwork and internships, began to consider another career path. "When Paladar began taking up so much of my time, energy and mental focus, my life just naturally went down that road and I decided to go with it," Kronfli remembers.
After graduating, Chang headed to Europe to hone his cooking skills. Kronfli took his own next logical step: He went into business with his brother Daniel '05, the founder of Bacaro LA restaurant.
Now a full-time restaurateur, Kronfli's days are anything but predictable. "During the day, I could be doing accounting and financial forecasting, marketing and branding; at night, serving customers or washing dishes." The pace of the business is a perfect fit. "We don't like complacency," he says. "We're always looking toward the next project, how we can keep growing and stay busy."
And busy they are. Beyond expanding Bacaro LA, the Kronflis and their business partner, Lior Hillel, opened Nature's Brew, a cafe next door. Demand for their sauces led to the opening of Kronfli Brothers Inc., a retail foods bottling company. In August, the brothers and Hillel stepped outside their USC neighborhood comfort zone, opening Bacari PDR in the community of Playa Del Rey.
Each new endeavor has met with success in an often-cruel industry. The Kronflis' approach? Extreme attention to detail. "My OCD, in this regard, really ensures that every detail—from food, service, design and cleanliness—is executed properly," Kronfli says. "Obviously, hard work and a strong vision also need to work side by side with effective business and marketing strategies."
And many of their staff members are USC students or alumni, by design. "This investment isn't only financial but also an emotional one," he says. "We treat our team members as if they're part of our extended family. We couldn't accomplish the goals we've set in place without a hardworking team that shares our passion."
The brothers and Hillel now dream of dramatically growing their restaurants and product line. But in the midst of so many projects, Kronfli won't forget his roots as a student at USC. Freston's documentary, Paladar, which captured the scrappy, experimental underground club that started it all, showed at the Tribeca Film Festival and Downtown Film Festival–Los Angeles in 2013 and is now available on iTunes and Amazon.com.
Watch the Paladar trailer at bit.ly/USCPaladar.