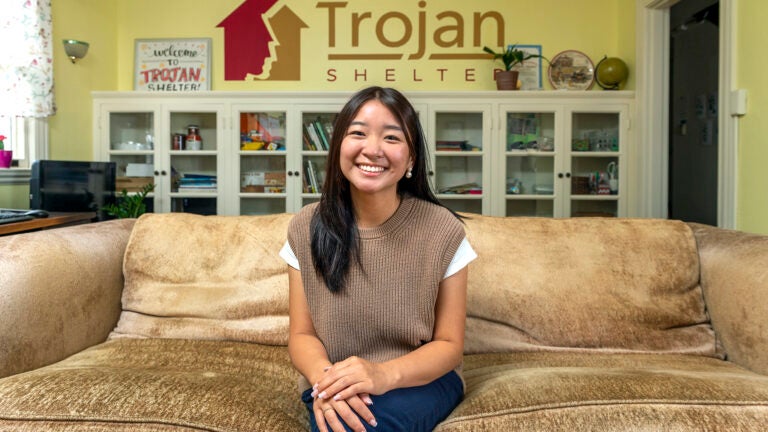 Trojan Shelter pivots to keep its doors open for students facing housing insecurity
When the pandemic disrupted in-person services, the student-run organization — funded in part by the USC Good Neighbors Campaign — had to turn to plan B and even plan C to stay operational.
The USC Good Neighbors Campaign, the faculty-and-staff-driven donation cause, is set to kick off its 27th campaign this month. The annual effort generated over $1.3 million last year, which was awarded to 53 community programs impacting the neighborhoods surrounding both USC campuses.
Many of the programs that will benefit from these funds continued their services during the pandemic and campus closures, finding ways to navigate through a tumultuous time by absorbing the additional costs that came with it.
Trojan Shelter is one of them. The program prides itself on providing a haven for college students facing housing insecurity in the Los Angeles area and for being a student-run organization that serves fellow students.
The pandemic threw a major wrench in the organization's operations, which rely heavily on an in-person volunteer presence. Utilizing an army of student volunteers, Trojan Shelter provides housing and a supportive space, fights food insecurity by providing meals to residents and connects students to resources that can help them find career opportunities and assist with the transition into permanent housing.
"Our whole model was having different volunteers come in every night to help operate the shelter," said Hannah Mulroe, Trojan Shelter's director of staff in March 2020 and co-president of the organization during the 2020-2021 academic year. "We had to find a plan B almost on the spot."
Trojan Shelter adapts as COVID-19 pandemic necessitates change
The organization houses college students during the fall and spring semesters and closes during the summer. When the campus closed in the spring of 2020, co-founders Abigail Leung and Esther Cha pivoted quickly. The organization adopted a live-in resident advisor model. It was a short-term solution that allowed them to remain operational through the end of the semester.
With no signs that the campus was going to reopen in the fall of 2020, newly appointed presidents Mulroe and Cathy Wang took advantage of the summer to plan for continuing services. They met with the organization's campus advisors, Alex Graddy-Reed and Cara Esposito, along with medical advisor Patty Pinanong from the Keck School of Medicine of USC. The advisors were instrumental in providing guidance, assisting with public health questions and helping to implement COVID policies.
Everything that we did and every decision we made came with a plan B and a plan C.

Hannah Mulroe
"There was an abundance of caution, which there needed to be," Mulroe said. "Everything that we did and every decision we made came with a plan B and a plan C. Our advisors said if we were going to be open, we would have to be ready to make adjustments."
Due to the additional workload and necessary presence at their Koreatown location, the army of in-person volunteers dwindled to two paid resident advisors. The rising cost of operating the house presented a challenge, one the organization met head-on with a lean staffing plan and ingenuity. Mulroe and her team began tabling at USC Village last semester to crowdsource groceries.
"It was really successful; we would sit out there and put out a list of our grocery needs," she said. "Folks who were already going shopping that Sunday would grab a couple of extra things and put them on our table. It really helped with our shopping list."
USC student volunteers use Good Neighbors grant to coordinate upon reopening
This academic year, with campus reopening, the student-run organization's latest challenge was ramping up its staffing for in-person services.
"We are very grateful to be able to receive a Good Neighbors grant, as it's been helping us train our volunteers," said current co-president Christina Yuan, a senior at USC who has been with Trojan Shelter since she was a freshman. She noted that the funds from the grant will allow the program to train the volunteer staff of 56 and help offset the rising cost of supplies and operations. "It will help Trojan Shelter to continue to provide vital resources, and it will help keep the facility running," she said.
Yuan hopes to build on the tabling program; instead of crowdsourcing groceries, the program will give back by using the funds to provide hygiene kits and snack bags for students and local community members that may be in need.
"These students really deserve to have an equal opportunity in college," said Yuan, who also served as director of operations during the tumultuous year. "They shouldn't have to worry about keeping an eye over their shoulder or wondering where their next meal is going to come from."
Good Neighbor Campaign grants will help programs make an impact during the 2021-2022 academic year.