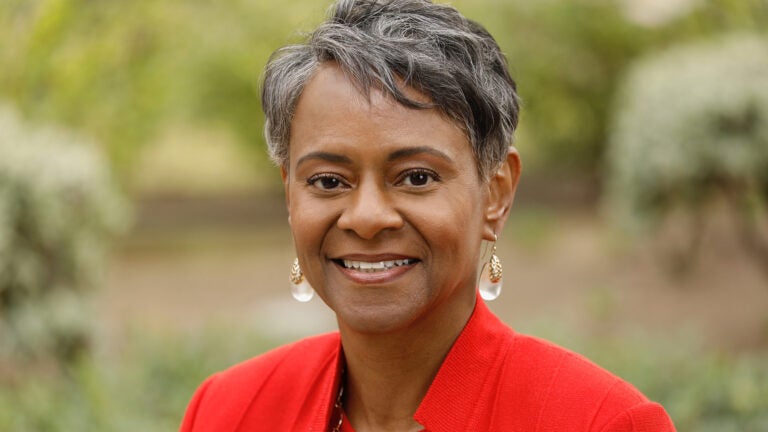 Trojan trailblazer brings a person-centered approach to human resources
TITLE IX: Felicia Washington, USC's first senior vice president of human resources, brings an innovative approach to the university's HR, equity and compliance efforts that puts people first and supports gender equity for all.
Editor's note: Title IX — the landmark legislation that prohibits sex discrimination in educational institutions that receive federal funding — was signed into law on June 23, 1972. In recognition of this anniversary, we'll be profiling Trojan Title IX trailblazers throughout the year.
Felicia Washington, an alumna of the University of Virginia School of Law, had always known that strides toward preventing discrimination based on sex were enshrined in Title VII of the Civil Rights Acts. However, as her professional career advanced from private legal practice at a multinational law firm, leading her to become the first vice chancellor for workforce strategy, equity and engagement at the University of North Carolina at Chapel Hill, she witnessed Title IX furthering gender equity as it applied directly to institutions of higher learning.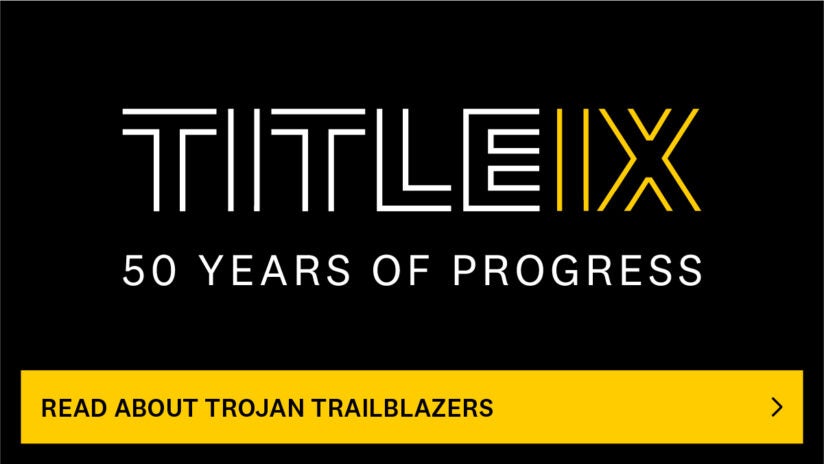 Washington then brought that knowledge to USC. As USC's first senior vice president whose portfolio includes the Human Resources, Equity and Compliance division, she aligns the university's HR, equity and compliance functions to form a division that services, supports and safeguards the university community.
"A regulation like Title IX reminds everyone to think about gender equity in all that we do," Washington said. "When forming committees, when planning events, when determining who's going to be on a team — my hope is that we all demonstrate through our actions that inclusivity is something that matters. It's how we get to the best outcomes."
Forming a division that drives culture and compliance
Since her appointment in June 2019, Washington has been leading the design of a world-class HR division at USC, which has the structure, resources and training to elevate the experience of the university's more than 28,000 employees.
Her expertise in employment law and regulatory responsibilities, along with her experience in university administration, led Washington to spot an opportunity at USC: to align functions related to HR, equity and compliance to ensure that the university fosters a service-oriented, welcoming and inclusive environment for all.
The fusion of these functions in 2020 resulted in the HR, Equity and Compliance division, and Washington's role expanded to oversee the people-focused offices of Culture, Ethics and Compliance; Equity, Equal Opportunity and Title IX; and Professionalism and Ethics.
One significant result of this alignment also occurred in 2020, when Washington introduced the Office for Equity, Equal Opportunity and Title IX (EEO-TIX), a consolidation of two previous offices to create a caring and high-performing equity office that is proactive and responsive to the concerns of the USC community.
We wanted to see care at all levels impacting people for the better.

Felicia Washington, USC senior vice president
"Accompanying this decision," Washington said, "was a question: What changes do we want to see in our community, in the ways we serve our community and in the ways we honor ourselves? The answer that arose was care. We wanted to see care at all levels impacting people for the better."
Under her leadership, the formation of EEO-TIX ended the previous "blizzard of confusion" — a phrase she heard during her USC listening tour used to describe under-resourced, unconnected and misaligned efforts — and USC's first omnibus Policy on Prohibited Discrimination, Harassment and Retaliation, covering faculty, staff, students, visitors, patients and clinicians, was drafted and adopted.
The 50th anniversary of Title IX provided Washington with an opportunity to reflect on the journey of EEO-TIX's maturity and growth. Since the office's establishment, USC has strategically invested in onboarding team members to not only enforce and respond to concerns, but also to provide care to reporting and responding parties and to engage in outreach to provide resources following a reported concern, as well as to provide training and education on prevention. And in December 2022 (with runway provided by USC President Carol L. Folt), Washington and Catherine Spear, vice president for EEO-TIX, were able to oversee the relocation of the office to a welcoming and accessible location on campus, complete with a lactation room and gender-neutral bathroom.
As Washington continues to champion Title IX at USC in collaboration with EEO-TIX, she can also recall moments in her life and career when that same care was less prevalent, moments that motivated her people-focused mission.
The power of self-advocacy
At the top of her class as a high school sophomore, Washington remembers a significant moment. Two of her male classmates of diverse backgrounds were nominated to attend a new public boarding school for science and mathematics. Although the accomplishment was laudable, the nominations overlooked Washington's top of the class position.
The woman who inspires me the most is my mother. She encouraged me to march to the beat of my own drum, and I grew up believing that opportunities were limitless.

Felicia Washington, USC senior vice president
But growing up, Washington's mother had impressed upon her to always aspire to be the best she could be.
"The woman who inspires me the most is my mother," Washington said. "She encouraged me to march to the beat of my own drum, and I grew up believing that opportunities were limitless."
That day in high school, she used the situation as an opportunity to self-advocate. "I nominated myself and was selected," she said. "Today, I'm a proud alumna of the school and believe that experience ultimately led me to a degree in economics from UNC-Chapel Hill."
Years later, Washington continues to practice self-advocacy so that she can empower and encourage others to do the same.
Recognizing the impact of women
Along with her mother, Washington also derives strength from other inspirational people advancing gender equity in our society. Whether it is a woman who has succeeded or has failed, Washington believes, "the fact that they were in play is a positive example and encouragement for others to go after whatever they're interested in doing. I don't believe that failure is the end of any story."
The concept of being one's best illuminates another element of Title IX that Washington finds compelling: It ensures that women receive equal benefits, privileges, opportunities and programming in educational opportunities and in higher education.
For Washington, the equal inclusion of women — bolstered by Title IX — has had a huge, positive impact on others and the university environment.
Today and tomorrow

Known for her people-focused decision-making, Washington is clear about Title IX's role in her day-to-day life. "You can't unknow it," Washington said. "It influences my lens on many, many things, and I'm happy it's there because it helps people understand the need to be inclusive."
Together with her teams in the HR, Equity and Compliance division, Washington hopes to continue to create sustainable systems so that when Title IX or other concerns emerge, resources and services can be provided, as well as resolutions.
"Ultimately," she said, "we do not want to have anything impeding the educational experience, goals and success of our students or the work environment for our employees."