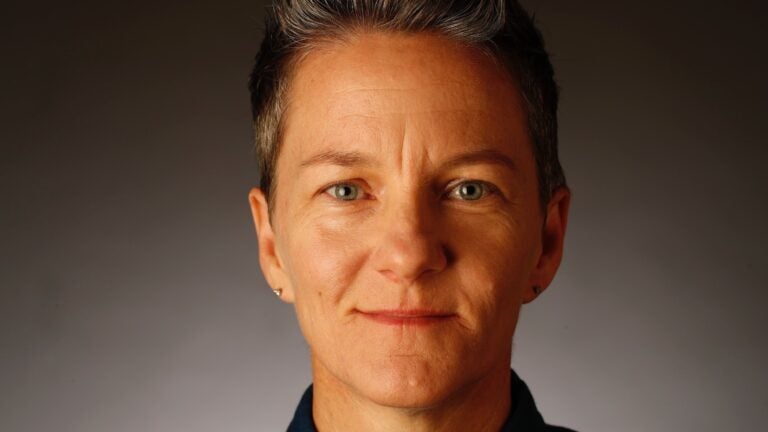 USC trailblazer encourages others to live authentically
TITLE IX: Karrie Kingsley hopes to create a safe environment and serve as a role model for students who struggle with their gender identity.
Editor's note: Title IX — the landmark legislation that prohibits sex discrimination in educational institutions that receive federal funding — was signed into law on June 23, 1972. In recognition of this anniversary, we'll be profiling Trojan Title IX trailblazers throughout the year.
'I could say what I wasn't, but I couldn't say what I was."
This realization about their identity has led Karrie Kingsley to a lifetime of advocacy work on behalf of others who have struggled with issues of gender identity. Kingsley's mom likes to joke that their first sentence was "no dress" as an 18-month-old — an early sign of activism.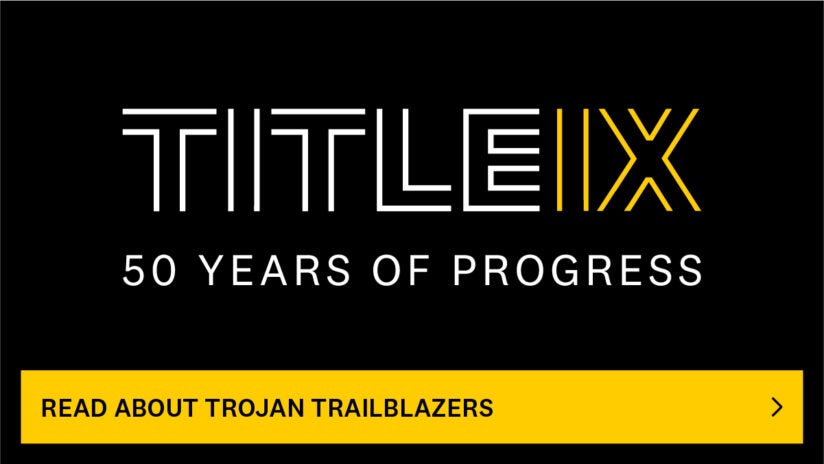 Kingsley, USC's associate chief inclusion and diversity officer for faculty and staff success, was the first assigned-female-at-birth player on a boys baseball team as a young child growing up in Santa Monica; they stormed the boy's water polo tryouts when they were a little older, fighting discrimination all the while.
Even though they were good enough to be selected for the all-star team in baseball, Kingsley was told they could not join the team for a tournament out of town because the coaches could not figure out how to chaperone them.
"I think that is so bizarre that you could just tell me, just boldface discrimination basically, that you can't come even though you're good enough to be there," Kingsley said. "We're going to give you the league MVP award as compensation."
Kingsley continued to experience episodes of discrimination while growing up, not knowing that there were laws like Title IX to protect them until they enrolled in California State University, Long Beach, and lost their opportunity to swim as a collegiate athlete due to program cuts. It also was in college that Kingsley first came out as queer at age 21 and realized they wanted to live openly in their identity and help be a role model for others who came after them. Kingsley, who is also an associate professor of clinical occupational therapy at the USC Mrs. T.H. Chan Division of Occupational Science and Occupational Therapy, later came out as gender queer/nonbinary and adopted they/them pronouns several years ago.
Trojan trailblazer: Challenging gender norms
Challenging gender norms was a gradual process for Kingsley, who earned a Master of Arts in occupational therapy and occupational therapy doctorate at USC. Kingsley worked as a clinical practitioner for about 10 years before returning to academia at USC and battled some serious impostor syndrome in their first days back on campus, largely over how they presented themselves.
I was trying to embody 'what does a professor look like,' and really fighting with it.

Karrie Kingsley
"I just remember I was actually dressing in ways I would never dress," Kingsley said. "I was trying to embody 'what does a professor look like,' and really fighting with it. I remember it was literally three or four weeks into teaching and I was like, 'I can't do this because I'm trying to change who I am. I can't be authentic.' I had to just say forget it and just be a little more authentic."
That simple act of being more authentic has had major impacts on Kingsley and the students and peers they interact with, Kingsley said. Without knowing it, Kingsley was a role model for others who struggled with gender identity.
"I think what is reaffirmed every time is how much that visibility is transformative for folks within the community looking for that safety or looking for that role model or looking for an example of someone being successful," Kingsley said. "I get emails that make me ugly cry because students say I'm an example. I had a student grappling with gender identity and was really feeling like they had to present in alignment with their sex assigned at birth in order to be a successful professional. They sent me this email that said, 'Just having you walk through that door in a classroom and be yourself and be comfortable and confident helped change me. You gave me permission.'"
Kingsley was even more moved when they later ran into the student and saw their transformation. "To see this individual, this young adult, have so much more self-assurance and look so much more confident and comfortable in their skin was amazing," Kingsley said. "This was someone who barely spoke in class and now they had their shoulders back, standing up straight, just fully present. It was really powerful."
Becoming more of an advocate
Situations like those helped push Kingsley into more of an advocate role as their scholarly activities began to focus on increasing the knowledge and skills of health professionals to become more inclusive practitioners. Kingsley also has launched affinity spaces supporting a variety of social identities and trained staff volunteers to serve as facilitators for those spaces. And Kingsley co-created and formalized a diversity, access and equity committee that designs proactive programs and interventions, informs curricula and provides trainings for the USC Chan Division.
Additionally, Kingsley serves on USC's Campus Coordinated Response Team, in which they helped support the rollout of the Creating an LGBTQ+ Inclusive Campus Faculty Guidebook, and serves on the Gender Inclusion and Sexual Orientation Systemic Barriers Task Force. Kingsley's role as associate chief inclusion and diversity officer for faculty and staff success also allows them to develop and provide trainings on best practices for diversity, equity, inclusion and belonging for USC faculty and staff.
My use of 'they/them' pronouns has been an evolution that I fully transitioned to about three or four years ago, and it took me a while to make that choice.

Karrie Kingsley
Their work is not done, however, as Kingsley notes there still is a long way to go to ensure safe and supportive spaces, particularly as the transgender community is under attack nationally from the far right. Kingsley is involved in efforts to ensure more gender-neutral restrooms are available on campus and finds themself investing their time in promoting the use of correct pronouns as part of the university's push to be more inclusive.
"My use of 'they/them' pronouns has been an evolution that I fully transitioned to about three or four years ago, and it took me a while to make that choice," Kingsley said. "Part of making that choice is knowing that it comes with the burden of having to make corrections and education and the trade-off for that is when my pronouns are used correctly. That comes with validation, feeling like people see your whole self and that I can share a more authentic version of myself with people."