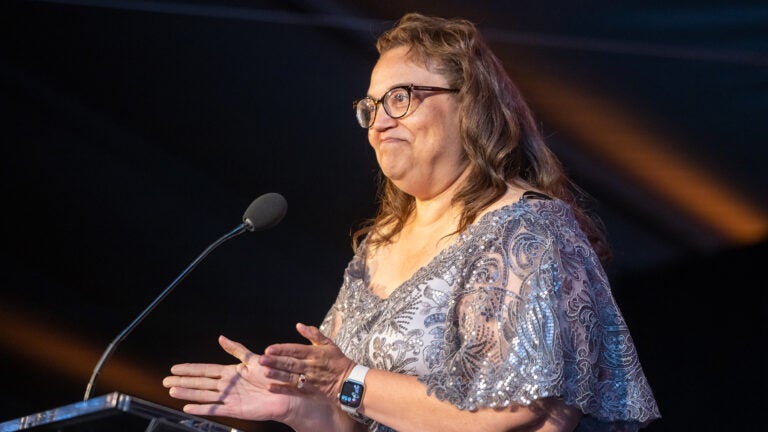 Trojan trailblazer lays the bricks for children's path to college
TITLE IX: Kim Thomas-Barrios' career has been dedicated to helping students pursue a college education and achieve their dreams.
Editor's note: Title IX — the landmark legislation that prohibits sex discrimination in educational institutions that receive federal funding — was signed into law on June 23, 1972. In recognition of this anniversary, we'll be profiling Trojan Title IX trailblazers throughout the year.
Kim Thomas-Barrios began her career as a high school teacher a little over a decade after the passage of Title IX. While some things for women improved soon after, such as changes to dress codes and the introduction of mixed physical education classes, other reforms were slow to take effect.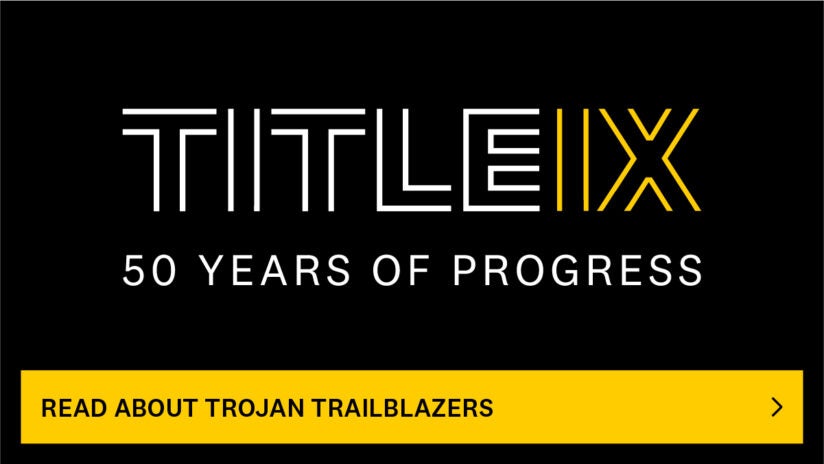 She vividly recalls being a first-year teacher and having to break into a male-dominated science department.
"They didn't even talk to us," Thomas-Barrios said of her bumpy start.
She was one of three new female teachers at her school in the San Fernando Valley; only two made it to the second year. "We were completely ignored, thrown into the lion's den with no help. I was lucky because I had educators in my family to guide me," said Thomas-Barrios, now USC's associate senior vice president of educational partnerships.
She credits her father, Robert, a longtime educator and school administrator, and her mother, Elizabeth, a preschool teacher, for helping her navigate those stressful circumstances — but what really carried her forward was her passion.
I was a young teacher who loved what she was doing. I wasn't going to let anyone stop me from doing what I felt needed to happen.

Kim Thomas-Barrios
"I was a young teacher who loved what she was doing," Thomas-Barrios said. "I wasn't going to let anyone stop me from doing what I felt needed to happen."
In her second year, she started an all-female new science teachers' group. Each week they met over lunch to discuss classroom management, strategy implementation, activities and how to do lab work with minimal resources. They would also offer one another support.
"What we were doing as science teachers was almost cutting edge because we weren't allowed into this all-male group and what they were doing," Thomas-Barrios recalled, thinking back to all the new ideas and resources she and her fellow teachers developed to ensure their students remained engaged — and learned.
The group's ability to generate fresh ideas was a hit with students and also built a community for the new teachers, ensuring they had a sustainable support network to rely on, particularly in the early part of their careers. Later, the school principal adopted the group's approach as a model for all new teachers, regardless of gender.
Seeing the uneven playing field firsthand
Despite the moral victory, Thomas-Barrios continued to face situations where the playing field wasn't level for everyone. She reflects upon a disheartening experience while she was coaching the girls' basketball team at 32nd Street Magnet School in the mid '90s: The girls were expected to vacate the court when the boys arrived.
"Girls weren't even given court time," Thomas-Barrios said. When she fought for them, she didn't get the reaction she expected from the administration: "I was met with anger. It was devastating for the girls to see that. I was disrespected, and they were disrespected for being females."
Although she didn't receive the support she needed at the time, she has seen progress. She noted that the Los Angeles Unified School District has made strides by creating awareness for Title IX policies and supporting faculty and staff through its LAUSD Educational Equity Compliance Office.
In the nearly four decades since Thomas-Barrios first became an instructor, she's gone from trailblazing high school teacher to leading one of the country's most prestigious college access programs. The USC Leslie and William McMorrow Neighborhood Academic Initiative is a seven-year college preparatory program with the promise of a full-tuition scholarship upon completion and acceptance into a university for those who complete it.
"I feel very fortunate to have been chosen by this career where I can see the fruition and impact of what I do every day," said Thomas-Barrios.
Thomas-Barrios didn't aspire to go into education when she was younger. After watching her English teacher father stay up late at night correcting papers and creating lesson plans, she decided to go to medical school. But while pursuing her undergraduate degree at USC, she accepted a teaching assistant position at a Watts school where her father was the assistant principal.
"I fell in love with the kids. They really needed us," said Thomas-Barrios. She had her first taste of the joys of teaching — but medical school remained the goal.
Back to the classroom — and a life-changing experience
Upon graduation, her father suggested she sign up for an emergency teaching credential. Schools were in dire need of science and math teachers, and Thomas-Barrios figured she'd be able to save some money to pay for the next round of her education.
"It was just a job for me at first, but then I realized how much education was really going to move them if they continued," Thomas-Barrios said, thinking back to the impact she saw she was making on her young pupils. The rest is history.
Since 1992, over 1,500 students from South Los Angeles and the Eastside have graduated from NAI, which boasts a remarkable 100% high school graduation and college acceptance rate. This year, over 50% of the 96 NAI scholars received acceptance letters to USC.
Even though the NAI journey is rigorous for its scholars and their families, the level of support provided — tutoring, mental health resources, assistance applying to college, guidance on how to apply for financial aid — is almost unprecedented.
"How great is it to be able to develop an environment in classrooms that is welcoming, creative, open, hopefully safe — where they can explore their dreams," Thomas-Barrios said.