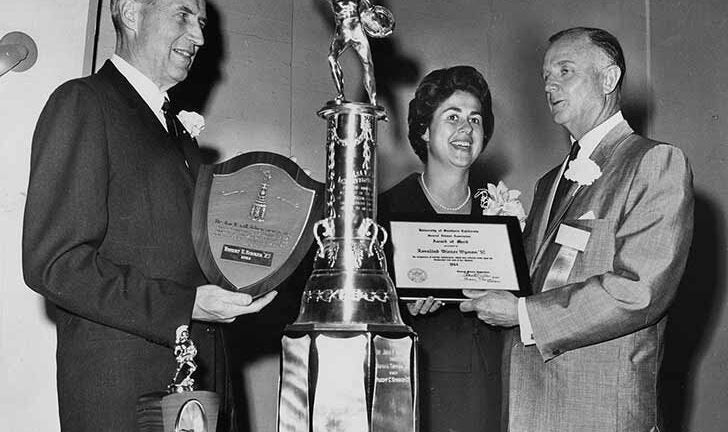 Trojan trailblazer Roz Wyman made her mark in government and sports
TITLE IX: The USC alumna — the youngest person and just the second woman ever elected to the Los Angeles City Council — helped bring the Dodgers to California, and laid the groundwork for women who followed her.
Editor's note: Title IX — the landmark legislation that prohibits sex discrimination in educational institutions that receive federal funding — was signed into law on June 23, 1972. In recognition of this anniversary, we'll be profiling Trojan trailblazers throughout the year.
A version of this story originally published on Dec. 2, 2022.
To some who knew her, Rosalind "Roz" Wiener Wyman was ahead of her time. To others, she was a stalwart, a go-getter and even an icon.
She was absolutely a trailblazer. In the 1950s, just a year out of USC, she became the youngest person and only the second woman elected to the Los Angeles City Council — years before the women's movement of the 1960s or the enactment of landmark Title IX legislation banned sex discrimination in educational institutions that receive federal funding. She laid the groundwork for the women who followed her.
But perhaps most importantly, to her son Bob Wyman, she was simply "Mom."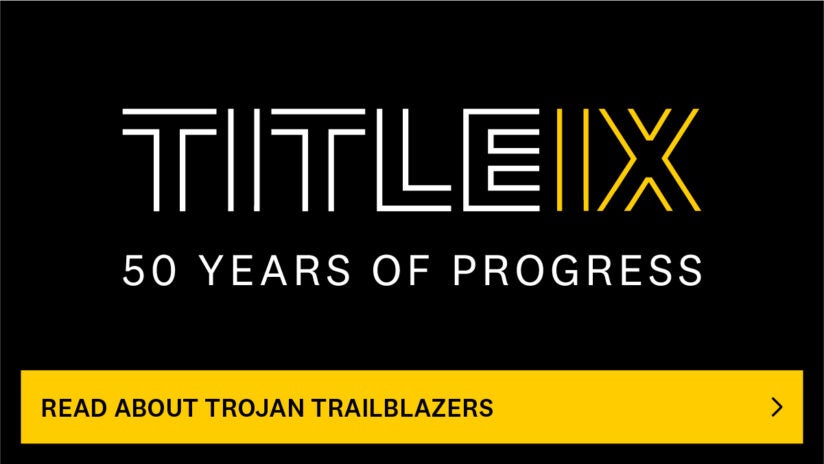 "Looking back, I was probably in college when I realized how different my experience was and the extent of what Mom did," Wyman said. "As I got older, I had a broader perspective from outside the house that this was a remarkable woman."
The USC alumna spearheaded the Dodgers' move to Los Angeles during a time when few major professional sports teams played on the West Coast and brought a wave of other professional sports teams west.
But her contributions to sports only tell a fraction of her story. A dedicated public servant, she served on the City Council for more than a decade before becoming an influential voice in the Democratic Party, serving as chair and chief executive officer of the 1984 Democratic National Convention.
In a public statement issued after Wyman passed away in October 2022, then-U.S. House Speaker Nancy Pelosi called Wyman "a godmother of the Democratic Party" who "nurtured young people, mentored candidates and helped elect dozens of women to office."
One of those women is former U.S. Rep. Jane Harman, who served California's 36th congressional district from 1993 to 1999, and from 2001 to 2011.
Iconic is such a great word for Roz, iconic to the city and iconic to women.

Jane Harman, USC Price scholar-in-residence
"Iconic is such a great word for Roz, iconic to the city and iconic to women," said Harman, Presidential Scholar-in-Residence at the USC Price School of Public Policy and an honorary USC trustee.
"Back in the day, it's hard to imagine how a woman could have done what she did. I can't imagine another woman that I know, including the most powerful, that at age 22 could have done what she did."
Roz Wyman: Early life, path to USC and political career
A native Angeleno, Wyman attended Los Angeles High School, where she was a student government leader. She became well known by the vice principal for regularly presenting "crazy ideas," like bringing lonely students together for lunch mixers and hosting school dances for those who couldn't afford country club gatherings.
After high school, Wyman majored in public administration at what was then called the USC School of Citizenship and Public Administration, graduating in 1952. A year later, she was elected to the L.A. City Council at only 22 years old, making her the youngest elected legislator in a major U.S. city.
While running for office as a student at USC, Wyman recruited numerous student volunteers and used her own living room as her campaign headquarters. That early experience would prepare her for not only her role on the City Council, but also when she served as acting mayor of L.A. She then led a campaign to create more parks in the city and became the first woman to run a national political convention.
Roz was a force of nature.

Nancy Pelosi, former U.S. House speaker
"Roz was a force of nature: breaking down barriers for women in California politics, while forging new ways to bring people together through politics, the arts, and baseball," Pelosi said. "Her leadership helped draw her beloved Dodgers to Los Angeles — and my Giants to San Francisco — so that California families could experience the thrill of America's pastime."
According to Wyman's son Bob, that love for baseball was engrained in his mother from the moment she was born. The story goes that his grandmother, originally from Chicago, asked the doctor one question when Roz was born: "What's the Cubs' score?"
"I assume that's where my mother's love of baseball was inherited," he chuckled.
Bringing pro sports to L.A.
One of her biggest campaign promises when she first ran for office was to bring major league sports to L.A., during a time when the West Coast was still an untapped market.
"She always felt that major cities needed major sports," her son said.
She contacted then-Brooklyn Dodgers owner Walter O'Malley, who initially refused to speak with a young city council member from across the country.
"I didn't quit," Wyman told USC News in 2018.
Ultimately, Wyman was able to convince O'Malley to visit L.A., where during a helicopter tour of the city the latter saw the perfect site for a baseball stadium. O'Malley moved the Dodgers from Brooklyn, and the team played its first game in L.A. on April 18, 1958. A year later, construction began on the new stadium — not without controversy from the surrounding community — and in 1962 Dodger Stadium opened to fans.
O'Malley and Wyman remained lifelong friends, and when the former died in 1979, his family — at his request — gifted Wyman a key that fits into every door at Dodger Stadium.
"Tommy Lasorda would yell at Mom from the dugout," Bob Wyman said. "That's a pretty cool experience for a young kid."
Her efforts also had a ripple effect that saw the New York Giants move to San Francisco in 1958. Two years later, L.A. received another pro franchise when the Lakers moved to town from Minneapolis, another project Wyman had a hand in.
Remembering L.A. icon Roz Wyman
In addition to Pelosi, other well-known political figures and celebrities paid their respects to Wyman on social media after her death.
U.S. Sen. Dianne Feinstein called Wyman a friend and "someone who made a real difference for Los Angeles and for Democratic politics."
"Roz was a real force of nature whenever she set her mind to something," Feinstein said. "Whether it was politics or dragging a baseball team 3,000 miles across the country, Roz had a passion that was infectious, and she really got things done."
Tennis legend and activist Billie Jean King took to Twitter to pay respect to a friend and source of inspiration.
"One of my Sheroes has passed away," King said in a tweet.
"Roz Wyman was the youngest person ever elected to the Los Angeles City Council, at age 22, in 1953 and the reason we have the @Dodgers in LA. May she Rest in Power. Thank you, Roz."
Harman hopes that Wyman's impact can continue into the next generation of women in politics, and that Los Angeles remembers the icon it lost.
"She was my role model in politics," Harman said. "She was just the North Star, not just to me, but to so many people."