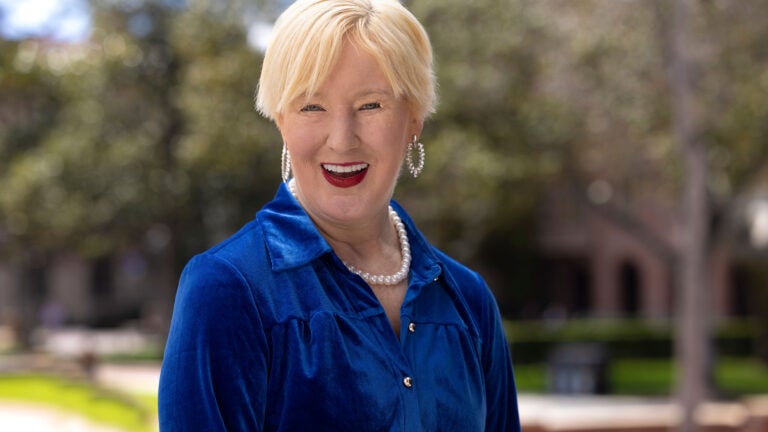 Trojan trailblazer traces entrepreneurial zeal back to sports
TITLE IX: "Sports gave me the confidence to question barriers that are out there and think about ways to overcome them," says USC Marshall Professor Jill Kickul.
Editor's note: Title IX — the landmark legislation that prohibits sex discrimination in educational institutions that receive federal funding — was signed into law on June 23, 1972. In recognition of this anniversary, we'll be profiling Trojan trailblazers throughout the academic year.
When Jill Kickul was a freshman at the University of St. Francis in Illinois, the school offered only one sport for women: basketball.
Kickul, now a professor of social entrepreneurship with the Lloyd Greif Center for Entrepreneurial Studies at the USC Marshall School of Business and holder of the Narayan Research Directorship at the USC Brittingham Social Enterprise Lab, wanted to play soccer. And so she did, becoming the first woman to play on the school's male soccer team.
"If it wasn't for Title IX, I wouldn't have been able to play," she said. In the years and months that followed, other sports opened to female athletes on campus, increasing until the male and female sports programs offered equal opportunities.
For Kickul, being on the soccer team was about more than competition, recreation or sportsmanship. "Sports gave me the confidence to question barriers that are out there and think about ways to overcome them. They empowered me to think past the constraints of a particular situation and reimagine what new possibilities could be, particularly for women — if they question the status quo," she said.
Kickul, a business administration major, took this mindset and began tackling the world of entrepreneurship, a typically male-dominated field. As a research assistant at DePaul University in Chicago, Kickul was lucky enough to work with one of the few women changing entrepreneurship at the time. Lisa Gundry — a professor Kickul worked with while pursuing her master's and doctoral degrees and still her mentor to this day — was one of the first female professors working in the field. "She taught me about leadership and instilled in me that can-do attitude," Kickul said.
Empowering a new generation of female leaders
After Kickul graduated, she started the first women's entrepreneurship program at Simmons University in Boston.
"That was a time for me to be a leader in developing new curriculum, workshops, lectures series, conferences and other programming. We were on a mission to have this program be No. 1 and wanted it to be positioned differently than traditional entrepreneurship programs geared toward men," she said. Under her direction, the program was named in the "Top 10 Innovative Programs for Entrepreneurs" by Fortune Small Business and the "Top 20 Graduate Entrepreneurship Programs" by Entrepreneur Magazine/Princeton Review.
A main goal for Kickul throughout her work in academia has been to inspire confidence and self-efficacy in the young women she's teaching and working with, and to help them think about entrepreneurship as a viable pathway in their careers.
At USC, Kickul's focus on diverse groups of students — many of whom are women — and pathways to helping them build sustainable businesses and careers is unwavering. Research shows that women — often lacking a sense of confidence that they are welcome in more male-dominated professions or spaces — may take themselves out of the equation.
"Most of our [Master of Science in Social Entrepreneurship] students are first generation and, by majority, most of them are women," Kickul said. "A lot of the women who come into our program have the drive and passion to bring about progress, but they might not know how to become those change agents within their communities. At USC, we've given them the tools, mindsets and practices to make a difference — not just with entrepreneurship, but also within existing organizations that want to have an impact."
"After they leave here," Kickul said, "they think differently about how to create change. They have a renewed drive, too — bolstered by a sense of confidence and knowledge of tools — to really go and make a difference within society."
Agent of progress in longstanding institutions
Kickul has led the charge in forums to discuss the future of entrepreneurship, launching the Annual Social Entrepreneurship Conference — which will celebrate its 20th year in November — and becoming president of the United States Association for Small Business and Entrepreneurship (USASBE).
"At the time, there weren't too many women who took on that kind of leadership role," Kickul said of her work with the association. "Under my leadership, we professionalized the organization by restructuring the board and bringing in a diversity of perspectives." Milestones in this work included building a pipeline of new members in entrepreneurship education that offered USASBE a wider array of perspectives on how to effectively teach entrepreneurship to diverse groups of students.
The Annual Social Entrepreneurship Conference is another gamechanger. Bringing together the largest group of social entrepreneurship researchers and social innovators, the conference, which Kickul co-founded, continues to push the field forward. This past year's topics reflected the field's dynamic nature, with questions of how we define social entrepreneurship today versus in the past and panels on modern issues within entrepreneurship, such as how women and people of color fare in raising capital for their ventures.
Kickul's own research is prolific, focusing on innovation and strategic processes within new ventures, micro-financing practices and wealth creation in transitioning economies, and social entrepreneurship. She has been published in over 100 journals on entrepreneurship and management.
The next chapter of bold leadership
Looking forward, Kickul is realistic and optimistic in a remarkably balanced fashion. "Overall, we still have a long way to go," she said, "not only within the board rooms but with women-led ventures beyond just being lifestyle businesses."
Women-led startups still only receive less than 3% of venture capital funds. "Women need more support for getting those resources. Men can also be great allies in this work."
Ultimately, Kickul hopes that the next generation will acknowledge the hard work that came before it and build upon this work to accelerate the achievement of true gender parity in the field.
"We need to continue to do the work that was started and create awareness for others who have really reaped benefits from Title IX and are now in great positions to teach others how to lead," she said. "Newer generations need to continue this work in bolder and broader ways."