Trojan undergrad believes in the power of science to conquer cancer
Cancer researcher and graduating senior Sophie Wix will pursue medical breakthroughs this fall as USC's first Fulbright scholar to the University of Cambridge and the United Kingdom
Cancer cells are like marauders, storming through the human body and devastating healthy organs and tissue.
But to find a new place to settle and grow, they have to break away from a tumor and circulate in the bloodstream. That's a weakness graduating senior Sophie Wix has been exploiting as part of a team of USC researchers advancing an exciting new way to identify and treat cancer.
Called "liquid biopsy" by scientists in USC's Convergent Science Initiative in Cancer, the strategy involves catching and analyzing cancer cells as they enter the blood. In addition to avoiding invasive biopsy procedures, the revolutionary approach could help doctors detect new tumors or the recurrence of cancer sooner, improving the likelihood of successful treatment and recovery.
It also allows scientists to study the DNA of the cancer cells and understand how they use certain proteins to replicate and spread. That information could prove invaluable, Wix said, ensuring that patients are matched with the most promising treatments for their particular form of cancer.
"It's precision medicine in action," she said. "We are taking these hard problems, these wicked diseases, and making sense of them in a molecular way."
I want to use what I'm passionate about and the research I'm pursuing here to make a difference.

Sophie Wix
It's also the type of pioneering research that inspired Wix to enroll at USC as a health and human sciences major at the USC Dornsife College of Letters, Arts and Sciences. Set to graduate tomorrow, she heads to the University of Cambridge this fall to work in the lab of a top cancer researcher as USC's first Fulbright scholarship recipient to the United Kingdom.
Wix envisions ultimately using breakthroughs in the lab to solve global health problems, especially in underserved communities with limited access to trained doctors.
"I want to develop cancer diagnostics and treatments that can be used around the world," she said. "I want to use what I'm passionate about and the research I'm pursuing here to make a difference."
Treat cancer in a new way: early experiences
Wix was only 16 years old when she sat her parents down at the family dining table and told them she had something important to talk about.
"Mom, Dad, I want to be a physician," she said. "It is the most rewarding profession. It would be a privilege to go into work every day and potentially save or change someone's life."
Her parents, both doctors, had often warned Wix and her siblings that medicine is a difficult field that requires tremendous self-sacrifice. Don't get into it for the money or prestige, they would say.
But after volunteering at a local wildlife conservation center in her hometown of Phoenix, Wix fell in love with biology. Then during a high school internship at the nearby Translational Genomics Research Institute, she worked alongside DNA scientists who were developing a drug to fight an aggressive brain tumor known as glioblastoma.
"My friend's younger brother had passed away of that same tumor when he was 13," Wix said. "Working there really made me realize the power of science. We can use science to change the world."
USC satisfies thirst for science, and much more
By the time Wix started applying to colleges, she knew she wanted to attend a top research university. But that wasn't her only priority. She also wanted an opportunity to pursue other interests, like music and camaraderie with other students.
She stumbled across a video for USC's Renaissance Scholars program, which encourages undergrads to pursue studies in unrelated disciplines. It inspired her to visit campus, and Wix was immediately charmed — from the professionalism of the admissions team to her enthusiastic tour guide to the overall vibe.
The way people just buzzed and lit up, it was such a happy place to be. I love this school so much.

Sophie Wix
"The way people just buzzed and lit up, it was such a happy place to be," she said. "I love this school so much. I hope my kids go here."
Alongside her academic pursuits, Wix found balance by taking songwriting and entrepreneurship classes. She became the chaplain at her sorority, Alpha Delta Pi, and joined The Sirens, USC's all-female a cappella group. A yoga and meditation enthusiast, she reveled in the university's emphasis on student well-being and mindfulness.
Seeking connections with other passionate members of the Trojan Family as a freshman, she attended a student-alumni networking event and hit it off with USC Trustee Amy Ross, an alumna and biomedical researcher specializing in cancer diagnostics. When Wix mentioned she was looking for research opportunities in translational medicine, Ross had an immediate recommendation.
"She said, 'Don't look any further, Peter Kuhn is your guy,'" Wix said.
Taking the fight to cancer with innovative new tools
Kuhn, a scientist and engineer, had recently joined USC. He was just starting to put together his cancer research team, now based at the USC Michelson Center for Convergent Bioscience, and Wix impressed him with her determination and poise.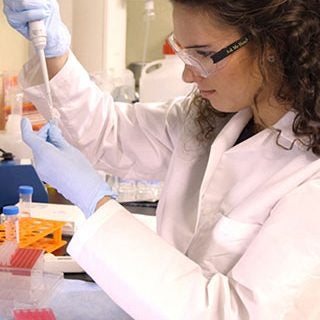 "She came to us saying, 'I want to do something impactful, I want to make the world a better place, and I think I can do that in your lab,'" said Kuhn, Dean's Professor of Biological Sciences and professor of medicine, biomedical engineering, and aerospace and mechanical engineering. "I love that about students at that stage in their education — they are utterly fearless."
For every semester that followed, Wix worked alongside Kuhn and his close collaborator James Hicks, research professor of biological sciences, to push the boundaries of liquid biopsy. A major highlight was testing a promising new device, known as a proteomic imaging machine, that arrived in the lab when she was a freshman.
One of only three prototypes in the world at the time, the instrument holds promise for helping researchers analyze how cancer cells spread through the body. It offers researchers hope that physicians can precisely customize treatment to each patient's specific cancer. Kuhn likened it to previously painting with only a few colors, then suddenly having access to many different hues.
"We start seeing aspects of the disease nobody has ever seen before," he said. "To go from four-color biology to the full spectrum of color changes the way you understand this disease."
As one of the first researchers in the lab to try out the imaging machine, Wix has since trained other scientists to use the tool and even gave feedback to the device's manufacturer to improve its design. She described the experience as a great example of USC's growing emphasis on collaboration among diverse disciplines like engineering, math, physics and biology.
"It's the convergence of all these fields," she said. "That's the buzz word, but for good reason. Biology and tech are becoming one before my eyes."
Pursuing a future in research and clinical care
After graduating from USC as a Discovery Scholar and Global Scholar this week, Wix will join the lab of another renowned cancer researcher, Carlos Caldas, at Cambridge University to earn a master's degree in medical science. She expects to work on proteomic imaging of breast cancer cells and start to build the first 3-D model of a breast tumor, which will allow scientists and surgeons to analyze biological aspects of cancer in a virtual reality environment.
Her goal is to complete an MD/PhD program, bridging her love for research and clinical care. Wix hopes to eventually use her knowledge to improve access to medical care and treatment in underserved communities, a passion inspired by trips to Central America as a teenager. During one visit to a rural area of Nicaragua, she became sick and had to travel many miles to receive care.
"Our privilege of health care in the United States is incredible," she said. "There are so many people who don't have the same access, who could die from the common cold."
I want create my own scholarship to empower other students in STEM fields, to help them come to USC and pursue their dreams.

Sophie Wix
She plans to stay involved at USC, including advising the new leaders of Innovation Week, a collaborative event she co-founded to showcase research projects and businesses led by USC students. The first gathering raised $1,500 in seed funding for student research initiatives, and the next event is planned for this November. Wix also will be checking in on scholars who enroll in the new health innovations track at the USC Jimmy Iovine and Andre Young Academy; she helped design its curriculum alongside Kuhn and others.
And she is already envisioning how to give back to the Trojan Family. In addition to receiving a Presidential Scholarship, Wix benefited from the Dean Joan Metcalf Schaefer Merit Scholarship, which honors the late longtime dean of women at USC.
"I owe it to the university to establish something similar," she said. "I want create my own scholarship to empower other students in STEM fields, to help them come to USC and pursue their dreams."
---
To hear Sophie sing with The Sirens and learn more about her work with Peter Kuhn's lab, watch the video below: