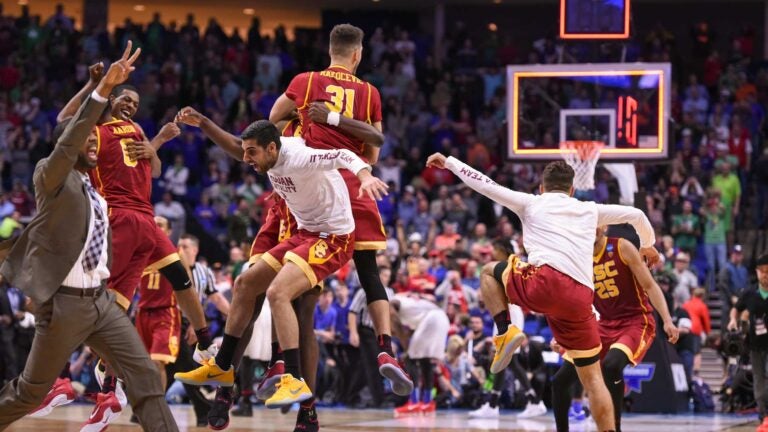 Trojans rally to beat SMU 66-65 and move on in March Madness
See how and what time to watch the next game, against Baylor, on Sunday
The Trojans continued their run of improbable wins this season, beating sixth-seeded Southern Methodist University 66-65 in the NCAA Men's Basketball Tournament today in Tulsa, Okla.
And yes, you could call that a comeback. In a tense fourth quarter, the Trojans trailed by as much as 10 points. A three-pointer from Elijah Stewart sent them ahead with 37 seconds left, and a potential game-winning shot from SMU bounced off the rim at the buzzer to seal the win for USC.
It was the 13th time this year that the Trojans came from behind after a double-digit deficit, the most such comebacks in Division I.
USC next plays No. 3 Baylor on Sunday, March 19, in second-round East Region action in Tulsa. Tip off is scheduled for 4:45 p.m. Pacific time on truTV (streaming video on the NCAA March Madness site; subscription may be required.) See the game report, all the latest photos and team news, highlights from social media and details about buying game tickets on USCTrojans.com's Tournament Central.