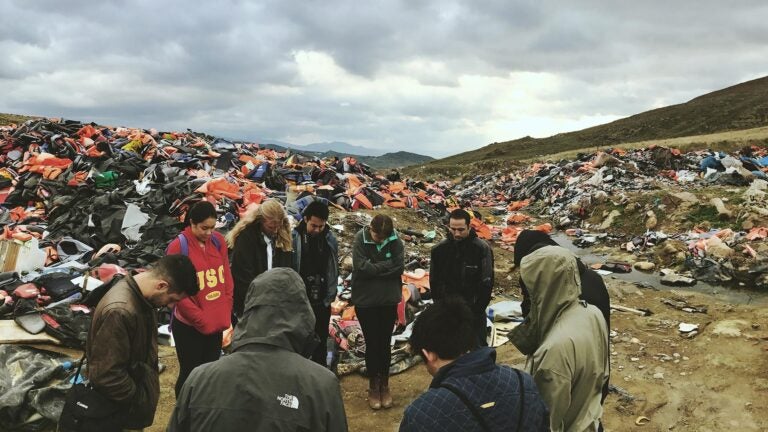 Trojan students volunteering in Greece witness refugees' plight firsthand
Justin Lee, one of nine USC students who spent their spring break working at a refugee camp, shares what he saw: 'I was kind of stunned.'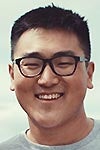 During his spring break, Justin Lee visited the island of Lesbos in Greece.
But he wasn't there to just soak up some rays. Lesbos, off the coast of Turkey, has become a major destination for refugees fleeing Asia or the Middle East for Europe. The camp held roughly 5,600 refugees during one fall count, according to an Al Jazeera article.
For a week in March, Lee and eight other Trojans volunteered in eight-hour shifts, working to distribute food to refugees and monitor passage in and out of the camp.
"I didn't know what to expect," Lee, a senior, said. "Seeing the camp in general, I was kind of stunned."
---
Lee recorded an audio diary during his trip. Hear his diary entries here:
[soundcloud url="https://api.soundcloud.com/tracks/316609459″ params="auto_play=false&hide_related=false&show_comments=true&show_user=true&show_reposts=false&visual=false" width="100%" height="450″ iframe="true" /]
---
Most shocking was just the vast amount of people, the tents crammed together, he said. He estimated the camp at about half the size of the USC University Park Campus.
Global scale
Lee, who is studying international relations at the USC Dornsife College of Letters, Arts and Sciences, assumed that the majority of the refugees there would be Syrian. Although he doesn't know exact numbers, meeting many African and Asian refugees opened his eyes to the plight on a global scale. The camp — which he cannot name due to security precautions with the organization he volunteered with — has people from over 200 countries, he said.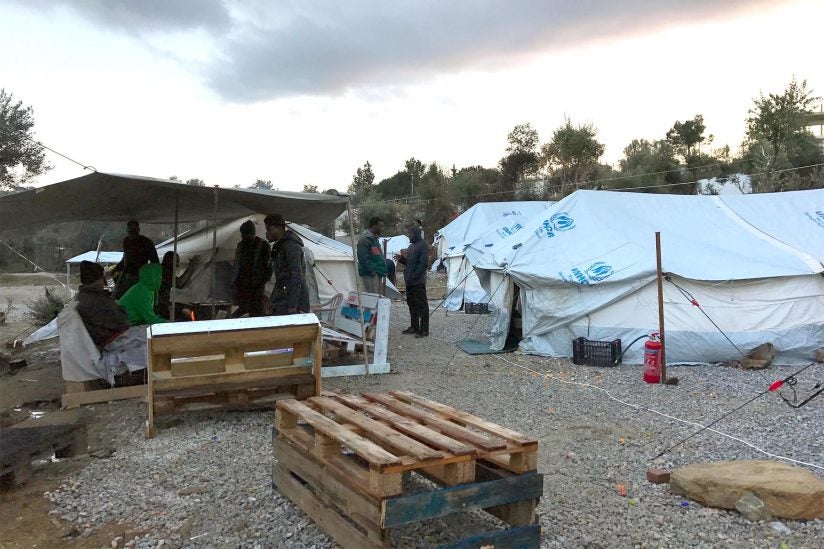 Lee and the other students stayed in a hotel a couple of miles from the camp. Each day they'd report for one of three shifts — from midnight to 8 a.m., 8 a.m. to 4 p.m. or 4 p.m. to midnight. Since they didn't get the same shift every day, sleep was spotty.
For the most part, Lee was tasked with guarding the gate to the family compounds. There are three family compounds, intended to separate families from the general male population in the camp. He guarded a compound made up of mostly African refugees, he noted.
There he met a 25-year-old refugee who had escaped from the Democratic Republic of the Congo. The man, who had hopes of becoming an engineer or engineering professor, said he left the DRC after masked men went after his family — killing his father in front of him, assaulting his sister and threatening to do more if he didn't leave the country.
Lee said what struck him was how grateful the man was, in words and actions, such as volunteering to distribute food with them at mealtimes.
" 'As bad as the situation back home is … I can't help but be thankful I'm safe and my sister and mother are safe back home,' " Lee said the man told him.
Uncertainty
Many of the refugees voiced how the uncertainty of their situation gnaws at them, he said.
"A lot of these refugees what they've been telling me — in a place like prison or just jail in general, you know when you're going to leave and if you're going to leave at all," Lee said in his audio diary. "With the refugee camp, they have no idea when they're going to leave, which is really hard on them."
Lee, who is on the executive board for USC's Students Organize 4 Syria, said he plans to urge others to volunteer and see the situation firsthand for themselves. He thinks that's the only way people can begin to understand the breadth of the crisis.
His trip wasn't cheap — about $2,500. But through the generosity of friends and family, he was able to do it almost entirely on donations, including a $1,000 donation from a former roommate.
"All of us felt like we learned and gained more from these refugees, more than we could do for them," he said. "Even though a week is merely a week, I think it changed a lot of things moving forward in my life."