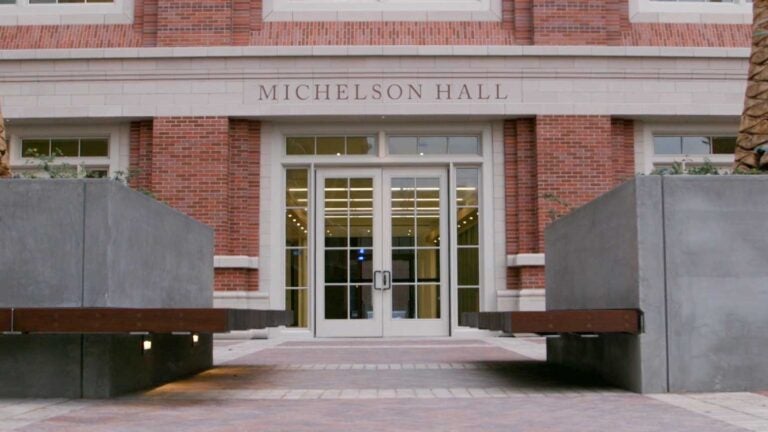 Two researchers describe how a building and the culture within can transform science
USC Dornsife researchers Peter Kuhn and Valery Fokin say culture will play a prominent role in shaping the USC Michelson Center for Convergent Bioscience
https://www.youtube.com/watch?v=ldp5aZPxRf8&feature=youtu.be
Peter Kuhn studies how to unmask cancer cells. Valery Fokin studies how to kill them.
So it's not surprising that they've been periodic collaborators since meeting 15 years ago.
But it's not just their shared goal to beat cancer that has united them. It's also their personal mojo. These two get along. They tease each other about their choice of jeans, laugh easily at each other's quips and finish each other's sentences like a comfortable married couple.
It's this combination of professional and personal connection that they hope will flourish in the USC Michelson Center for Convergent Bioscience. The center is a collaboration between the USC Dornsife College of Letters, Arts and Sciences and the USC Viterbi School of Engineering in cooperation with the Keck School of Medicine of USC.
Fokin and Kuhn are convinced that personal connections, fostered by a healthy, supportive culture that breaks down academic silos, encourages collaboration and allows for failure, will be as important as the bricks and mortar.
The building is this physical representation of how we think about the science of the future, this collaborative science.

Peter Kuhn
"The building is this physical representation of how we think about the science of the future, this collaborative science. It's a safe place where you're comfortable to say 'I don't know,'" said Kuhn, Dean's Professor of Biological Sciences and professor of medicine, biomedical engineering, and aerospace and mechanical engineering.
In on the ground floor
The Michelson Center was designed to encourage scholars from disparate fields — physics and chemistry to biology and medicine, engineering and even cinematography — to pool their intellectual talents to tackle big problems in human health.
During an interview on the building's fourth floor, with light pouring in from generous windows across gleaming workbenches, Fokin and Kuhn repeatedly emphasized how administrators, faculty, staff and donors came together to realize the building's construction. The building is named for Gary K. Michelson and his wife, Alya, whose $50 million donation initiated the project.
"It's a multifaceted effort, from the vision to the resources and the financial implementation, to the people who go into the building, to the design of the building," said Fokin, professor of chemistry. "It's not just cool-looking. It's actually conducive to the science."
The collaboration went so far as to include design input from the building's future inhabitants, including Fokin and Kuhn. Make the building transparent, they advised. Literally, with lots of glass walls. Nix the cushy corner offices but make room for plenty of open floor space and small meeting places to encourage chance encounters.
"It's built for a very, very high level of collisions, meaning that you can't hide," Kuhn said.
"New things will happen when you run into each other," Fokin added.
Bridging to Michelson
Fokin and Kuhn are founding members of the USC Bridge Institute, which also takes a collaborative approach to science. The institute will be among the first to take up residence in the new facility and is now titled the USC Michelson Center for Convergent Bioscience Bridge Institute.
Located on the corner of Jefferson Boulevard and Vermont Avenue, the old USC Bridge Institute is composed of a series of low-slung prefabricated buildings connected by hearty strips of plastic grass. It's informal, out of the way, and outdoor picnic tables allow for plenty of interaction among faculty and students.
But while Kuhn has his office and labs there, Fokin's are located across campus in the Department of Chemistry building. It's a short walk to Kuhn's current lab — but just long enough to discourage impromptu meetings.
"You'd be surprised how much difference this distance makes," Fokin said.
That walk will soon end as Kuhn and Fokin move into the same building for the first time since they arrived at USC in 2014 and 2015, respectively.
Fokin and Kuhn agree that being among the first faculty in the new center comes with the responsibility to make significant scientific breakthroughs that improve human well-being. They have their plans to make that happen, but they also welcome the unknown that comes with working in uncharted scientific territory.
"I would like to be surprised," Fokin said. "It's got to be something different. What it is I don't know, but I know it will happen."
The other challenge is entirely personal. Working in a futuristic, state-of-the-art building that was built specifically to support their potentially life-changing research, Fokin and Kuhn admit it may be hard to tear them away. Especially when the personal culture clicks.
"Our families are hoping that we will still come home," Kuhn said.