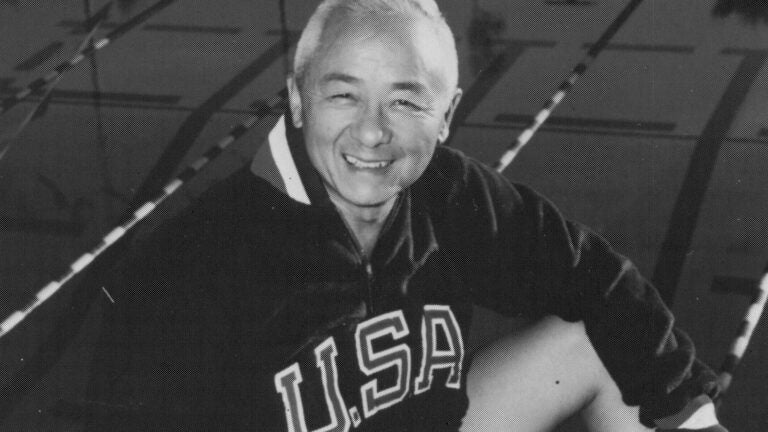 In memoriam: Sammy Lee, 96
Two-time Olympic gold medal diver was USC's oldest surviving Olympian
Samuel "Sammy" Lee, MD '47, Olympic diving champion, coach and doctor, died Dec. 2 in Newport Beach due to pneumonia. He was 96. He was USC's oldest surviving Olympian.
Born in Fresno to Korean immigrants, Lee became the first male diver ever to win back-to-back gold medals and at the age of 32 the oldest to win an Olympic diving title, when he won the platform competition at the 1952 Olympics in Helsinki. He earned a place in the U.S. Olympic Hall of Fame in 1990.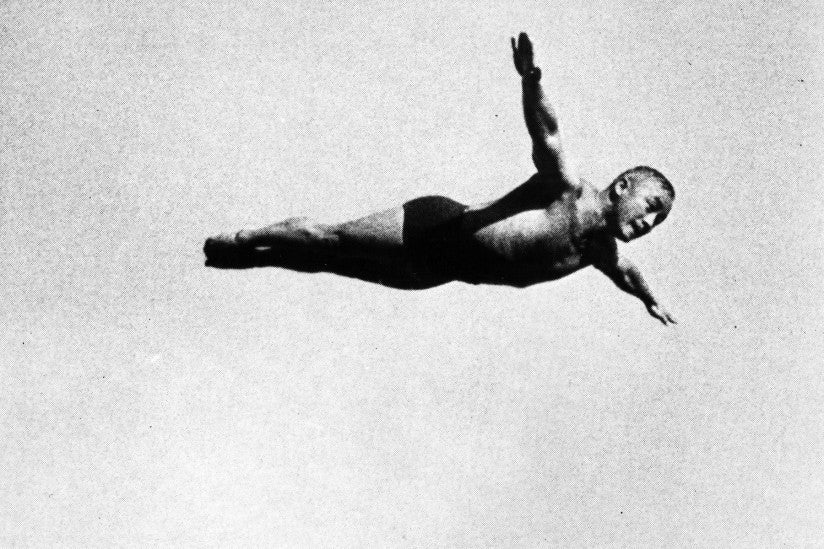 Setting his sights on twin goals of winning an Olympic gold medal and becoming a doctor, Lee began training while attending Franklin High School in Los Angeles, learning how to do somersaults from a diving board into a sandpit in his coach's backyard. He quit high school football to concentrate on diving, and won his first national diving championship in 1942, only to put his sport on hold to enroll in USC's medical school. He returned to competition in 1946 and again won the national championship in the platform event.
He joined the U.S. Army shortly after graduating from USC in 1947. He earned a place on the 1948 U.S. Olympic diving team and won a gold medal at the 1948 Olympic Games in London in the platform competition and a bronze in the springboard.
As a member of the U.S. Army Medical Corps in Korea, Lee rarely competed in the four years after the 1948 Olympics. Still, he qualified for the 1952 Olympics team and won two gold medals there. He retired in 1953, the same year he won the James E. Sullivan Memorial Award as outstanding U.S. amateur athlete.
Though his own days of competing were at an end, Lee continued in the sport as the successful coach of the 1960 U.S. Olympic diving team and double gold medalist Bob Webster. Always keeping his eye out for new talent, he spotted Greg Louganis as a formidable competitor in the Junior Olympics and coached him to win a silver medal in the tower event at the 1976 Olympics in Montreal. Lee also penned a book called Diving that was published in 1979.
Lee's list of accomplishments, awards and honors is long and impressive. His name adorns the walls of multiple halls of fame, including the International Swimming Hall of Fame, the Anaheim/Orange County Walk of Stars and the Los Angeles Unified School District High School Sports Hall of Fame. In 2013, the LAUSD named the Dr. Sammy Lee Medical and Health Sciences Magnet Elementary School in his honor. He also has a square named for him in Los Angeles' Koreatown.
After his Army service ended in the mid-1950s, he and his wife settled down in Orange County, where he was an eye, ear, nose and throat specialist with a practice in Santa Ana.
In 1986, Lee helped establish the Korean Heritage Library, part of USC Libraries, which today boasts the largest collection related to Korean-American history in the country.
Throughout his life, he spoke of how he overcame racial prejudice to be a success. His difficulties in buying a house in Orange County because of his Korean heritage after returning from the Korean War garnered news coverage. In an interview with The Orange County Register in 2006, he said that prejudice "… made me more determined to succeed in the American way of life. I wanted to represent the finest qualities of my ancestral background and show that they can be accepted as 100 percent American. I tell the kids today that if you got the fighting instinct in you, you can overcome prejudice. You show people with your performance, not just words."
He is survived by his wife, Roz; two children, Pamela and Sammy II; and three grandchildren.