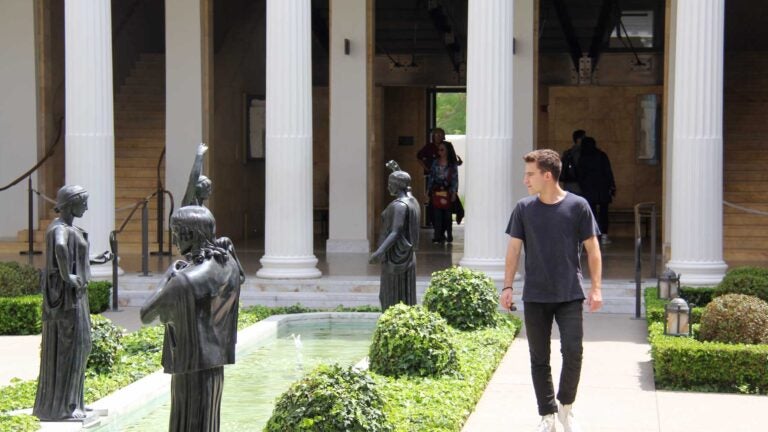 Meet a digger of ancient artifacts, french fries food truck owner and USC Trojan
Max Novak's fascination with Greek and Roman history could lead to a career as a museum curator
Max Novak probably watched too many gladiator movies as a kid.
At least that's his theory for why he's so interested in Greek and Roman history. As a USC undergraduate, he spent weeks excavating a funeral site near Rome, uncovering pottery shards, painted objects and chunks of a marble sarcophagus.
Now, fresh from dual majors in classics and art history at USC, he's pursuing his master's degree in classical art and archaeology at Oxford University. He envisions a career in museum work, possibly as a curator responsible for classical art and archaeological objects.
"There's something special about being able to touch and interact with materials that way," he said. "They are just really beautiful — they are priceless and one-of-a-kind."
But if you are envisioning a quiet and bookish scholar interested only in ancient artifacts, Novak might catch you off guard. He skateboards, designs streetwear and recently launched a french fries-focused food truck in Los Angeles with a couple of buddies from high school.
These diverse passions are likely part of the reason he earned USC's highly selective Mork Family Scholarship, which covered his undergraduate tuition and included a stipend for living expenses. In addition to providing motivation and encouragement to push his limits, the scholarship enabled his trip to Italy for the archaeological excavation and made attending graduate school at Oxford University much more feasible because he didn't have to take on student loan debt.
"You have to live up to it," he said of the scholarship. "It does motivate you to take advantage of what you've been given."
Digging deep
Novak's road to Oxford began at the USC Dornsife College of Arts, Letters and Sciences, especially in courses taught by Thomas Habinek, a professor of classics, and John Pollini, a professor of art history who specializes in classical art and archaeology.
Pollini also oversaw the archaeological dig in Italy's Ostia Antica, a neighborhood that served as the seaport for ancient Rome. During the six-week visit in 2015, Novak and other USC students explored the foundations of what might have been a storage area for funeral offerings and tributes.
Novak's primary task was unglamorous: digging a 5-foot-deep hole. His swings with a pickax gave way to more delicate tools as he neared a layer of broken pottery believed to have been scattered sometime in the medieval period to create a floor.
"Everyone there was pretty much new to digs, so we constantly had to ask if something was new or old," he said.
Eventually, he carefully swept away dust with a brush, pausing to take photos every few minutes to document his progress.
Novak enjoyed the experience, and Pollini said he was one of the few students who would drop by the office to chat after the dig. But weeks of taking a train to the site at 6 a.m., digging all day and returning to Rome dirty, sweaty and tired gave him invaluable insight: A career in museum curation and administration might be a better fit.
What's cooking
That's not to say he doesn't enjoy hard work. Before he left for Oxford, Novak hit the streets of Los Angeles with a couple of friends from his hometown of Oakland, Calif., in their food truck, Fries First. The entrepreneurial initiative grew out of a business pitch competition that the group entered and won in early 2017, netting them $20,000.
After polishing up their business plan with support from Novak's father, an accomplished chef and restaurant consultant, they rented a food truck and started dishing up their take on gourmet fries. Their trays of waffle-cut fries come with internationally themed toppings, from carne asada to kimchi to curry.
"Some people like the Greek, but I think the lomo saltado is the most interesting one," said Novak, referring to their version of the Peruvian dish of stir-fried steak, onions and roasted tomatoes.
Although he is now studying overseas, Novak remains involved with the business, providing some design work thanks to a few elective courses in art and graphic design he took at USC. He said it's another opportunity he might not have had without the Mork Family Scholarship.
"It's absolutely a blessing and made a lot of other things possible," he said. "I don't think I'll ever stop being thankful."
USC offers the largest financial aid program in the country, but only a fraction of USC undergraduate scholarship aid is offered through the endowment. To learn how to make a USC education possible for more students with the help of scholarships, visit the scholarships page on the Campaign for USC website.