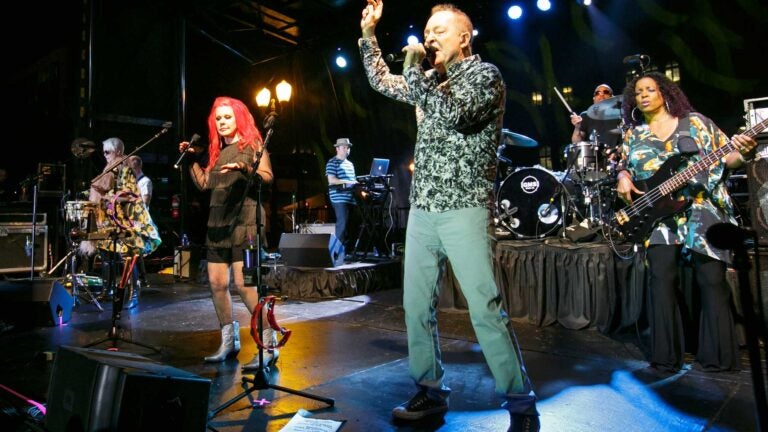 USC 2017 | Celebrities from TV and movies who taught Trojans this year
? Year in review: From Bryan Cranston to Issa Rae, stars from Los Angeles' entertainment industry and beyond brought valuable lessons to USC students (Second in a 10-part series)
For Los Angeles residents, it's no big thing to see celebrities around town. On the USC University Park Campus, it's just as easy to catch yourself doing a double take when Oprah walks through Wallis Annenberg Hall or actress Anna Faris teaches a class. ICYMI, here are just a few of the celebrities who brought their valuable life lessons to students at USC this year.
---
Octavia Spencer
About 8,000 middle- and high-school girls came to hear Octavia Spencer and other Hidden Figures cast members talk about the importance of representation of women and people of color in stories about science. In the film, Spencer plays Dorothy Vaughan, a mathematician and NASA's first African-American manager.
Hidden Figures screening inspires talk about math and representation
---
Jay Duplass
The star of Amazon's Transparent was candid with students about his rise to fame. "When we made our first $3 short film that went to Sundance, it was shot on my parent's home video camera and my brother [Mark Duplass] was acting and no one else was around," Jay Duplass said. "I was the director, the writer, the cinematographer, the gaffer, the grip and the sound mixer." The brothers are known for their scrappy filmmaking.
How Jay Duplass of Transparent made the leap from obscurity to success
---
Margaret Cho
Comedian Margaret Cho told USC School of Cinematic Arts students stories of living in San Francisco and watching Robin Williams perform nearly nightly at the Holy City Zoo. She started doing stand-up as a teen, doing gigs at "all of these little clubs, bar shows, kids theater shows, old folks homes — anything to get on stage." Her advice: Take every opportunity to get on stage as often as you can.
---
Bryan Cranston
Chatting at the Los Angeles Times Festival of Books about his latest endeavor, the memoir A Life in Parts, Bryan Cranston provided behind-the-scenes stories about the making of the AMC show Breaking Bad. To get into the role of Walter White, a chemistry teacher turned meth peddler, Cranston followed USC chemistry professors around to learn more, joking "Chemistry professors say, 'At last a chemistry professor on television — we have arrived! Science!'"
Book 'em: Fans, families flock to nation's largest literary festival
---
Lisa Kudrow
Talking with USC School of Dramatic Arts Dean David Bridel, Lisa Kudrow shared her uneven path to success. She thought her big break would be on Fraiser, where she originally was cast to play Roz Doyle. But her firing led to Friends, where her role as free-spirited Phoebe Buffay resonated. She encouraged students to find a community — like she did at the Groundlings Theater in L.A. — and to push past rejection.
Advice from one of your Friends: Lisa Kudrow shares career insight with USC drama students
---
Anna Faris
Actress Anna Faris came to USC to teach her first college course: "Creating the Hit Podcast." The Mom co–star and host of the podcast Anna Faris is Unqualified co-taught the class with co-host and USC alum Sim Sarna. In the USC School of Dramatic Arts class, she coached students how to conceive an idea, pitch it and put together a pilot.
Actress Anna Faris brings her podcast skills to the front of the class
---
Issa Rae
The creator, writer and star of HBO's Insecure shared with USC Annenberg students how showcasing diversity was important to her, but in a way that related to her life and her friendships. Growing up in South L.A., it was also important to showcase her neighborhood. "I found a showrunner who also grew up in my neighborhood. … He always said that shows like Entourage get to make Beverly Hills and Hollywood sexy and why can't we do the same for South Central?" she said. "And so, that was kind of our mission going into it."
Insecure's Issa Rae shares secrets with USC audience, like where she gets her best ideas
---
Mark Hamill
The Star Wars star hung out with Stormtroopers – briefly putting aside their bitter history – on campus in May. Mark Hamill, who played Jedi Master Luke Skywalker in the franchise conceived by USC alum George Lucas, came to support USC's Neighborhood Academic Initiative, a program that helps neighborhood students go to top-tier universities, including USC. Hamill is also a proud Trojan dad: His daughter Chelsea earned her USC master's degree in 2014.
USC's groundbreaking Neighborhood Academic Initiative honors 60 newest graduates
---
USC 2017 A 10-PART LOOK BACK
See more of our 10-part year-end package, which continues through Dec. 31.