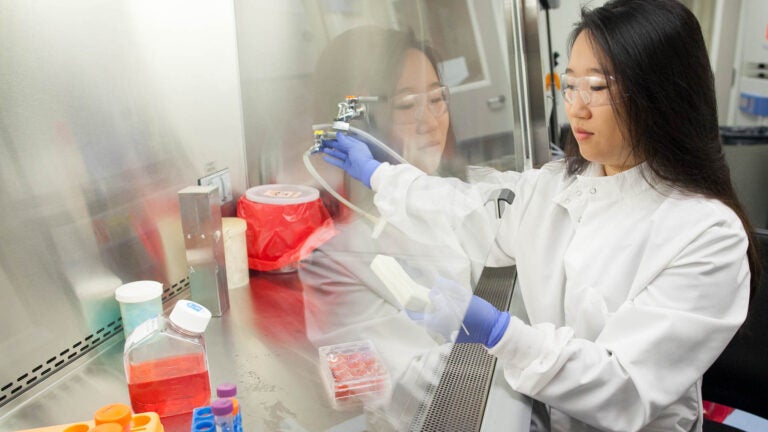 USC 2017 | Standout USC students, and a few recent grads, who've done amazing things
? Year in review: From fighting PTSD to helping create a sustainable future, these special Trojans Fight On in everything they do (Sixth in a 10-part series)
Whether it's doing lifesaving medical research, overcoming the trauma of war or pursuing a college degree after nearly a decade in prison, take a look at some special students and recent graduates who show that overcoming adversity and unrelenting ambition are two Trojan traits.
---
Scholar's path from war-torn Syria
When it comes to discussing the conflict in Syria, freshman Lana Bridi, 16, can offer a boots-on-the-ground perspective. Born in the U.S. to Syrian parents, the family moved back to Syria when she was a toddler. There she spent much of her childhood, leaving as the conflict started to escalate in 2012. "I feel like it's a mission of mine to educate [other students] and tell them how it's different over there," she said. "Once we overcome this barrier, this difference, we can work together to find a solution to this crisis." Diagnosed with ulcerative colitis, Bridi wants to become a doctor and research her condition.
Incoming scholar's path to USC includes an escape from war-torn Syria
---
Veteran pushes past injuries to fight on
An injury sustained during a deployment to Iraq changed Cesar Jimenez Jr.'s life in an instant. The traumatic brain injury left him unable to go back to his job at the Social Security Administration and unable to care for his new wife the way he had planned. He dealt with depression, PTSD and multiple suicide attempts but, after receiving help, he decided he would use his experience as motivation and this year, at 50 years old, he walked on campus as a USC student — along with Baylee, his service dog.
Iraq veteran brings life experience, and PTSD, to USC — and fights on
---
Former foster youth and single mom soldiers on
Even though earning a degree is difficult as a 20-something single mom, Carmen Noyola has to pause and realize how far she's come. A childhood trauma created an anger that led to stints in juvenile hall throughout her childhood. As a high school senior, she got pregnant. With the support of her twin sister, Noyola pushed herself to attend community college and later transfer to USC. She's earning a progressive master's degree as you read this.
Once a foster youth, Carmen Noyola succeeds as student and single mom — with plenty of Trojan help
---
Telling untold stories of home
Growing up in Boyle Heights, Star Montana saw the beauty — and the pain — of her neighbors, friends and family. Once she got a camera, she saw it through another lens, capturing it in intimate photos. The new addition to the USC Roski School of Art and Design's MFA program hopes to continue telling these neighborhood stories and perhaps teach a new generation of artists.
Onetime punk rocker uses photography to tell stories of 'my Los Angeles'
---
Up to code
For three months during his senior year, Jonathan Grant zigzagged across the country on a meticulously planned marathon of hackathons. The USC computer science student teamed up with total strangers to compete against the clock in coding challenges, fueled by caffeine and his personal passion for programming.
One student, three months, nine cities and a hackathon every weekend
---
Have a heart
For biomedical engineering PhD student Joycelyn Yip, it's been tough to pick a career path. She has studied the mechanics of a golf swing, explored needle-free patches to deliver vaccines and examined how zebrafish rapidly regenerate tissue. For now, she's settled on creating cardiac tissue in the lab in a bid to test heart disease treatments while reducing the risk to patients.
Creating new heart muscle out of stem cells? This grad student is doing it
---
Down and dirty
It might be hard to pick only a few highlights from his time at USC, but for classics and art history alum Max Novak, the moment he unearthed an ancient bronze sword in the Greek city of Thebes has to rank near the top. Digging up chunks of a marble sarcophagus on another expedition in Italy would likely make the cut, as would launching a french fries-themed food truck just months before heading off to Oxford University to pursue his master's degree in classical art and archaeology.
Student finds ancient Greek sword in Thebes — just another day on a dig
---
Pass the pulp
Shocked at the waste left behind after a carrot-juicing session, USC environmental studies alum Kaitlin Mogentale launched a startup that turns fruit and vegetable pulp into healthy — and tasty — snacks. She sees Pulp Pantry as a way to get kids excited about eating better food.
Recent grad turns food waste into big opportunity for sustainable business
---
Lead by example
As a youngster, Kim Brimhall noticed her performance on the softball field depended a great deal on the leadership skills of her coach. The recent social work PhD grad is now testing her own model of inclusion in the hopes of helping leaders become more welcoming, improving the lives of their employees and the clients they serve.
A sign of strong leadership on and off the softball field: Make everyone feel wanted
---
Diamond in the rough
A tough childhood led Jose Barron to become involved in gangs, but after landing in prison at 27, he set his mind to turning his life around. Now less than a year from completing his master's degree in social work at USC, he reflects on his tumultuous past and plans to give back to his hometown community.
Former gang member turned social work student at USC reflects on a tumultuous life — in his own words
---
USC 2017 A 10-PART LOOK BACK
See more of our 10-part year-end package, which continues through Dec. 31.