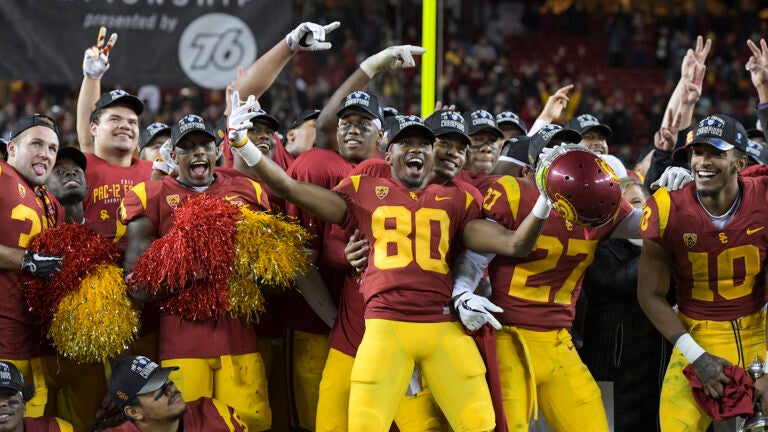 USC 2017 | This year's greatest moments in Trojan sports, from the field to the pool to the court
It's been ? Year in review: It's been a breathtaking year for Trojan student athletes, starting with a last-second Rose Bowl win with a thousand highlights to follow. (Eighth in a 10-part series)
It started with a miraculous, last-second Rose Bowl win and ends with … well, we'll find out after tonight's Cotton Bowl game is over. For Trojan athletes, it was another stellar year of great performances on and off the field. Roll the highlights.
---
Rose Bowl win is one for the ages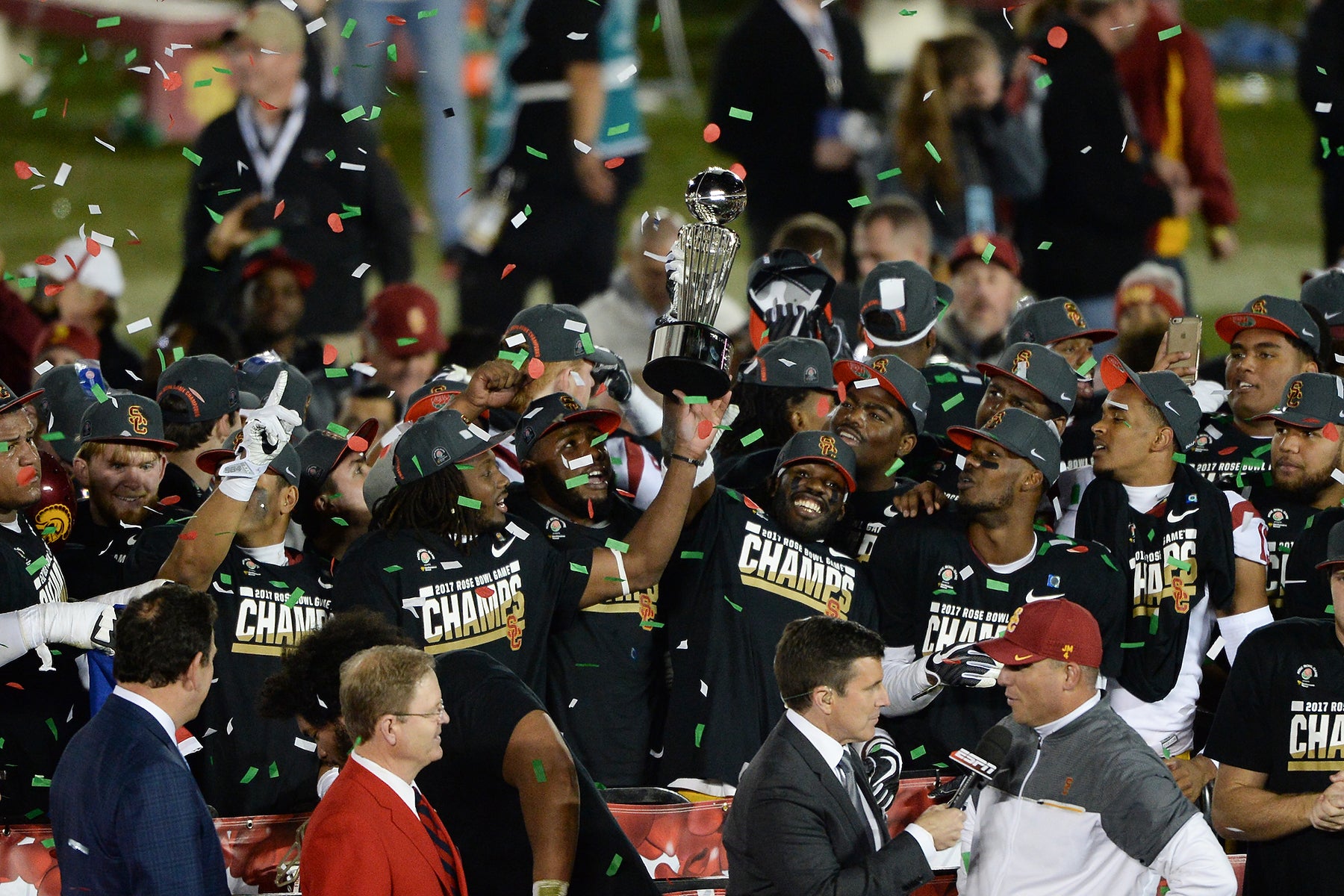 It took an incredible set of circumstances for the not-Pac-12-champion Trojans to represent the conference in the granddaddy of them all. But represent they did, taking on a formidable Penn State team that pushed the game to the last second of the last play of the game. Some call the Trojans' 42-39 win the greatest Rose Bowl victory of all time.
---
Three in a row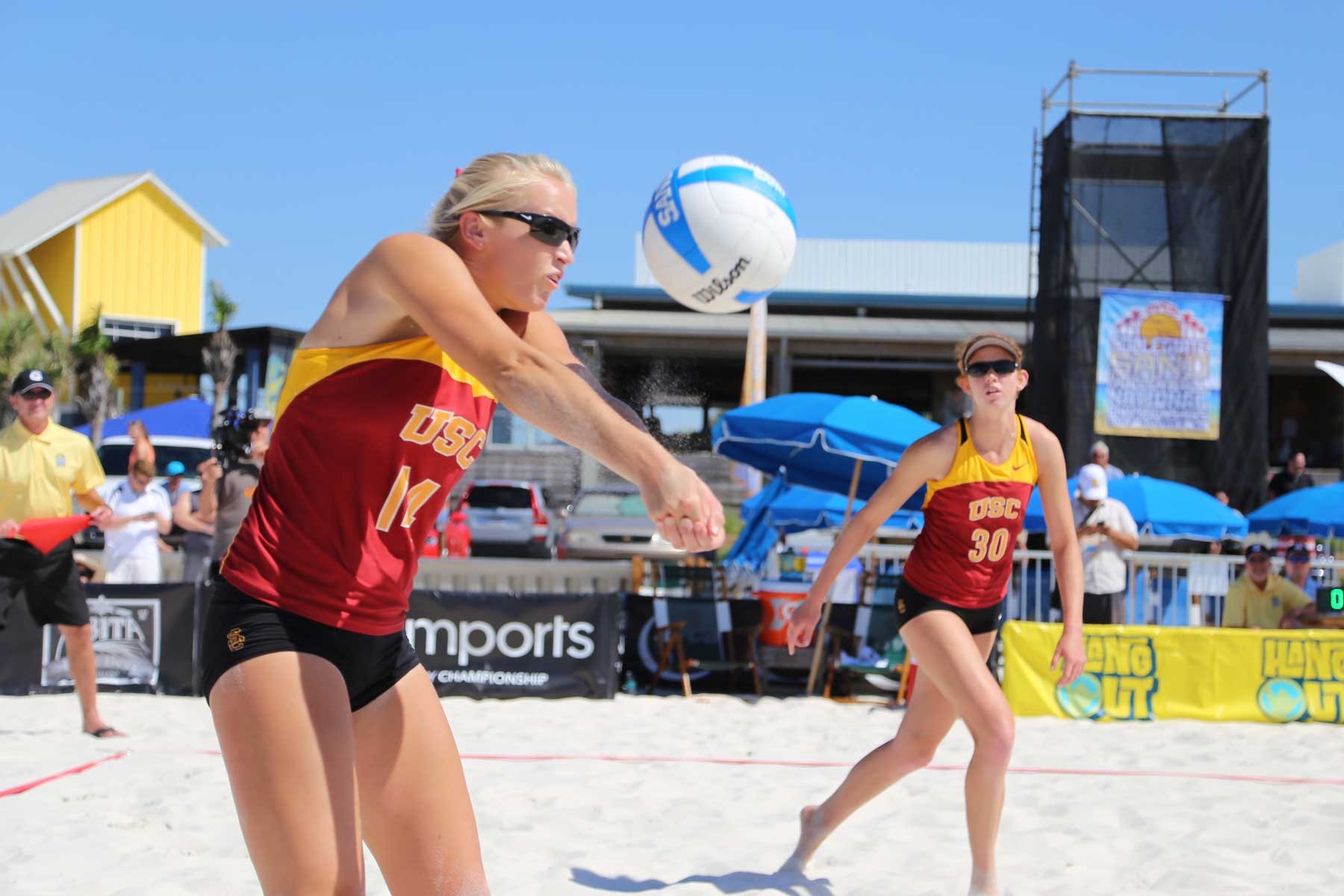 They entered the tournament top-ranked and top-seeded, and ended it the same way. Behind the near-unbeatable pairs team of Sara Hughes and Kelly Claes, the women's beach volleyball team took home its third consecutive national championship.
---
Jake Olson doesn't let blindness keep him off the football field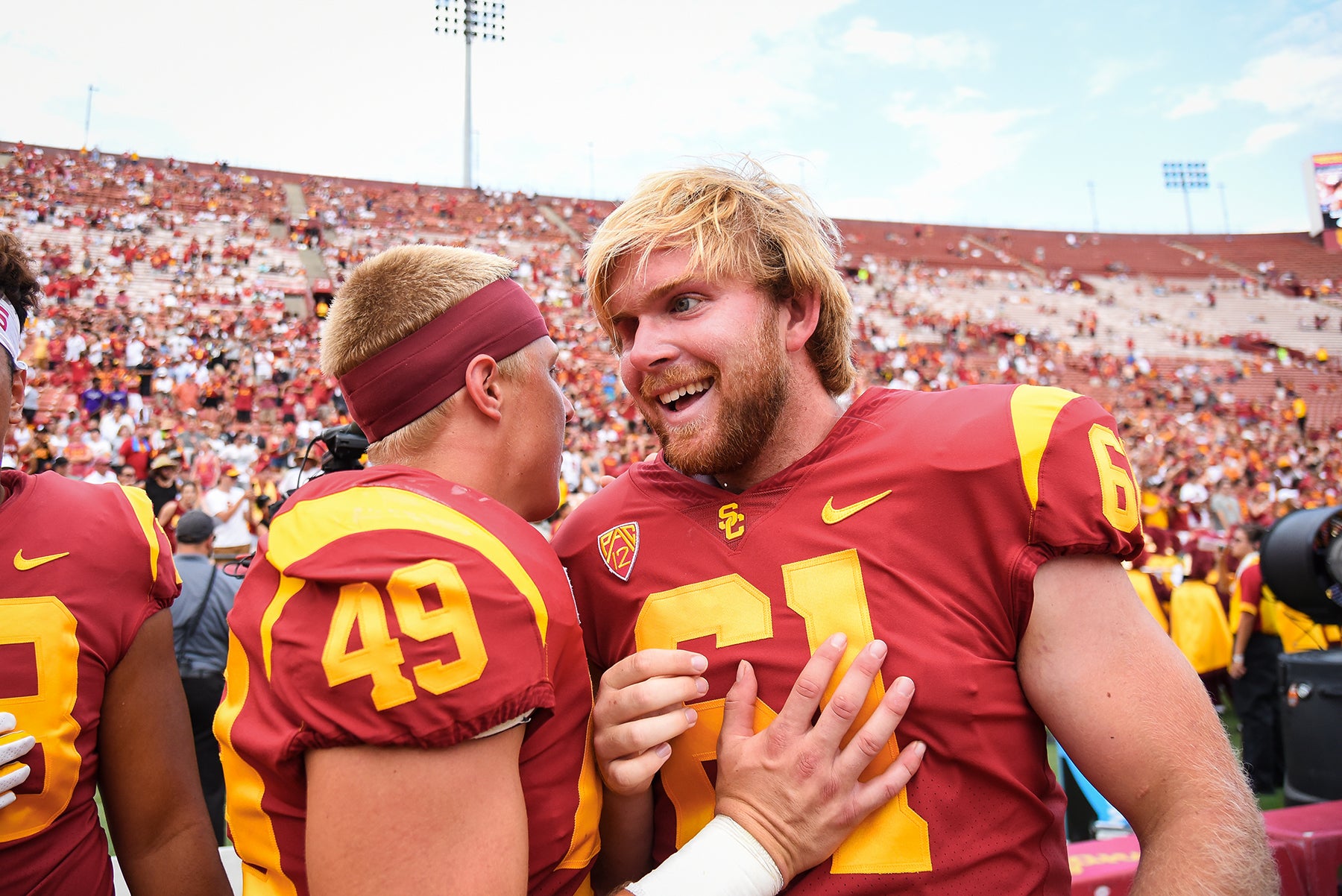 Jake Olson lost his eyesight at age 12, but that didn't stop his dream of attending USC and playing football for the Trojans. The lifelong Trojan fan made the team as a long snapper and on Sept. 2 he took the field against Western Michigan, with a perfect snap that led to a perfect extra point.
---
Running to a relay record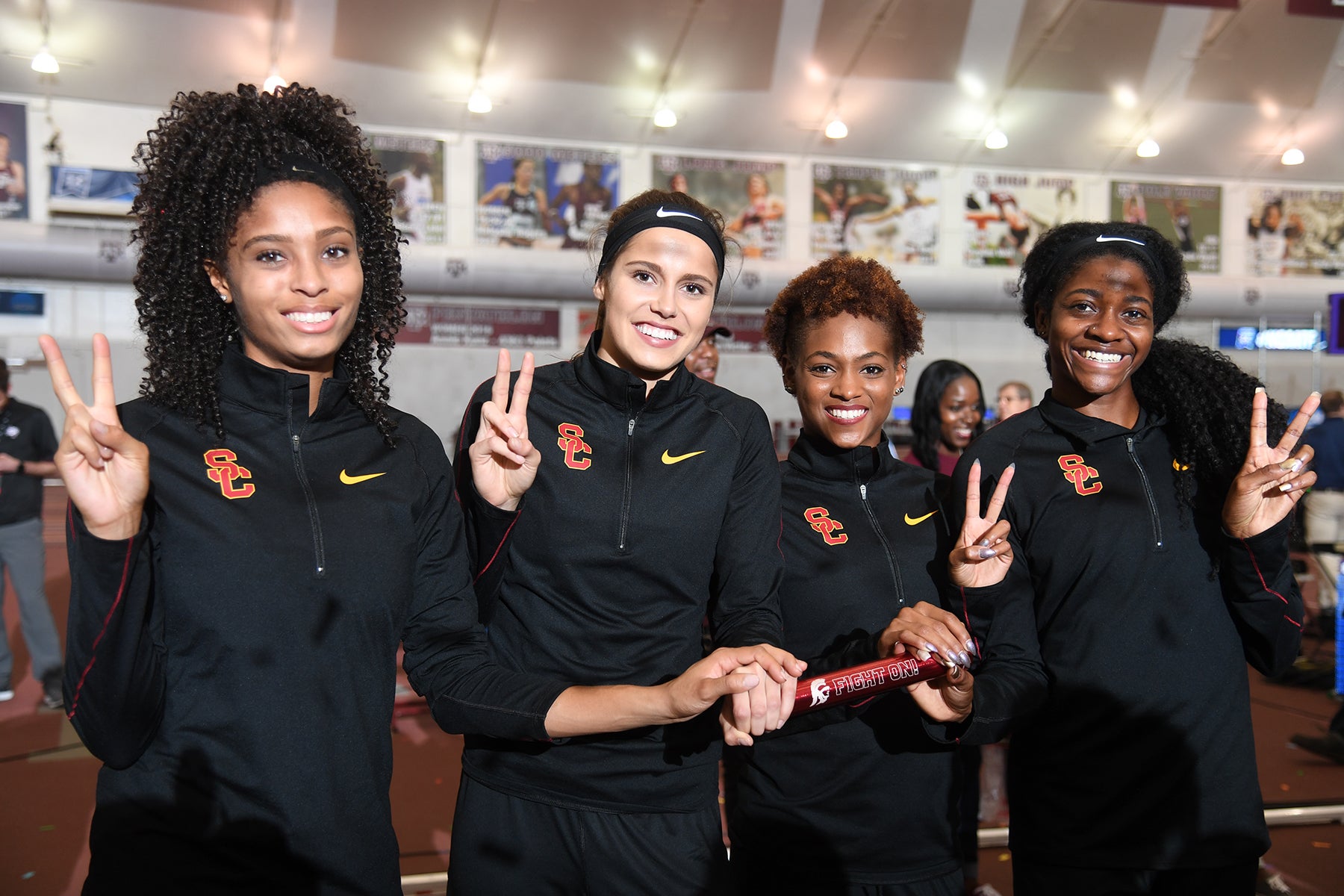 USC's women won the 4x400m relay with a collegiate record time as the NCAA Indoor Track Championships came to a close May 11. The USC women's team took fourth place and the men's team — which held several key members out of the indoor championships to ensure their heath for the outdoor season — finished 21st.
---
McQuin Baron named nation's top water polo player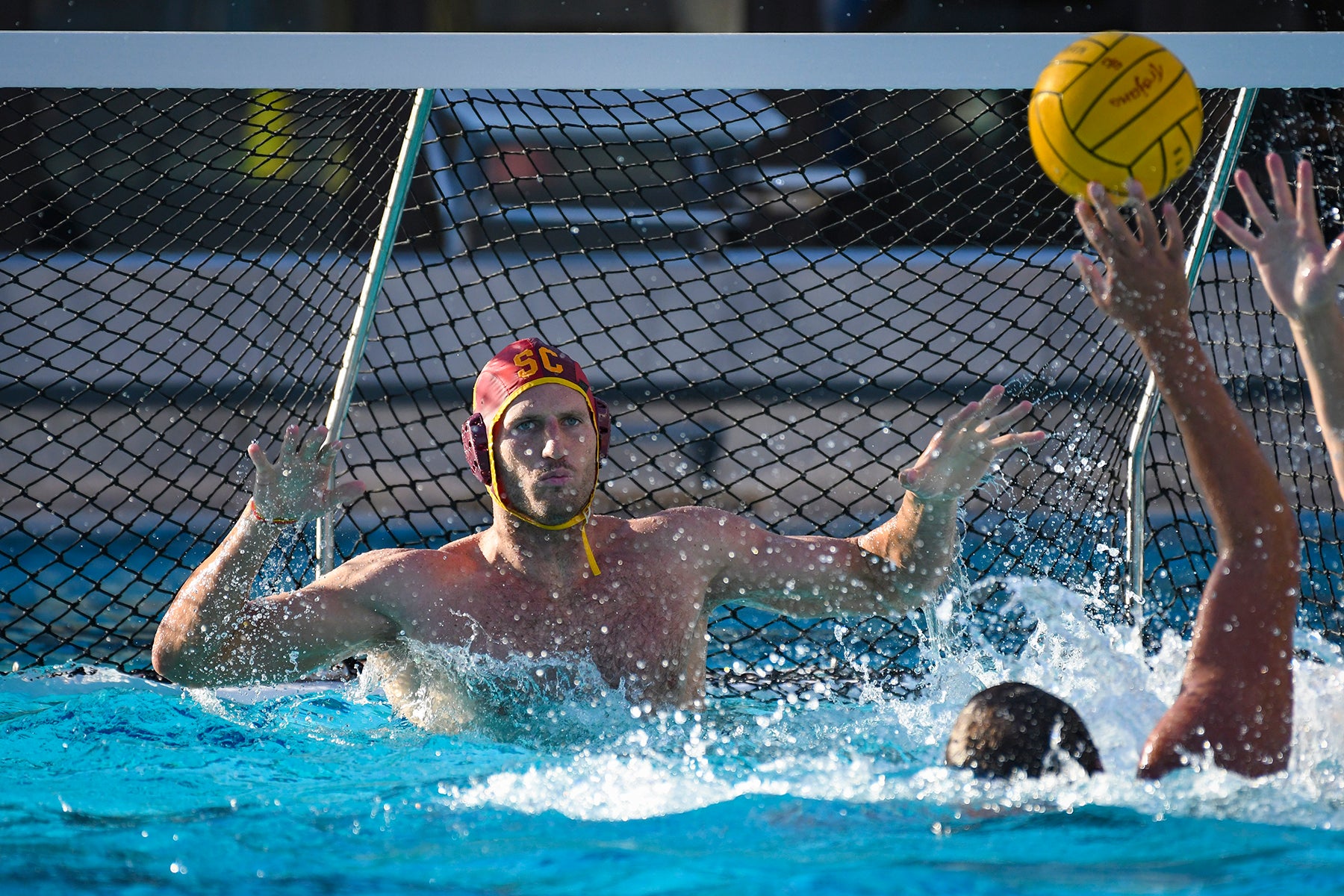 USC goalie McQuin Baron became the fifth Trojan man to win collegiate water polo's highest honor, the Peter J. Cutino Award. Baron follows in the footsteps of four previous USC male winners: Juraj Zatovic in 2005, J.W. Krumpholz in 2008 and 2009, Joel Dennerley in 2011 and Kostas Genidounias in 2014.
---
Swimmer Anika Apostalon is Pac-12 Woman of the Year, Academic All-American first teamer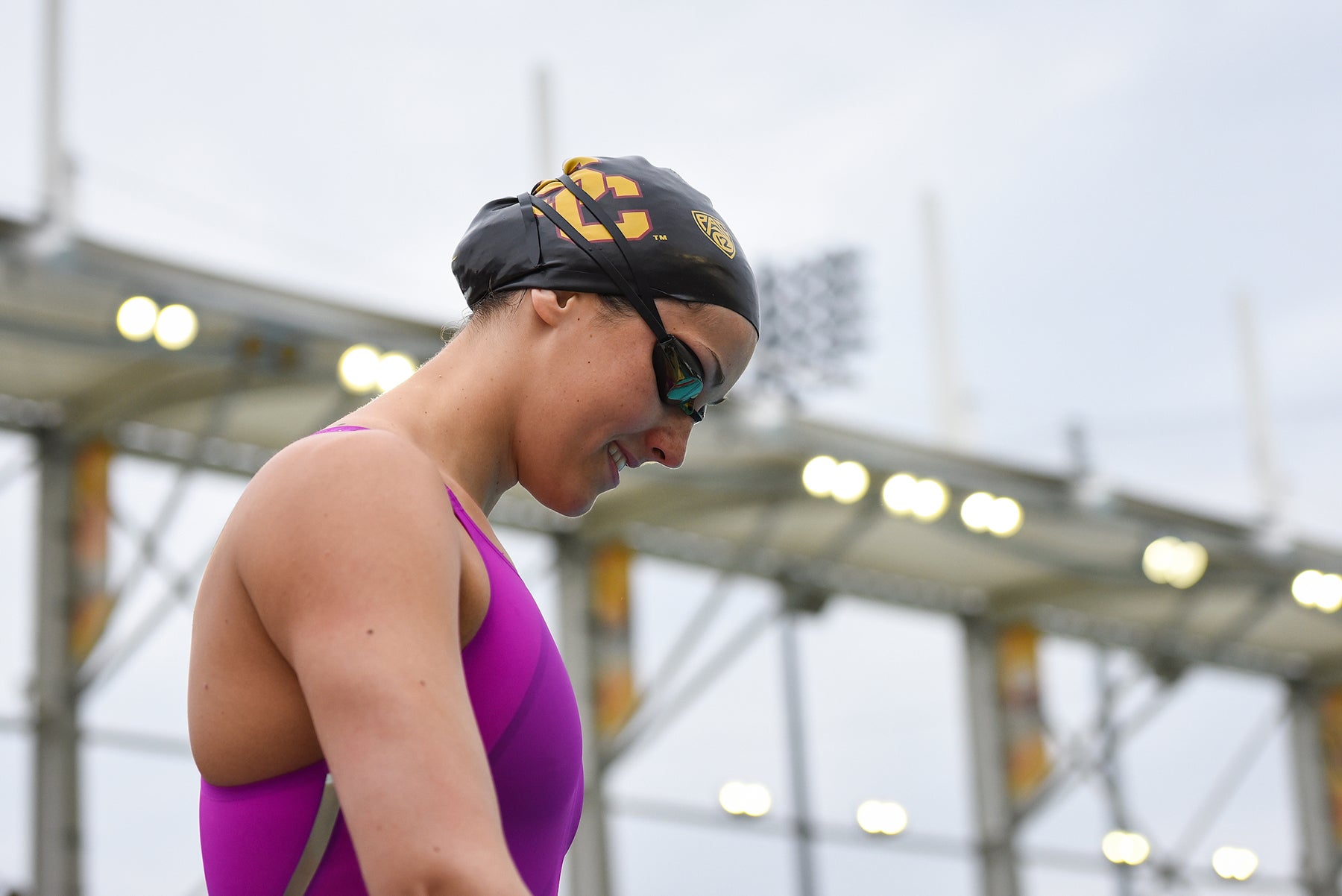 Trojan All-American and NCAA champion Anika Apostalon was named to the CoSIDA Academic All-American First Team and also named the Pac-12 Conference Woman of the Year, presented annually to a graduating student-athlete who has distinguished herself in academic achievement, athletic excellence, community service and leadership. A nine-time All-American, eight-time NCAA individual scorer and 2016 Olympic Trials semifinalist, Apostalon led her team as co-captain while maintaining a 3.92 grade point average in psychology.
---
Women's soccer standouts make their mark in pro league draft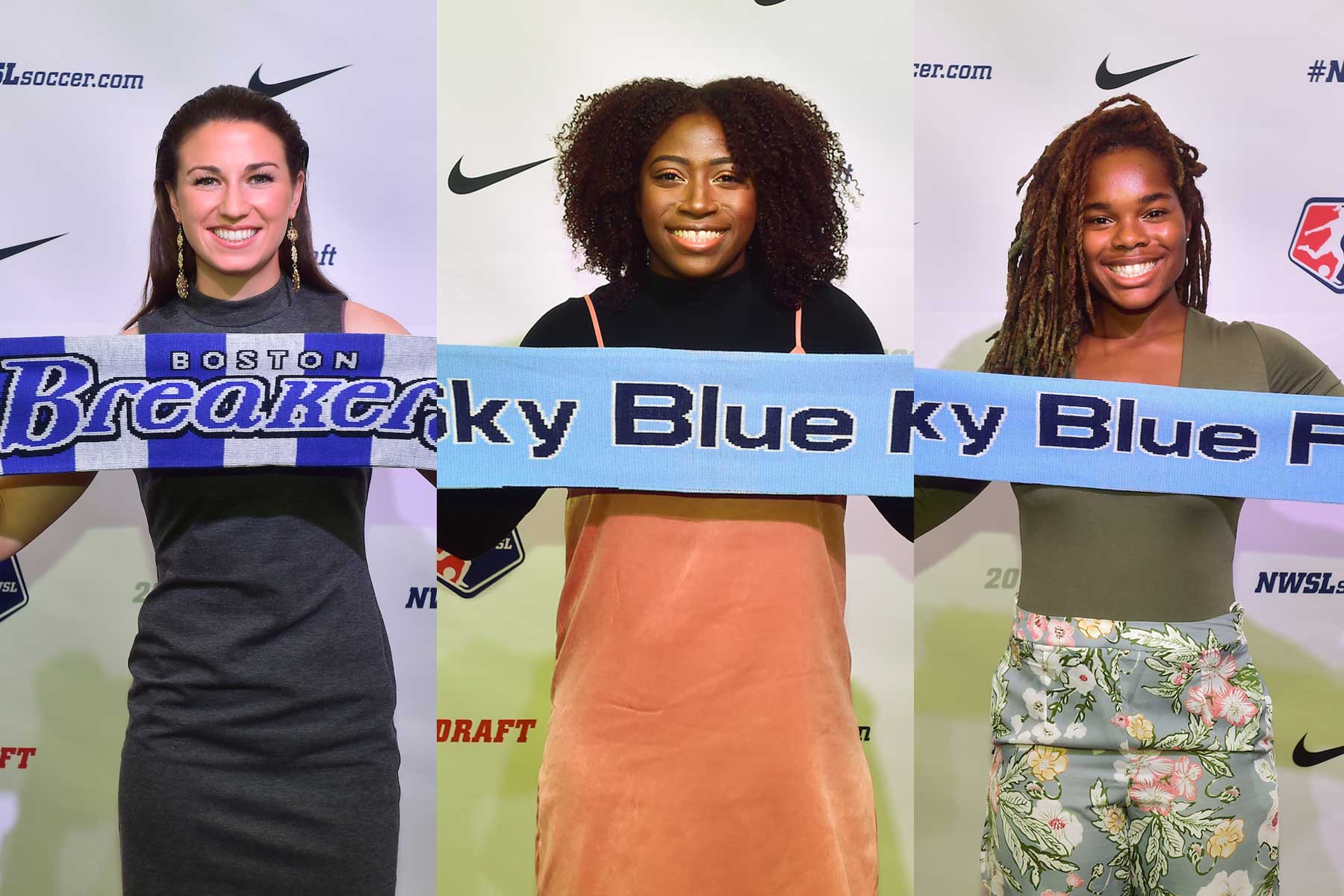 Five Trojans off the women's soccer 2016 national championship squad were selected in the 2017 National Women's Soccer League Draft — the most Trojans taken in any professional women's soccer league draft, and the most selected from any program in the 2017 draft. Morgan Andrews, Kayla Mills and Mandy Freeman all went in the top 10, Katie Johnson went in the second round and Sammy Jo Prudhomme went in the fourth round. The only previous USC player to be drafted in an NWSL Draft was Elizabeth Eddy, who plays for the North Carolina Courage.
---
Student-athletes' graduation success rate hits all-time high for fourth year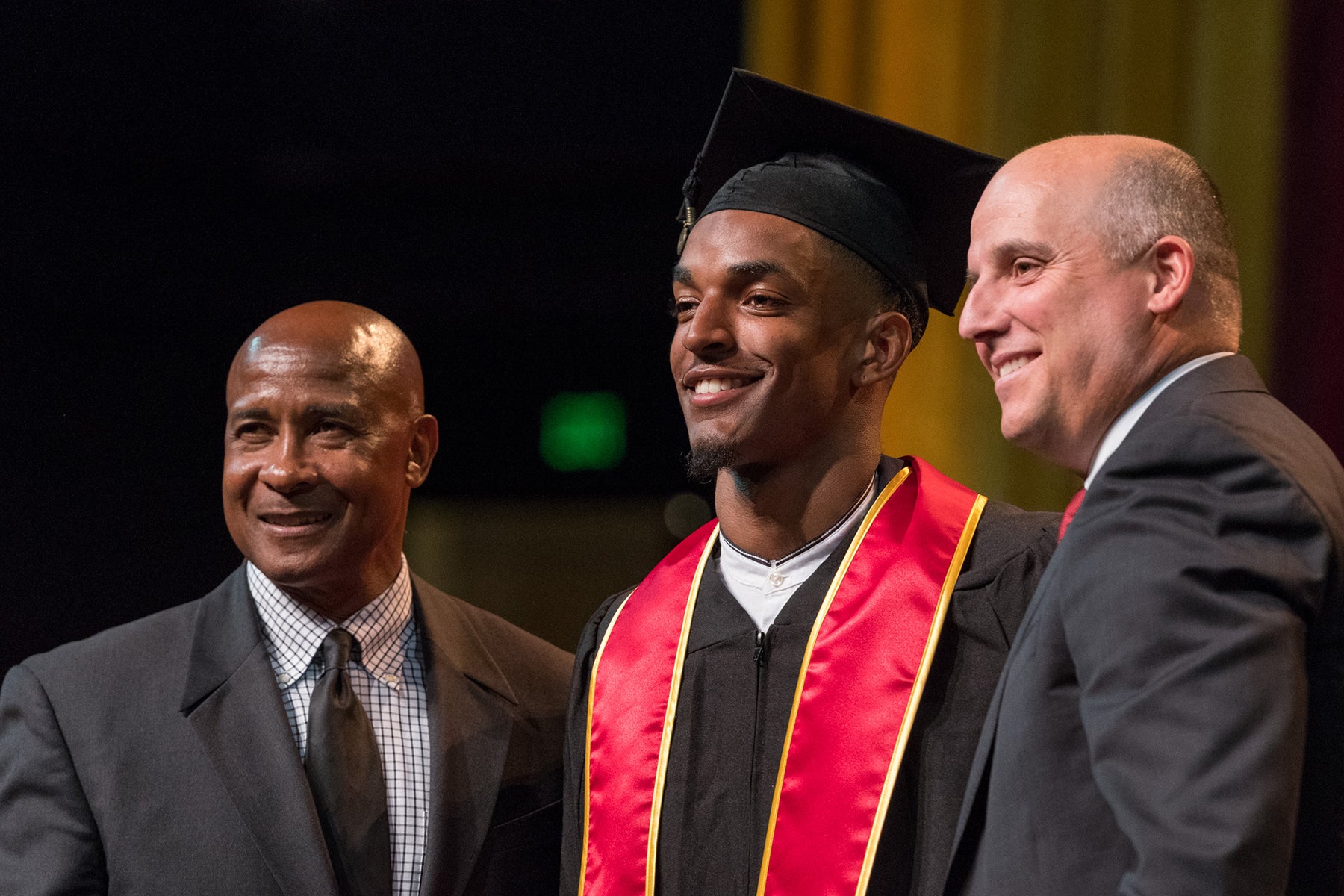 The young men and women who represent USC on the athletic field are standouts in the classroom, too: For the fourth consecutive year, the graduation success rate of USC student-athletes is at an all-time high — 86 percent, according to the NCAA. The 2017 number measures how many student-athletes in the incoming classes of 2007 through 2010 graduated within six years of their enrollment. That 86 percent figure, 18 percentage points higher than it was 10 years ago, comes on the heels of USC's previous-best rates of 80 percent in 2014, 81 percent in 2015 and 83 percent in 2016.
---
Polamalu, Ross and Traveler highlight USC Athletic Hall of Fame inductees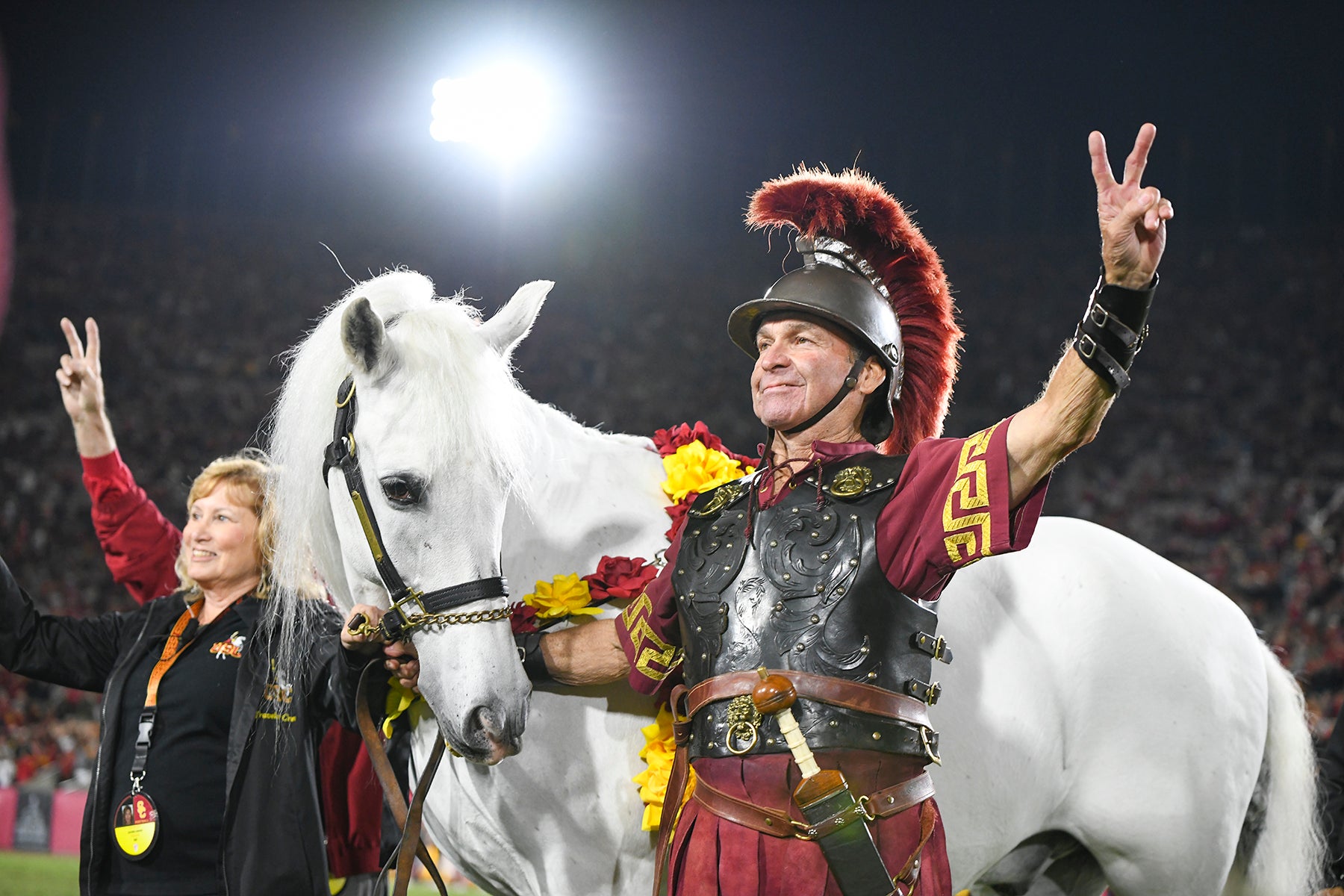 Football's Troy Polamalu, volleyball star April Ross and Traveler, the university's trusty mascot, lead a slate of 18 Trojan luminaries selected as the 12th class of the USC Athletic Hall of Fame. Joining them are: Wayne Black, tennis; Chris Claiborne, football; Sam Clancy, basketball; Kim Clark Jennings, soccer and basketball; Mike Gillespie, baseball coach and player; J.K. McKay, Spirit Award; Ous Mellouli, swimming; Mikaela Parmlid, golf; Felix Sanchez, track and field; Rod Sherman, football; Kevin Stadler, golf; Tim Tessalone, media; Charlie Weaver, football; Lauren Wenger Trapani, water polo; and Barry Zito, baseball. The new class was introduced during the Nov. 4 USC-Arizona football game.
---
Trojans nab Pac-12 football title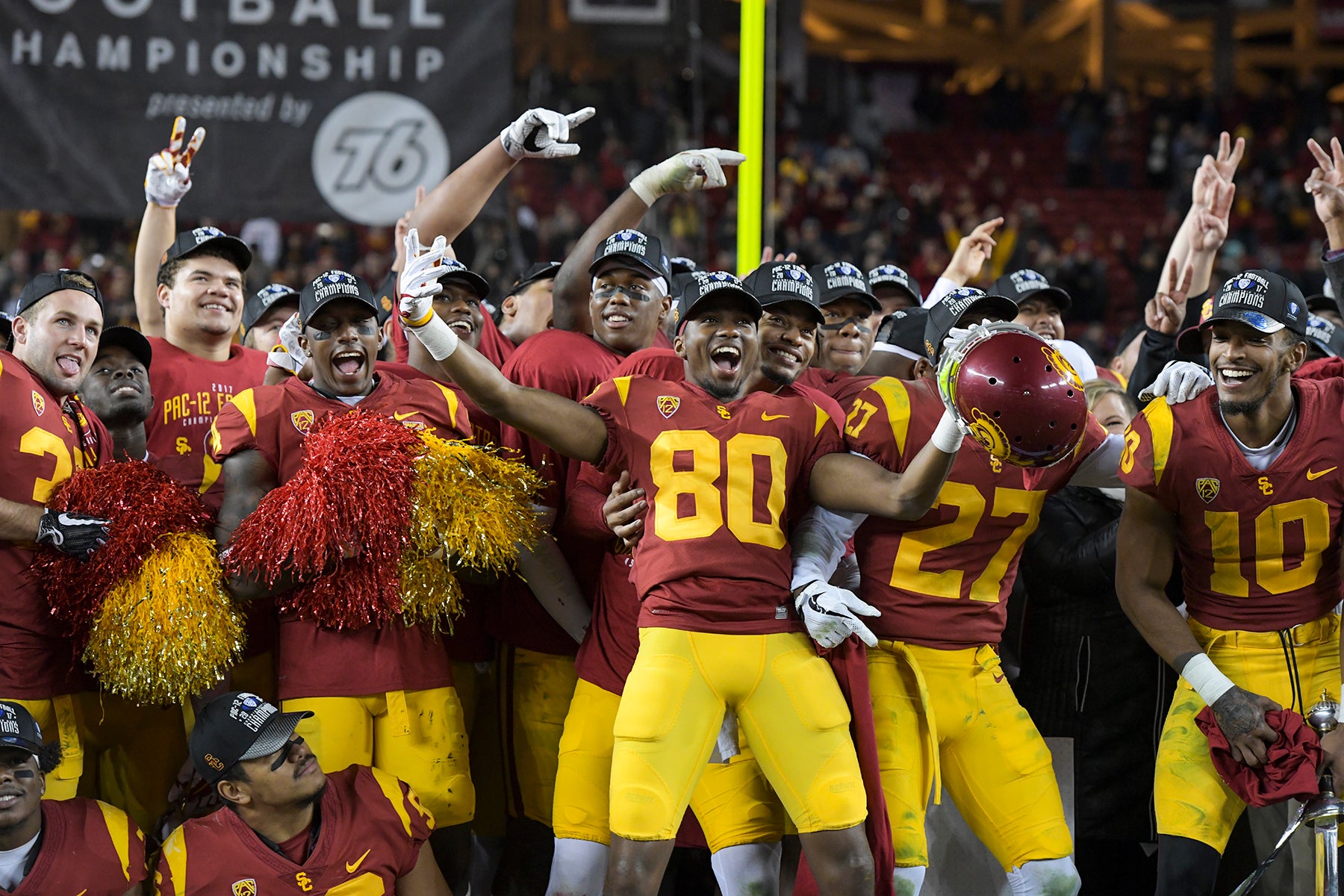 In a season with more than a few nail-biters, the football squad captured the South Division title, then went on to beat Stanford for the second time this season and claim the Pac-12 crown. Next up is today's Cotton Bowl matchup (5:30 p.m. PST, ESPN) in Arlington, Texas, against Big 10 champion Ohio State (both teams would have been in the Rose Bowl, but this year the Pasadena game is part of the College Football Playoff). Take note: Since the 11-2 Trojans lost to Notre Dame on Oct. 21, they haven't trailed once. Fight on!
---
USC 2017 A 10-PART LOOK BACK
See more of our 10-part year-end package, which continues through Dec. 31.