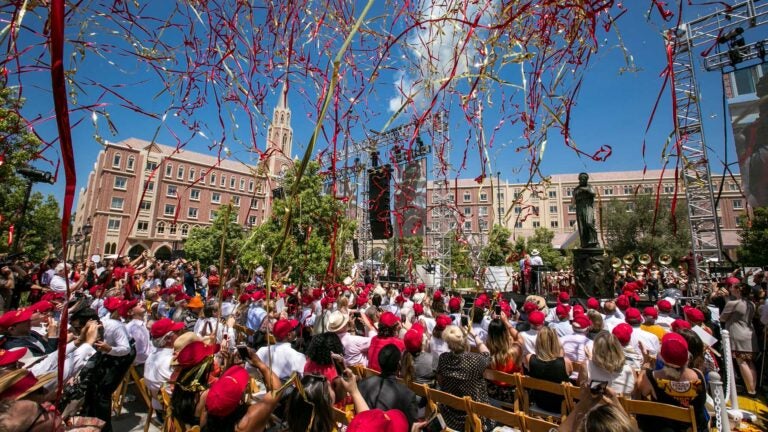 USC 2017 | USC Village highlights an unprecedented year of new buildings, with more on the way
? Year in review: The $700 million retail-residential project debuts as does Michelson Hall, the largest research building on the University Park Campus (Fifth in a 10-part series)
It isn't often that using the term "historic" seems like an understatement.
But when it comes to the year in construction at USC, what went up in 2017 towers over the prior architectural accomplishments of the past 137 years.
Two projects — USC Village and Michelson Hall, home of the USC Michelson Center for Convergent Bioscience — will leave lasting impacts on future generations of Trojans and scientific research and not just because of their collegiate gothic splendor.
USC Village — the largest development in the history of South Los Angeles — expanded the University Park Campus by a third when seven buildings opened all at once in August.
USC Village not only houses eight residential colleges and nearly 2,500 students, but also a Trader Joe's, Target and Starbuck's along with a number of new restaurants and hundreds of new jobs.
USC Village opens to the Trojan Family with fanfare, streamers and a new campus icon
The USC Michelson Center — due in large part to orthopedic spinal surgeon Gary K. Michelson and his wife, Alya — opened its doors in November to become the largest research building on campus.
The Michelson Center will be home to 30 researchers who are dedicated to forging groundbreaking discoveries that cross traditional boundaries of medicine, engineering, biology and chemistry.
USC's Michelson Hall, new center for convergent bioscience, makes its debut
But the most iconic image to rise this year is not the biggest.
Hecuba — a 20-foot-tall bronze statue at the center of USC Village — celebrates the women of Troy and garnered international press when it was unveiled.
The making of Hecuba: From an abstract idea to an iconic USC landmark
The boom continued on the Health Sciences Campus as well with the completion of Norris Healthcare Center, set to open to patients in January. The building will be home to the USC Institute of Urology, an infusion center treating both cancer and non-cancer patients, a women's specialty care and breast imaging center, and the Transplant Institute.
Of course USC never stops planning for the future. The USC Jimmy Iovine and Andre Young Academy, which graduates its first cohort of students in May, broke ground for its new building, due to open in 2019.
USC Iovine and Young Academy's latest groundbreaking project: an actual groundbreaking
And 2017 brought a whole new way to enter the University Park Campus with new names for the parking structures and entrances, as logic won out over tradition.
The numbered gates are now entrances named according to the road that leads onto campus. The parking structures shed their numbers and letters and now reflect the adjacent street.
USC University Park Campus parking structures, entrances get new names
---
USC 2017 A 10-PART LOOK BACK
See more of our 10-part year-end package, which continues through Dec. 31.