USC celebrates commencement; more than 19,000 degrees conferred
The Class of 2019 is sent off with inspiring words from valedictorian Ivana Giang, interim President Wanda M. Austin and U.S. Rep. Karen Bass.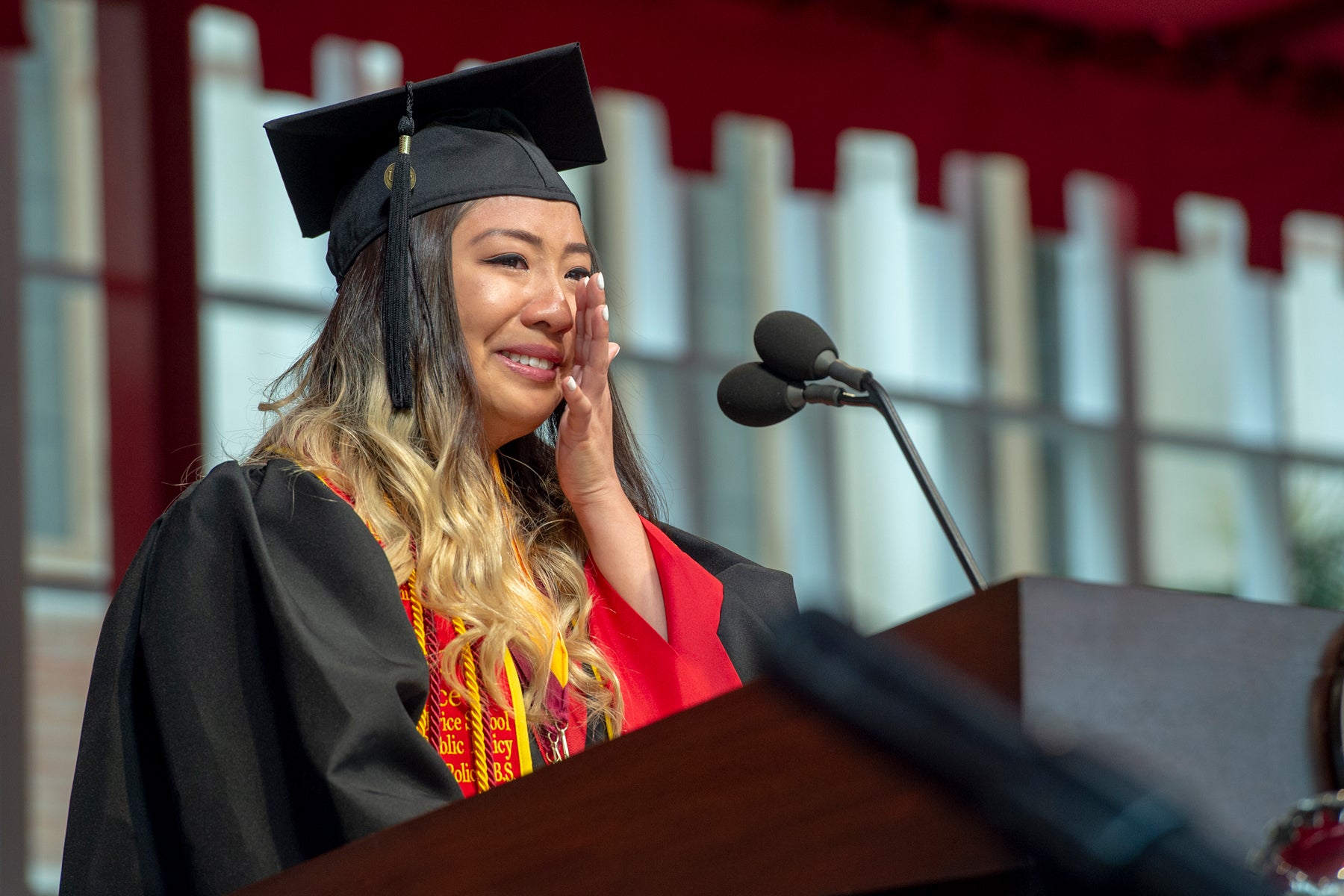 For Ivana Giang, USC's 2019 commencement was a tearful one.
Giang admits she's prone to crying, whether it's after a dance competition or while mentoring kids in South L.A. But on Friday, her tears symbolized a new milestone as USC's 136th valedictorian.
Speaking to a crowd of more than 19,000 graduates and roughly 60,000 onlookers, she asked the university to continue to fight for students like herself, people from underrepresented backgrounds. Giang, the daughter of Vietnamese refugees, wouldn't be at USC without the financial backing of her scholarship.



"To me, that's a right everyone deserves. But, let's be honest: It's not a right everyone has right now," she said. "We have to acknowledge that women, the queer and trans community, first-generation and low-income students, indigenous communities, differently abled individuals, migrants and refugees and the black, brown, Latinx and Pacific Islander communities haven't all had the chance to experience what is beautiful in this world."
Standing in front of thousands of classmates and proud friends and family members, Giang had to acknowledge the sacrifices her own family made to get her to this point. She choked back tears.
"I'm working everyday to understand how much it took for you to build your lives after the American war in Vietnam and then be forced to rebuild your lives in America as refugees," she said. "Because of you, I've experienced so many beautiful things throughout my life."
USC 2019 commencement: The spirit of 'Fight On'
U.S. Rep. Karen Bass, this year's featured commencement speaker, also asked Trojans to fight for what they believe in, whether that's closing the achievement gap or health care. Bass, an alumna and the first African American woman to lead the California State Assembly, asked students to dig deeper into the spirit of "Fight On" — going beyond a selfie with a fellow Trojan.
"It is my hope that it represents a spirit and energy of commitment that Trojans bring to the world. A spirit that rejects passive participation in our society. A spirit that believes Trojans must not be content to sit in the passenger seat when urgent problems call," she said.
Bass, who leads the Congressional Black Caucus, asked graduates to make their voices heard — in their neighborhoods, at city hall and on the Hill.
"Just voting is not enough," Bass said. "Emails, text messages, phone calls. You might think these don't matter but, trust me, it all counts."
Honorary degree for interim President Austin
USC interim President Wanda M. Austin, presiding over her first and last commencement as the leader of the university, told students to not fear adversity or underestimate their contributions.
"As you make the transition to becoming alumni, it may be difficult to see what awaits you on the distant horizon of your lives," she said. "No matter what path you choose, I encourage you to face the future with confidence … that you have the power to change our world for the better."
Austin, who came to the university at one of the most turbulent times in its history, understands change. In her nine-month tenure, she's created the President's Culture Commission and opened the Office of Professionalism and Ethics. On July 1, she'll pass the reins to Carol L. Folt.
Before the degrees were conferred, Austin was surprised with an honorary degree, presented by USC Trustee Chair Rick Caruso. Austin, who earned her doctorate in systems engineering at USC, assumed her interim position when she was newly retired. It was her passion for the university that made her say "yes." With that, she became the first African American and first woman to lead the university.
"Never once did she avoid making hard decisions. Just the opposite," Caruso said. "Dr. Austin listened. She led."
For students like Giang, it's inspiring seeing Austin and Folt in positions of power.
"It certainly is groundbreaking, for the first time in the 139 years since its founding, women are leading the university," Giang said to the crowd, which erupted in applause.