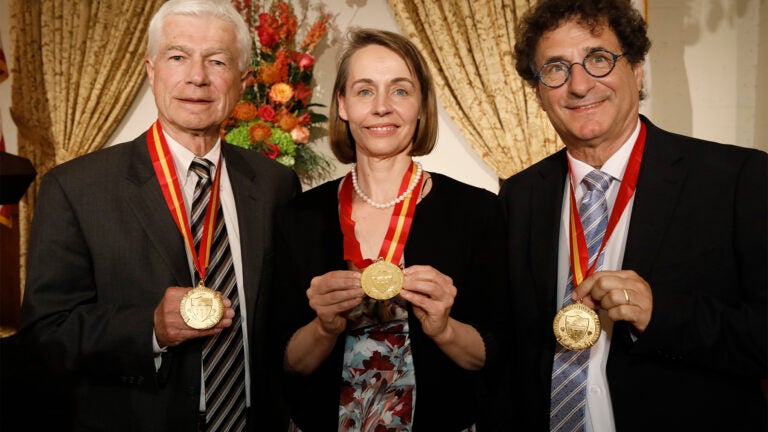 Daniel Mazmanian, Sarah Van Orman and Robert Cutietta among honorees at Academic Honors Convocation
The event, held at Town and Gown on the University Park Campus, recognizes that USC is above all else a community of scholars.
Robert Cutietta, Daniel Mazmanian and Sarah Van Orman were among the Trojans honored Tuesday as students, faculty and administrators celebrated the university's 41st annual Academic Honors Convocation.
The three were honored with USC's top honor, the Presidential Medallion, awarded to those who have brought honor and distinction to the university's campuses.
Cutietta is dean of the USC Thornton School of Music and the USC Kaufman School of Dance. Since 2002, he has overseen an expansion in endowment, programs and space within USC Thornton while building upon the traditional quality of education that is the school's trademark. In 2011, he was asked to create the USC Kaufman School, the first new school at USC in 41 years. Since then, he has overseen the hiring of the entire faculty and staff of the new school as well as the construction of the 59,000-square-foot Glorya Kaufman International Dance Center.
"Rob Cutietta has championed creativity at USC for two decades. He has led not just one, but two of USC's vibrant arts schools: the Thornton School of Music and the Kaufman School of Dance – and for the past 10 years, he's led both at the same time," USC President Carol L. Folt told the convocation. "Every day, he helps our community bring art to life – and bring joy to the world."
Mazmanian, a professor at the USC Price School of Public Policy, is a widely published scholar in the field of policy implementation and environmental policy, and served as the school's dean from 2000-2005.
"Professor Mazmanian has led with a generous spirit for more than two decades at USC as a teacher, researcher and former dean of our Price School," Folt said. "As chair of our Presidential Working Group on Sustainability, he has brought people together from across our community and set ambitious environmental goals – including zero waste, and carbon neutrality – and he leaves us after having helped develop a framework for USC to tackle its greatest challenge ahead: Assignment: Earth."
Van Orman is the chief health officer of USC Student Health, overseeing the Engemann Student Health Center and the Eric Cohen Student Health Center. She also holds academic appointments through the Department of Family Medicine and is the division chief for college health for the Keck School of Medicine of USC. She provides leadership on campus public health responses to the COVID-19 pandemic and oversees comprehensive medical, mental health, prevention and education initiatives that enhance student wellness, increase access to health services and address critical issues impacting the student population.
Folt praised Van Orman for the role she played even before the pandemic. Her work during the pandemic "became the standard for universities across the nation," Folt said.
"As she strengthens trust and empathy across our campuses, she shows us all what it means to truly care for each other."
Also honored at the event, held at Town and Gown on the University Park Campus, were:
? FACULTY MEMBERS
Awarded very selectively to those whose accomplishments have brought special renown to USC.
Caryn Lerman
Steven J. Ross
Awarded based on multidisciplinary interests and significant accomplishments in several disciplines.
Lee Epstein
Shaun Harper
Azad M. Madni
Phi Kappa Phi Faculty Recognition Award
Founded in 1897, Phi Kappa Phi is the oldest interdisciplinary honor society at USC.
Awarded to a very select number of retired faculty at the annual Academic Honors Convocation, the USC Faculty Lifetime Achievement Award recognizes eminent careers and notable contributions to the university, the profession and the community.
Tridib Banerjee
Scott H. Bice
Margaret Lazzari
Debbie MacInnis
Alexander A. Sawchuk
Phi Beta Kappa Faculty Recognition Award
Founded in 1897, Phi Kappa Phi is the oldest interdisciplinary honor society at USC.
Ali Gholamrezanezhad
Susan H. Kamei
C.-C. Jay Kuo
Michael A. Messner
Provost's Mentoring Award
The Provost's Mentoring Award honors an individual faculty member whose investment in and generosity toward the academic and professional success of other USC faculty, postdoctoral fellows, graduate students or undergraduate students demonstrate exemplary mentoring.
USC Associates Awards
The USC Associates Awards are the highest honors the university faculty bestows upon its members for distinguished intellectual and artistic achievements and for outstanding teaching, both in and out of the classroom.
Excellence in Teaching
Mark Redekopp
Liana Stepanyan
Creativity in Research and Scholarship
Anna Krylov
Gerard J. Tellis
Artistic Expression and Creativity in Research and Scholarship
Michael Patterson and Candace Reckinger
Artistic Expression
? STUDENTS
University Trustees Award
Awarded to the graduating students who have attained the highest scholarship average of all undergraduates at the university.
Mohammad Abdelkhaleq, Justin Abe, Heather L. Cherniss, Ciara Collins, Alexander Cooper, Shreya Daniel, Matt Evenson, Evelyn Ha, Shreya Harappanahally, Rachel Heil, Nikki Jafarzadeh, Abigail Jarvis, Abegail Javidzad, Lucia Jiang, Andrew T. Kinoshita, Rohan Kota, Mary La Blanc, Zazu S. Lippert, Arianna Lopez, Mason Matalon, Sabrina Panfil, Stephen Jon D. Quiton, Lauren J. Sanders, Cole Schroeder, Sean P. Silvia, Matthew Slade, Rohan Srinivasan, Alexander Vu, Anthony Wiencko, Ruby Wilks, Trisha Willie, Katherine Wong, Tianyu Zhang and Joy Zhu
USC Provost's Award
Awarded to the graduating students who have attained the highest scholarship average of all undergraduate transfer students at the university.
Marissa K. Anderson, Flor M. Bojorquez, Madison J. Bradfield-Davis, Mariana C. Buxton, Jennifer Dam, Cassandra Friedlich, Dylan K. Goodale, James D. Hansen II, Ben Heid, Chynna Hinrichsen, Audrey Kato, Jennifer L. Lee, Clover W. Li, Preston Long, Hana Roushdy, Jennifer R. Simonell, Natasha Singh, Paris D. Smith, Christina Steffan, Tommy K. Taheri, Milagros Vidal, Zijie Wang, Joshua Williams, Felicia Wulandari, Haoda Yang, Abigail Yosian, Zhiting Yuan, Candice Yun, Sammie Zenoz and Xixiao Zhou
Phi Beta Kappa Undergraduate Awards
Devoted to liberal learning in arts and sciences, Phi Beta Kappa, founded in 1776, presents undergraduate awards to honor creativity, scholarship and leadership in faculty-student community relations.
Valentina Cantori
Shubir Dutt
Ka Lee Wong
Xiaoyang Shi
Jessica Yuan
Rockwell Dennis Hunt Award
Awarded to an alumna or alumnus of USC who is pursuing a graduate or professional degree at the university and who is most representative of the Trojan Family's traditions and values.
University Outstanding Teaching Assistant Award
Awarded to three graduate teaching assistants who have exhibited consistent excellence in the classroom and thus symbolize the university's dedication to the education of scholar-teachers.
Joshua Allbright
Aireale J. Rodgers
Basel Shbita
? SPECIAL RECOGNITION
Class of 2022 valedictorian and salutatorians
At USC, it is the custom to name one student to serve as the university valedictorian and one or more students to serve as university salutatorian. The USC selection process recognizes the very highest levels of academic achievement, but it is also more holistic and takes into consideration service and leadership as well.
Valedictorian: Adam Karelin
Salutatorians: Andrew Binder and Shreya Daniel