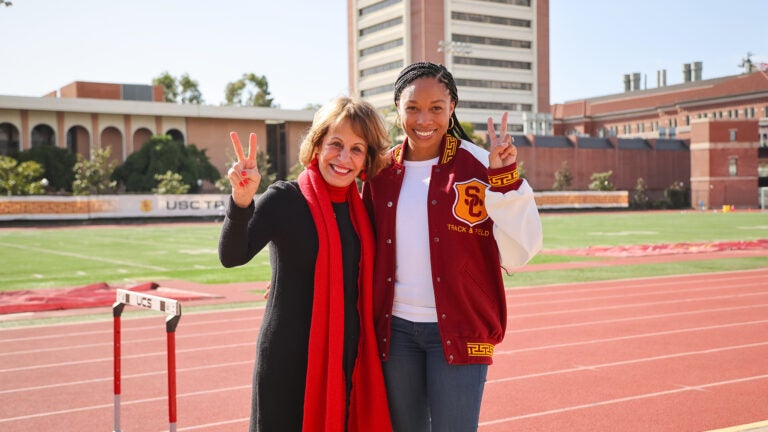 Home of USC track and field team renamed Allyson Felix Field
The decorated USC alumna and Olympic standout inspires Trojans to be "champions on and off the field."
Trojans gathered on Monday to honor one of USC's most celebrated alumni: track and field legend Allyson Felix. The home of USC track and field will now be known as Allyson Felix Field, a distinction that highlights and cements the university's relationship with the activist, entrepreneur, mother and most decorated track and field athlete in Olympic history.
Felix's husband and daughter accompanied her to the field dedication, as well as her parents, brother and business partner Wes Felix, and other family and friends.
USC President Carol L. Folt kicked off the event by highlighting the excitement of the crowd, which included past and current USC track and field stars.
"We are here to celebrate an incredible Trojan," Folt said. "We're here to mark a new day for this incredible field and for the legendary USC track and field teams and the student-athletes and coaches who use this field each day."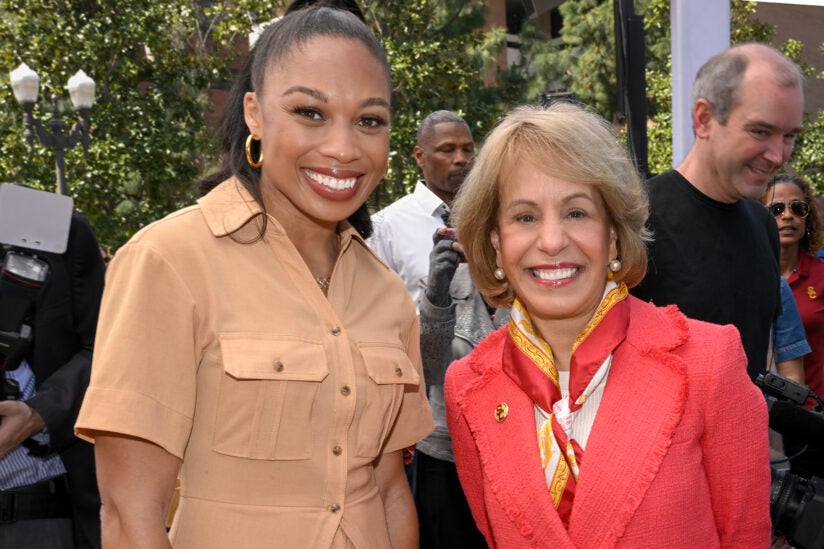 Folt pointed out that the track and field team is USC's leading sports team, with a combined 31 national titles.
Although Felix never competed for USC, she treasured her time as a student at the USC Rossier School of Education and as a member of the university's student-athlete community. Felix began her career at the World Championships and the Olympic Games while still a student at USC, eventually earning the title of most decorated track and field athlete at both events with 20 overall medals at the championships and 11 Olympic medals.
"It's such a full-circle moment," Felix said to the crowd. Addressing Folt, she said, "When you broke down why the university wanted to rename this field in my honor, it just meant so much to me because it really showed me that the university values character and integrity, and that's just rare and very special."
Allyson Felix Field naming honors a champion 'on and off the field'
In addition to praising her athletic prowess, many speakers extolled Felix's role as a powerful advocate for maternal rights, women's rights and the rights of athletes of color. USC athletic director Mike Bohn praised Felix for inspiring Trojans to be "champions on and off the field" and to stand up for what is right.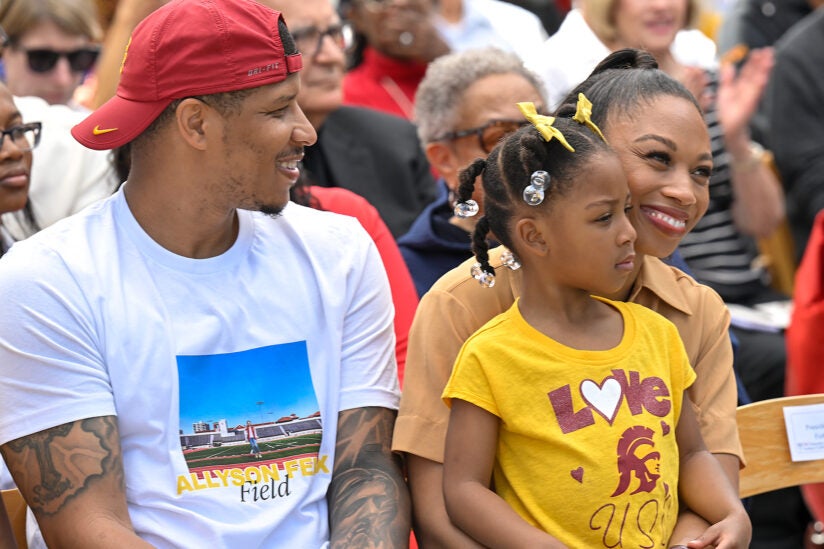 "Allyson serves as an extraordinary example of what we aim to be through her humility, competitive grit, sports and business acumen, but also her kindness, compassion and heart," said Bohn, who last year was named an Athletic Director of the Year by the National Association of Collegiate Directors of Athletics and the Black Student-Athlete Summit. "The naming of this field isn't just to honor Allyson, but to inspire Trojans to achieve beyond the ordinary."
As Felix sat next to her daughter, Camryn, Folt said it was fitting that the dedication falls within Black Maternal Health Week. Folt described how obstacles Felix faced in endorsement renegotiations during a difficult pregnancy helped spark her advocacy. As a result of those challenges, Felix published an influential New York Times opinion piece in May 2019 that advocated for more equitable conditions for female athletes. That same month, Felix also spoke before the House Ways and Means Committee at a hearing focused on racial disparities in maternal health after suffering from preeclampsia during her pregnancy.
"Her speed and her power are legendary, but her integrity and her kindness may be even more so," Folt said.
Inspiring greatness on the world stage
Current USC track and field athletes Rae-Anne Serville and Gigi Maccagnini spoke to Felix's global influence. Both students mentioned admiring Felix from a young age and hoping to emulate how she carries herself on and off the track.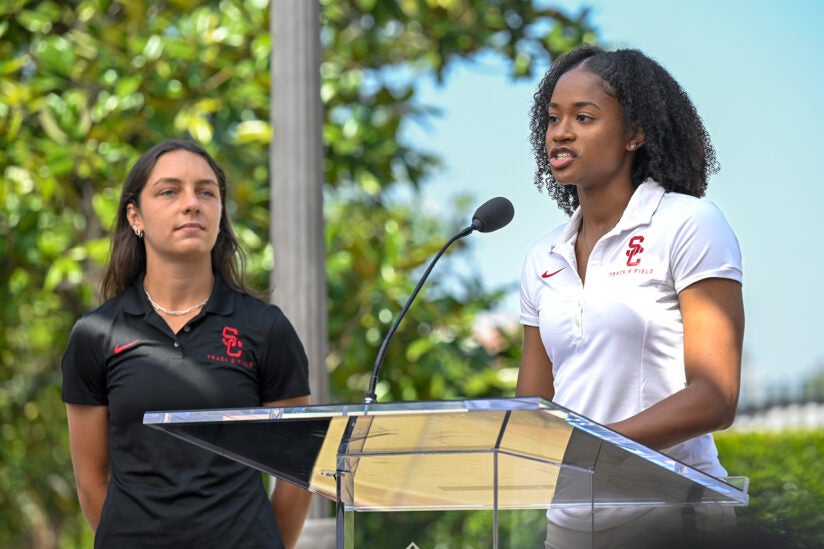 "Aside from her numerous accomplishments on the national, Olympic and world stage, our fellow Trojan is an amazing woman off the track," Serville said. "She sets an example for athletes' potential to also manage family life in the midst of a successful athletic career, and she boosts our confidence in dealing with life after sports due to her thriving business endeavors."
"It is tremendously fitting that the field we train on and gather around every day is being named in her honor, cementing not only her legacy as a USC alum and an incredible athlete, [but also] an inspirational woman," Maccagnini said.
Assistant sprints and hurdles coach Joanna Hayes has known Felix for about 20 years. She said she believes the reasoning behind the renaming — to honor Felix's advocacy as much as her athletic accomplishments — makes this dedication special.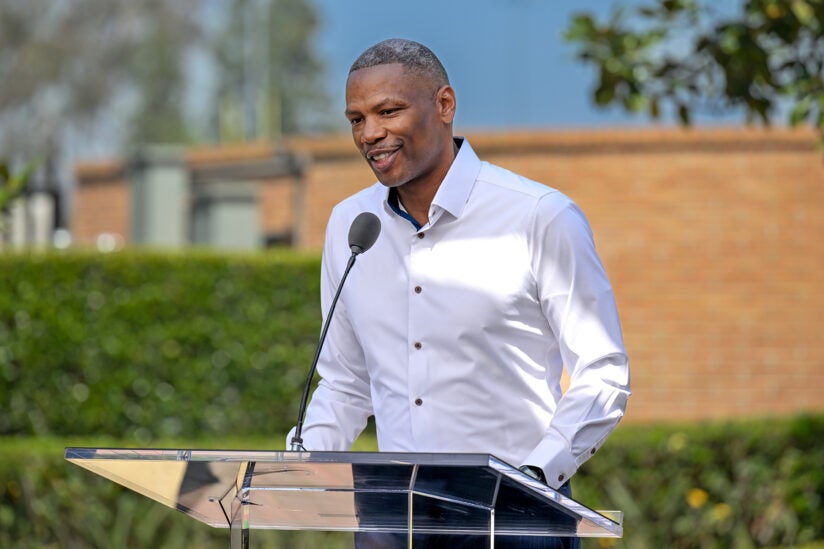 "For me it's both a personal and professional honor to have her name on a field that I work at every single day, knowing all her accomplishments and how in this second half of her career she's used her brand and her voice so loudly to speak for maternal rights and all things women and all things women athletes," Hayes said. "This is the right name for this field because she means so much to USC, to our student-athletes and to the world."
Quincy Watts, director of USC track and field and cross country and a fellow Olympic gold medalist, has also watched Felix's career unfold since the two future track stars ran races at Los Angeles high schools. Watts thanked Felix for always answering the call to inspire and educate Trojan athletes.
"It's very important that we're honoring someone who has always been behind the scenes and blazing the trail, willing to step up to do whatever she could to make this program a better space for these young men and women so they can have an opportunity to a premier degree, a degree of value," he said.