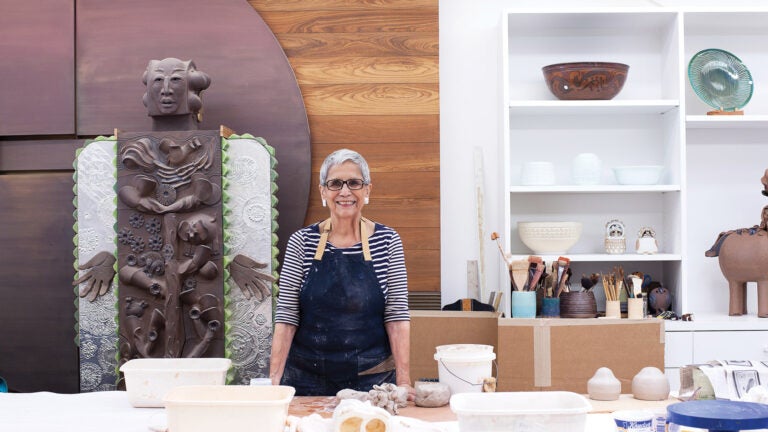 Alumna Dora De Larios Broke the Mold as a Pioneering Artist
The celebrated ceramist and acclaimed Latina artist has made an indelible mark on the art world.
Dora De Larios '57 took her first trip to the archaeological museum in Mexico City at age 6. That's where she saw a stone sculpture of the Aztec calendar for the first time. "It had a great impact on me," she says. "I wanted to make something as beautiful as that someday."
The artist and ceramicist spent the last 60 years doing just that—making art that awes and inspires.
De Larios, a Los Angeles native whose parents emigrated from Mexico, nurtured her love of ceramics at Dorsey High School, where she worked with clay every afternoon. "The janitor would say, 'OK, time for you to go.' The school would all be locked up and I'd walk home," she says.
The 84-year-old artist, whose tell-it-like-it-is nature is balanced by a grounded humility, studied at the USC Roski School of Art and Design with famed ceramists Vivika and Otto Heino and Susan Peterson. "It was a very exciting time at Fisher Gallery [now USC Fisher Museum of Art]. The whole complex where the fine arts and architecture departments were housed was a very vital place," she recalls. And as a Latina, De Larios stood out in that era.
"There were a lot of exchange students. Those were all my friends because I didn't fit in. I ran around campus in black leotards and black ballerina shoes and everyone was in white bucks and gray pants and hot pink shirts," she says.
Everything I've done has been a process of learning more and more about my craft.

Dora De Larios
After graduation, De Larios continued to carve her own path in the male-dominated art world. She created a studio with fellow artist Ellice Johnston, which they shared with several other female artists: a printer, a painter, a few potters, and a sculptor who kept a live owl in her studio. "We were really pretty revolutionary and didn't even know it," she says.
De Larios draws from her Mexican heritage in her art—decorative vessels, sculptures and large-scale installations that illuminate the female figure, mythological characters and a love of nature. Her work has been exhibited at major museums, and in 1977, she was commissioned to create dinnerware for the White House's annual Senate Ladies Luncheon. But her public pieces are some of her favorites because of their accessibility, including a 40-foot mural at the Hilton Hotel Anaheim, a 36-foot-high monolith in the courtyard of Pasadena's Villa Parke Community Center and a 40-foot mural for the Compton Public Library.
Five years ago, along with her daughter and son-in-law, De Larios launched a dinnerware collection through Irving Place Studio, their boutique family business. It was perfectly timed to the current ceramics renaissance.
"It's thrilling," she says of the public's newfound interest in her lifelong passion. "I have people coming to the studio and they look at me with adoring big eyes. I tell them to close their eyes and open them again. I'm just another human being. …Everything I've done has been a process of learning more and more about my craft."
The inspiration, she adds, is endless. "The only trouble is that life is too short."
Editor's note: Dora De Larios died of cancer Jan. 28, a month after this interview. A retrospective of her work, "Dora De Larios: Other Worlds," is at the Main Museum of Los Angeles until May 13.