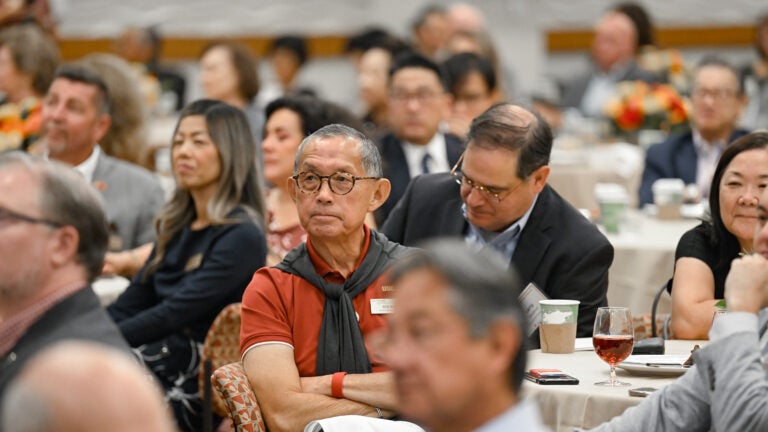 Alumni, volunteer leaders envision next century of engagement at Alumni Leadership Conference
President Carol L. Folt and other campus leaders speak to alumni leaders about USC's expansive future — and how alumni can help nurture the university's growth.
When George Sheth graduated from the USC Marshall School of Business International MBA program in 1996, he knew he was joining a tight-knit and supportive network of Trojans via the USC Alumni Association.
The association, which includes 480,000 living alumni members, supports various affiliated alumni organizations such as industry and affinity networks, school-specific groups, multicultural alumni organizations, women's groups and more. The association also hosts events and programs around the world.
This year, the USC Alumni Association is commemorating its 100th anniversary by continuing to unite alumni and create ways to strengthen Trojan ties to the university through networking, acts of service and philanthropy.
The centennial events include various digital and in-person calls-to-action, plus local and international activities for USC alumni to support the university's academic, athletic and research achievements. The association also is promoting USC's future leadership in advanced computing, sustainability and other "moonshots" identified by USC President Carol L. Folt.
Showcasing bold moves for alumni
Early this month, Sheth, who owns the search firm Diligent Partners, attended the 22nd annual USC Alumni Leadership Conference on Sept. 8 on USC's University Park Campus.
"For me, [the conference] is always a combination of networking with fellow diehard Trojans —seeing old friends and making new ones — while learning more about the latest and greatest of what USC is doing in a multitude of areas," Sheth said. "It's always amazing how USC gets better by responding to changing market dynamics every year. This year was no exception."
Attended by 300 alumni leaders and volunteers, the conference allowed attendees and campus leaders to reflect on USC's recent accomplishments and envision the next century of alumni engagement.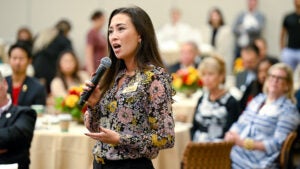 At the conference, Folt spoke about how her ambitious objectives for USC have gained momentum over the past year. She cited the opening of the USC Capital Campus in Washington, D.C., the new Sustainability Hub and the launch of the Frontiers of Computing initiative as examples of bold plans coming to fruition.
Over the past century, "boldness … drove a lot of USC's big growth," Folt said, adding that more is in store for the university's future. Her vision is for USC to become a standard-bearer for greatness, serving as a launch pad for changemakers and a solutions platform for 21st-century problems and opportunities in health care, sustainability, technology and more.
As USC pursues lofty goals of national and international import, Folt maintains that the university's growth should always center on students. As part of her USC Competes moonshot, she plans to raise $1 billion in scholarships to increase USC's affordability and attract top students — a target for which alumni engagement will be critical.
"The Alumni Association's single biggest mission has been to provide scholarships," said Folt, noting that USC gave out $635 million in scholarships and grants to undergraduates last year. She ended with a call to action for the attendees: "Don't stop doing that. That's the most important thing you can do."
Interdisciplinary initiatives in focus at USC Alumni Association conference
The conference also highlighted the university's interdisciplinary initiatives during a panel discussion that included Ishwar K. Puri, USC's senior vice president for research and innovation and professor of aerospace and mechanical engineering in the USC Viterbi School of Engineering; Carolyn Meltzer, dean of the Keck School of Medicine of USC and dean's chair professor of radiology; and Josh Kun, USC's vice provost for the arts, professor at the USC Annenberg School for Communication and Journalism and chair in cross-cultural communication. Each spoke about new projects and programming in their respective fields and opportunities for collaboration.
Examples include plans for a center for advanced imaging at Keck School of Medicine that will integrate contributions from medicine, engineering and visual arts; the convergence of artificial intelligence and artistic practices; and the inclusion of expressive arts such as dance and music in treating neurodegenerative diseases.
Folt's vision is "that we integrate, that we don't live in silos, that we work together," Puri said.
Kun noted that they'll be following students' leads. "They are all right now coming in as completely convergent thinkers," Kun said. "They were raised to absolutely ignore silos … Everything that they interact with is multiple and already hybrid and hyphenated and collaborative. They challenge us … to catch up with them."
USC Alumni Association: Bridges to the future
Alumni leaders also underscored how engaged USC students become dedicated alumni. At the conference, Associate Senior Vice President for Alumni Relations Patrick Auerbach presented insights from the 2023 USC Alumni Survey.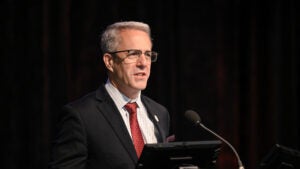 Auerbach said that 84% of survey respondents agreed with the statement, "I am satisfied with my academic experience at USC." Nearly 100% answered "yes" to the question, "Are you likely to purchase USC merchandise?" indicating the pride that alumni have in Trojan Family identity. More survey results will be announced this fall.
"Our fellow alumni want to be engaged," Auerbach said. Given that their desired means of engagement vary across age groups and interests, "we want to continue to pursue personalization and customizable experiences for all of our alumni," he said.
Scott Rabenold, USC's senior vice president for university advancement, noted that volunteer leaders are critical to maintaining the myriad affinity groups that connect USC alumni. "There's no greater asset than the volunteers of the Trojan Family — those who serve as our ambassadors and those who give their time, talent and treasure," he said.
Keynote speaker Suzanne Nora Johnson, chair of the USC Board of Trustees, echoed the importance of alumni support and service on the cusp of the Alumni Association's first century and encouraged those in attendance to invest their support in Folt's moonshots.
Alumni are the link to the traditions of USC's past and the promises of its future, Johnson said. "As [part of] the Trojan Family, each one of us is a bridge."