USC Has Sparked Countless Love Stories. Here are a Few of Our Favorites
Share the love with these heartwarming stories from USC alumni who fell head over heels while on campus.
Jessica (Perez) Sanchez '10 isn't much into college football.
But as an undergraduate at USC, she once waited in line outside the gates of the Los Angeles Memorial Coliseum for more than 10 hours to nab a front-row seat in the rowdy student section.
"Now that might sound ridiculous, but I got to spend all that time with my best friend just talking and sometimes studying, so it never really felt that long," she says.
That best friend is now her husband of 11 years, Renne Sanchez '09. The two met in high school in Riverside, California, during an environmental science competition. Their relationship took off, though, after Jessica enrolled at USC a year after Renne.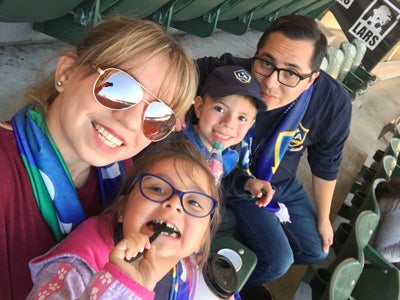 Jessica and Renne are just two of the many Trojans who began their love story at USC. Their story is uniquely theirs, but some of their favorite memories — studying together in Doheny and Leavey libraries, sharing meals at campus spots like Parkside Restaurant, and spending Saturday afternoons cheering on the football team from the student stands — are special experiences that run through the Trojan Family.
To celebrate the many Trojan love stories throughout the years, we asked our readers to tell us theirs. Responses poured in, and there's no doubt that love is alive and well at USC! Read on as alumni share in their own words how their love stories began.
Cynthia (Ruiz) Mindicino '14 and Nick Mindicino '14
We met during Explore USC when we were high school seniors. Nick and I both interviewed for our scholarships in Annenberg one right after the other (thank goodness we both got the same scholarship). Then we randomly ran into each other during orientation and learned we were both going to be living on the fourth floor at Birnkrant.
The fact that we kept running into each other at these events blew our minds, since Nick is from Philadelphia and I'm from Orange County. It felt like too much of a coincidence. We quickly became best friends at the start of freshman year and started dating that October. Nick proposed on our seven-year anniversary in the Little Chapel of Silence, which is where we first said, "I love you." We got married the following July at the USC Caruso Catholic Center and had our wedding reception at Town and Gown.
We are so grateful to USC and the Annenberg Scholar program (shoutout to JaBari Brown!) for bringing us together. We've just celebrated 10 years together and two years of marriage, and it's safe to say that we wouldn't have found each other and our passions in life without USC!
Andrew Green '07, MAT '08 and Elizabeth Kuhn '07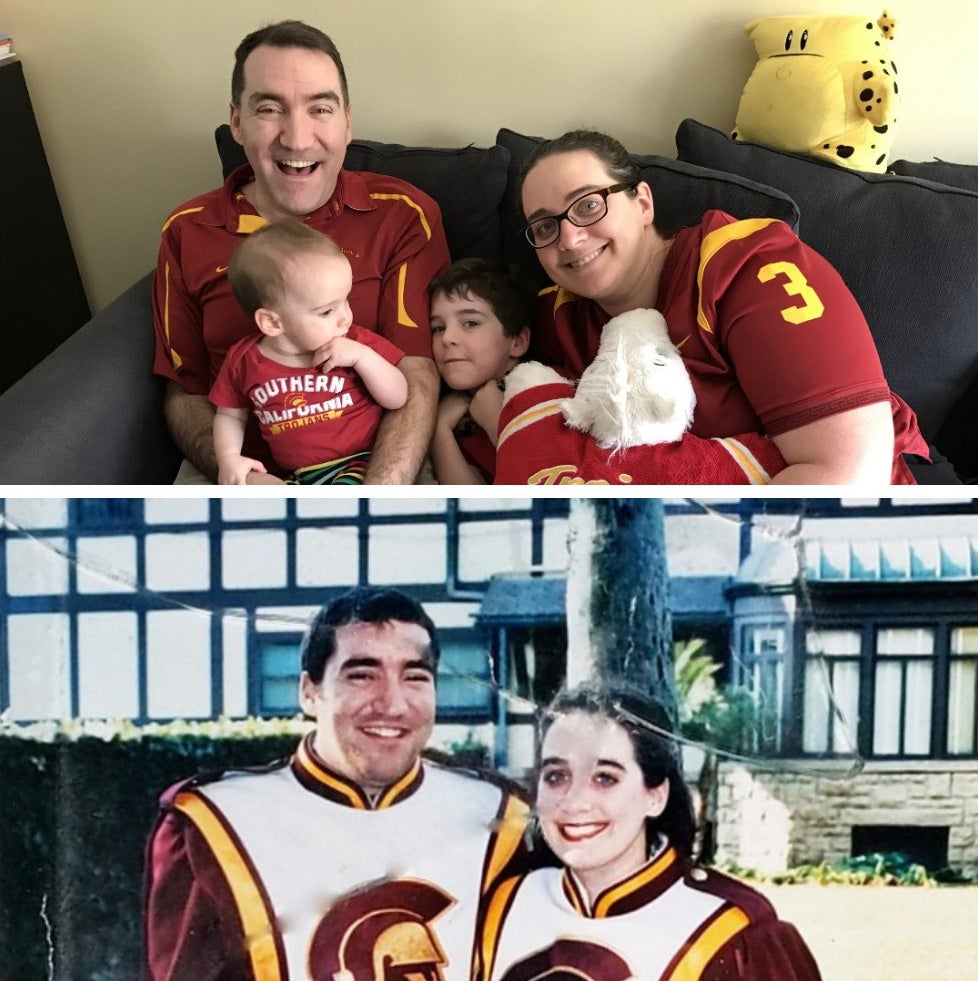 We both joined the Trojan Marching Band during our freshman year — Andrew played tuba and Elizabeth was a USC Silk. We met when the band toured China in 2004 and got to march on the Great Wall together. Later, we traveled across the U.S., following the football team to victory for the next three years.
After graduating, we moved to Washington, D.C. Our wedding colors were cardinal and gold, our entrance music at our reception was "Tribute to Troy" and our wedding party was full of Trojans. Both of our wonderful children proudly wear red on game day! We didn't realize when we came to USC that our lives would be changed forever. Neither of us thought that in the Trojan Family, we would meet lifelong friends and life partners. Now our Trojan Family is bigger. The friendships we made at USC, the experiences we had with the band and the love we found will stay with us forever. Fight On!
Vipin Dwivedi MS '17 and Anjali Krishna Prasad MS '17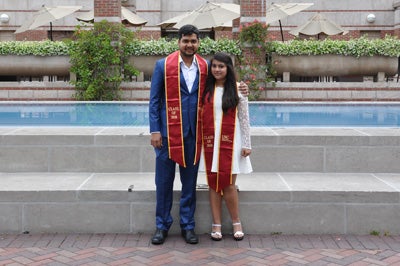 I first saw Vipin at King Olympic Hall library with a mutual friend. We did not talk, but I did notice him. After a few days, I got an internship at a tech company, and our mutual friend told me that her friend Vipin was also going to intern at the same company that summer. I didn't know anyone else who was going to intern with me, so I decided to text him. We started messaging and discussing things like the paperwork required for our internship and housing in the Bay Area. We formally met at the tech company headquarters, where he recognized me from my profile picture. We started hanging out with our friends from USC and liking each other.
When we returned to USC in fall 2017, Vipin worked part time in the USC bookstore and I worked part time at USC DEN. We would often meet during break time, between classes and at the USC Village gym and attended loads of USC events. We now are working at a tech company in the Bay Area and have been married for a year!
Rob Cuddy '92 and Melanie (Peters) Cuddy '92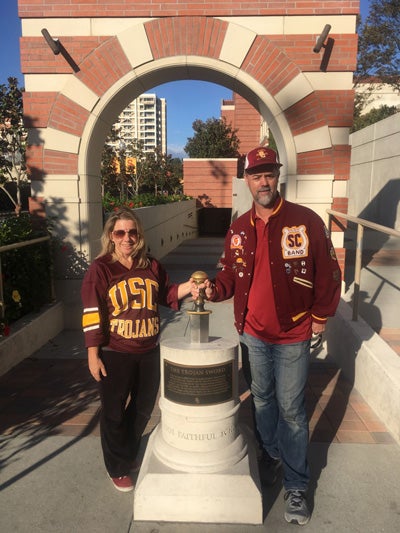 I love to tell people that Melanie and I lived together before we met. We were both at the end of our sophomore years and happened to be housed in Royal House, a converted two-story home across from Troy Hall where the guys lived upstairs and the girls lived downstairs. I was talking to Melanie's roommate outside the room when I heard her say something. I leaned into the room and my first words to her were: "You're from New Jersey, aren't you?" After she picked her jaw up off the floor, we talked some and then over the next few months, we dated in various places. We often met in campus libraries, where Melanie worked part time.
We were married in 1995 and celebrated our 25th anniversary this past August. We have two grown children who have known USC all their lives. Being a former member of the Trojan Marching Band, USC is deeply ingrained, and we regularly enjoy football games, tailgating, basketball games and events that we can make. I have also been privileged to be a mentor for several capstone projects for graduate students in the USC Marshall School of Business Master of Business for Veterans program.
Tad Barry '94 and Catherine (Graham) Barry '95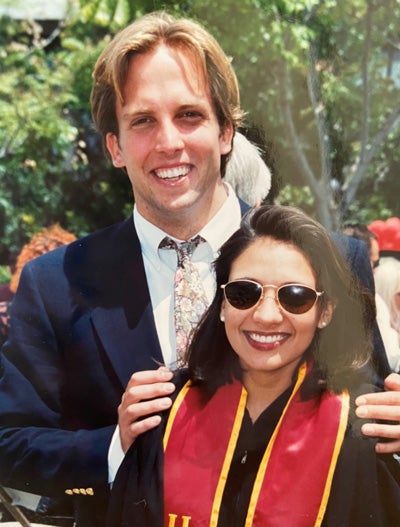 It was a Monday evening during the spring of my freshman year when I first saw him sitting across the picnic table on the lawn of the Phi Delt fraternity house. We didn't actually speak to one another. But when my girlfriend told me later that night that he asked for my phone number, I knew in my gut he would be my husband one day.
Our first date was not long after, studying for finals in the stacks at Doheny Library. We literally talked all night long. We never ended up taking those finals, thanks to the L.A. riots. But we did go on to date throughout our college years. A few years after we graduated, we moved to Texas so I could chase a career in broadcast journalism. We got married in 1999 and eventually came back home to Southern California, where we had our perhaps-one-day-a-Trojan son in 2007. We're now living happily ever after in San Diego, eternally grateful that USC brought us together.
Joyce (Go) Rohan '97 and Craig Rohan '97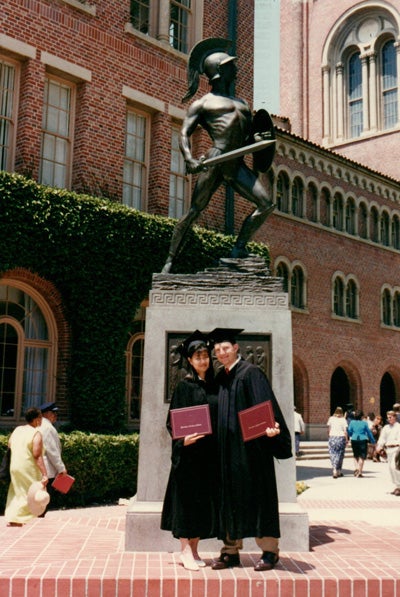 We both lived in Trojan Hall dormitory in 1993 during our freshmen year and officially met at the midnight fountain tour led by our resident advisors. I was in room 292 and my husband was in room 392 — we "shared" an exposed pipe that ran between the floors through our rooms. We married in 2000. Since then, the Air Force has taken us around the country, but we returned to USC in 2008 (with two sons) for my postdoc at USC's Zilkha Neurogenetic Institute and my husband's dermatology residency at LAC+USC Medical Center.