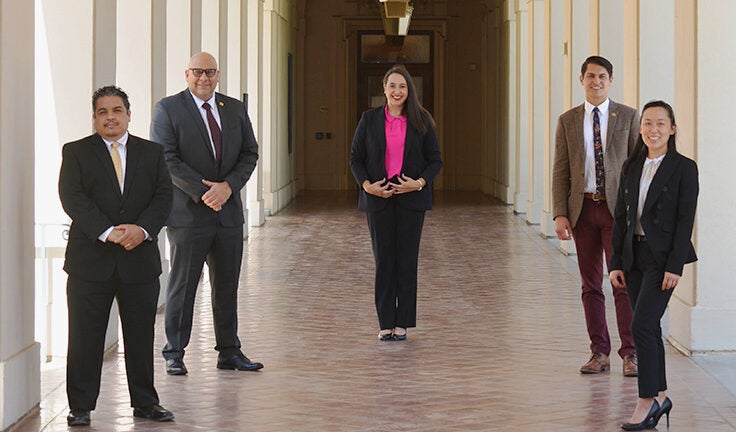 How USC Alumni Led Pasadena to One of California's Highest COVID Vaccination Rates
Five Trojan public health experts share their personal stories about facing down a global health crisis.
Last Christmas Eve, while many Americans were at home with their families, Manuel Carmona MPA '06 sat inside a Pasadena Public Health Department office, anxiously watching a refrigerator thermostat.
Inside the refrigerator lay a precious gift: COVID-19 vaccines.
Carmona — the department's deputy director — and a team of nurses had convened after noticing the temperature creeping up on their first shipment of Moderna vaccines. They kept watch all night and on Christmas morning, installed security cameras trained on the thermostats. "That allowed us to monitor temperatures on our phones from anywhere," he says. The refrigerators eventually stabilized, but he still remembers the team's vigilance during those first few nights.
As of October, nearly 90% of eligible Pasadena residents were fully vaccinated, and nearly 94% had received at least one shot.
Carmona is proud of his team's efforts to fight the pandemic, but he's also quick to point out it's a dedication shared among the community for more than 20 months. "This was not just a public health department response to the pandemic," he says. "This was the city responding to the pandemic." He mentions the librarians who served as contact tracers, calling residents who might have been exposed to the virus. The city council members who helped staff vaccination sites. And the residents who volunteered to educate neighbors about the vaccine. Before long, Pasadena boasted one of the highest COVID-19 vaccination rates in California. As of October, nearly 90% of eligible Pasadena residents were fully vaccinated, and nearly 94% had received at least one shot.
Behind the scenes of that achievement is the Pasadena Public Health Department and the department's USC alumni. Five graduates from the Keck School of Medicine of USC and the USC Price School of Public Policy serve on the city's nimble health team.
Among public health departments in California, Pasadena's team stands out, and not simply because it's one of only three city-based public health departments in the state (the rest are overseen by counties). Observers praise the city's COVID-19 vaccination program for its efficiency and commitment to equity and community engagement. Early on, the department developed protocols and a contact tracing system to reduce community spread. After vaccines were available, the department created its own vaccine inventory system, partnered with more than 40 community groups to create vaccine outreach teams and planned pop-up clinics everywhere from churches to barbershops.
USC Trojan Family writer Rachel Levin sat down with the close-knit group of Trojans who led their city through one of the most urgent public health crises in modern history. They share a behind-the-scenes look at the citywide effort, what they learned and how years of planning laid the groundwork to tackle the deadly pandemic.
What stands out to you as a defining moment in the early days of the pandemic?
Manuel Carmona: In early February 2020, I was at a public health leadership conference right across the street from the Centers for Disease Control in Atlanta, Georgia. During breaks, several of my public health colleagues from across the nation were beginning to compare notes and really look at the novel coronavirus and how their jurisdictions were preparing. What struck me was the tone and seriousness of these conversations. It was the first time that I realized that the nation was truly preparing for a pandemic.
Kellee O'Rourke: I had been with the city of Pasadena for seven years as a management analyst with the parks and rec department. But when the pandemic began, all of us from across the city really exemplified our roles as public servants and jumped in to support the pandemic response effort.
Angelo Reyes: We were on call 24/7. We were working literally into the night at the vaccine clinics. Nobody was going to say, "My time is done. I'm leaving." It was all hands on deck.
Matthew Feaster: It ended up being about nine or 10 months before I finally had a weekend off. I looked like I picked the wrong grail in Indiana Jones and the Last Crusade!
What doesn't the public know about when it comes to the pandemic and public health?
Carmona: I wish the public understood just how committed our staff are to the mission of preserving public health. While there's been a tremendous spotlight on public health over the last 20 months or so, the results we have achieved are really a culmination of years of preparation and planning.
Adrienne Kung: After the 9/11 attacks, the federal government provided funding for local health jurisdictions to do public health emergency preparedness planning. Since I joined the program in 2009, we've seen Zika, Ebola, H1N1 and then locally, hepatitis A, measles and typhus. We never stopped thinking about how we would deliver vaccines at large scales to the community, and we continued to build partnerships with local organizations. We have been accustomed to strategizing how to mitigate and respond to an emergency.
Feaster: I really do think this pandemic response has spoken to the importance of public health employees as emergency responders. Public health is always aggressively under-resourced, and so our department in particular has gotten very good at making a lot happen with very little money and resources.
O'Rourke: We celebrate every single one of those vaccines that's administered, but it does take a tremendous amount of resources and investment. One of the most challenging aspects from day one until today has really been the proliferation of misinformation. It's been really difficult to overcome.
Carmona: We understand that in some communities, the legacy of institutional racism throughout our country has really led to a lack of trust in government and in public health specifically. And as a result, we recognize that we may not be the best messenger for some communities to share fact-based information. And so, what we've done is really recognize the expertise of community stakeholders and community groups and enlist them as equal partners in our effort to battle the pandemic.
How does it feel to reach this benchmark of having one of the highest vaccination rates of any city in California?
Reyes: It's humbling. It's a great honor. And we recognize that there's so much more work to be done. We're already looking at the next group that's going to be vaccinated: children 6 months old to 11 years old.
Feaster: I don't think we have given even a thought to slowing down. Variants are emerging. There's going to be another one that's going to challenge our very safe and effective vaccines. I don't think we can ever rest, because this is not in the ethos of public service.
O'Rourke: It's a lot of responsibility to serve the public well, especially because we carry such a deep commitment to equity, but there's so much joy. I often pause and reflect on, "Wow! It's something. It's really something." And I'm very thankful for it.
Kung: I'm raising a toddler, so it was very difficult to watch her grow up while we're doing this impactful work. But the community response that we have had just fuels our desire to keep doing more for them and to keep protecting them.
Reyes: Similar to Adrienne, I have three young girls who are all school age. They are the inspiration for the work that I do. Because children need to be safe. Families need to be safe. Communities need to be safe.
Carmona: Our hearts go out to every family who has lost someone due to this horrible virus. We don't see these as just numbers. We know that these are human lives.
This interview was edited for clarity and brevity.