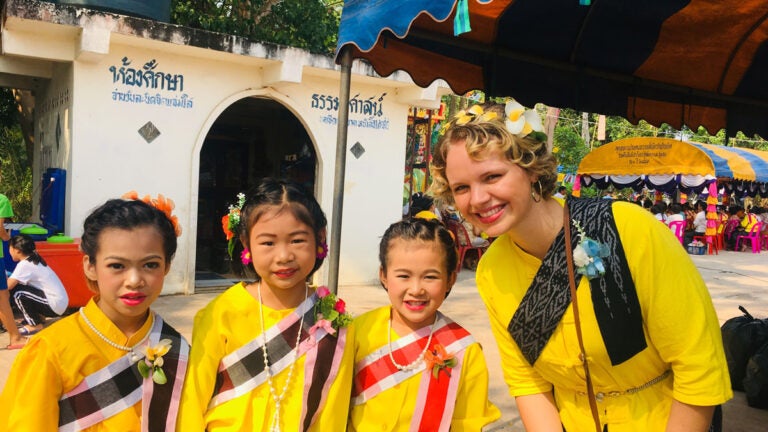 Peace Corps Opened a New Chapter for a USC Grad. Then the Pandemic Hit
With her service cut short, Sierra Drummond's path to discovering herself and the world was put on pause.
Only eight months after graduation, Sierra Drummond '18 started teaching English to children in the rural village of Ban Dong Wai in northeast Thailand through the Peace Corps. This journey of self-discovery was a natural next step for a young woman who studied NGOs and social change at the USC Dornsife College of Letters, Arts and Sciences.
When she flew to California in March for her cousin's wedding, she expected it to be a short visit. Then the COVID-19 pandemic hit, keeping her at home with her family in Thousand Oaks, California, instead.
In her own words, Drummond looks back on how the coronavirus upended her post-college life.
Peace Corps In the Time of COVID-19
My flight to California was in two days, and I had this strange, heavy feeling that maybe I should reconsider this trip. But at that point, my country director thought there was no real chance of evacuation. And the virus had been pretty well-contained. Obviously, the thing that was scary about this virus was that it was unprecedented. So much about it is still unknown. But I never thought that I wasn't going to be able to get back to Thailand at all.

My plane back to Thailand had been scheduled for March 22. I had this feeling that maybe more restrictions would make me unable to get back, though, so my dad and I were looking for an earlier flight. But on March 15, the Peace Corps announced they were evacuating all programs.

I had another year left of my program. I would have closed my service — potentially by March 2021 — but I had actually thought about extending another year.

Now we are officially "returned Peace Corps volunteers"— no longer volunteers. If it is a possibility, I would like to resume my work in Thailand, but I know there's a chance that I won't be able to.

It's been hard for me because I haven't even completed the goodbyes. I haven't really been able to have them, and there are so many. My network of family members in Thailand was so wide.

Everyone in my community took it upon themselves to really take incredible care of me, as if I was everybody's daughter. It was amazing. It feels impossible to really respectfully and responsibly express my gratitude toward all of them, because I can't even contact most of them.

(Photo/Courtesy of Sierra Drummond)

The Peace Corps was like a series of like self-discoveries. It was a privilege just to be a part of such a beautiful and welcoming culture. It's the gratitude I have toward Thai people because many went above and beyond and making me feel at home there.Now I'm home with two nieces, my brother and his wife and my parents. It's very much a lively home full of people who I've missed so much. But it almost feels like I can't carve out a space to mourn my experience — although as time goes on in quarantine, I've appreciated it more and more.

I know I have it so much better than so many people. The virus is so much bigger than my specific experience.
USC editor David Medzerian conducted this interview, which has been edited for length and clarity.