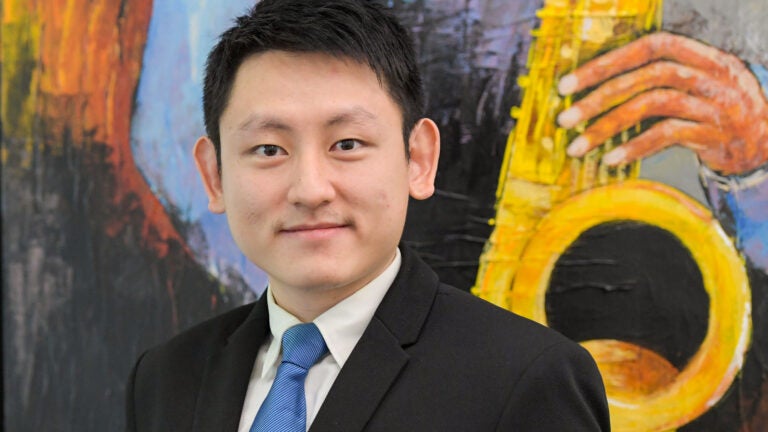 USC alumnus Jung Kian Ng named Rhodes Scholar
The Malaysian will attend Oxford this fall, hoping to create change through effective public policy in his country
USC alumnus Jung Kian Ng will leave his job as a speechwriter for Malaysian government officials for a good reason: to attend Oxford this fall. He's one of 96 Rhodes Scholars chosen in this year's class, and one of only two from Malaysia.
Established in 1902, the Rhodes Scholar program allows young people from 18 international jurisdictions to pursue two to three years of study at Oxford University. To be accepted, the scholars must show "outstanding intellect, character, leadership and commitment to service," according to the program's website.
Ng found out about the Rhodes Scholar program while studying at USC when he saw a newspaper clipping about it on a campus bulletin board. He graduated in 2014 with a B.S. in mechanical engineering and did a progressive degree, earning a master's degree in the subject by the time he graduated.
Through the Rhodes program, he'll put two more graduate degrees under his belt — pursuing a master of science in environmental change and management and a Master of Public Policy.
Serving Malaysians
His time at the USC Viterbi School of Engineering inspired him to learn more about how human actions affect the environment and to do more to help others. He wants to take his knowledge back to his home country, creating change through effective public policy.
"I hope to come back and better serve the Malaysian people," he said. "I'm passionate about the social and political developments in Malaysia as well as global climate change."
Beyond the environment, he's passionate about race relations, wealth distributions and human rights.
At just 25 years old, he's already attained quite a bit of government experience. He's currently special assistant to the minister of the economic planning unit, tasked with policy research, media strategy and speechwriting for the department's minister.
Besides that, he also started a nonprofit to encourage more Malaysian youth to study at universities in the United States. It's called USAPPS, which stands for U.S. applications, and mentors students through the application process. It has the backing of the U.S. Embassy there and 180 volunteers who attended school in the U.S.
Ng said he feels a "sense of gratitude for a federal government scholarship, which paid for a U.S. college education that my single-parent family could never afford. I felt my time in the United States changed me tremendously as a person. … Therefore I would like to encourage more Malaysians to study there."
Humble beginnings
Ng grew up in Alor Setar, a town in the rice-producing region of Northern Malaysia. He and his sister were raised by his single mother, who earned the equivalent of $700 a month working at his elementary school, he said.
The Rhodes Scholarship program is about cultivating world leaders and more importantly, ethical leaders.

Jung Kian Ng
"It might seem very little by U.S. standards, but since I lived in a small town, that amount was enough for my family of three, including my sister," he said. "However, it was definitely not enough for either of my mom's children to go to university. My one month of rent at USC was already close to $700."
His sister also received a scholarship and is pursuing a doctorate in chemical engineering.
Ng said he's excited to join a talented cohort and eventually join an alumni network of Rhodes Scholars that includes former President Bill Clinton and Louisiana Gov. Bobby Jindal.
"The Rhodes Scholarship program is about cultivating world leaders and more importantly, ethical leaders," he said. "It's also about fighting the world's fight. I have chosen my fight here in Malaysia … I hope it will equip me with practical and leadership skills to navigate my way through the challenges I will face in the future."