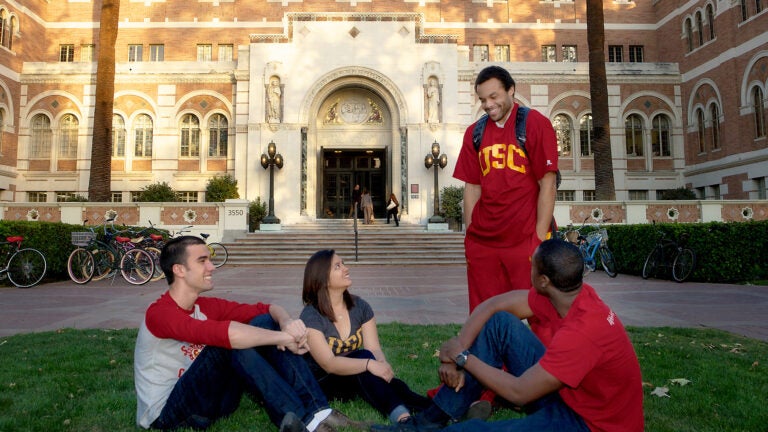 USC among top five U.S. college endowments for one-year returns
Universities rely on endowments to support libraries, financial aid and professorships
USC ranks among the nation's top universities for one-year returns, according to a Bloomberg Business report on U.S. colleges' financial investment performance. The university achieved a 19.7 percent return for its 2013-14 fiscal year.
The one-year rate of return measures investment performance by calculating the change in value over a 12-month period.
As of the end of the fiscal year — June 30, 2014 — the university's endowment was $4.6 billion. Universities like USC rely on endowments to support their teaching and research missions, funding such programs as libraries, financial aid and professorships.
USC's 19.7 percent return is significantly higher than the national average. According to Bloomberg, the college endowments within its ranking returned an average of 16.7 percent for the 2013-14 fiscal year.
Over the last four years, Lisa Mazzocco and her team have done an outstanding job strengthening our university's endowment.

C. L. Max Nikias
"This ranking reflects our ambitious efforts to improve USC's endowment investment strategies and the exceptional leadership of Chief Investment Officer Lisa Mazzocco and her team in this tremendously important area," said USC President C. L. Max Nikias. "Over the last four years, Ms. Mazzocco and her team have done an outstanding job strengthening our university's endowment, allowing us to continue to support the world-class work of our community."
Maximize returns
Through its investments, USC seeks to maximize returns while minimizing volatility through a broadly diversified portfolio.
"While it is gratifying to have a strong fiscal year return," Mazzocco said, "the endowment has a long-term investment horizon and performance will be volatile from year to year, so it is important to focus on long-term results."
The Bloomberg Business rankings, issued on May 15, are based on U.S. universities' investment returns for the past 10 years. The news organization obtained and used complete performance data for 85 of the nation's 100 higher education institutions with the largest endowments. Bloomberg compiled the rankings by reviewing documents and interviewing investment officers nationwide.
Grinnell College and the University of Minnesota tied for first place in one-year results, with a return of 20.4 percent. Yale, Duke, USC and Notre Dame round out the top five.